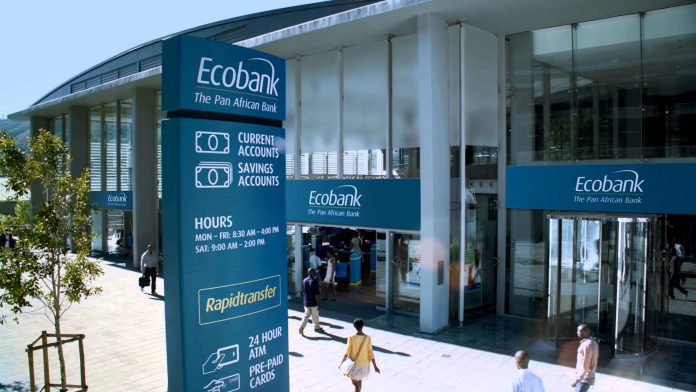 Ecobank Nigeria has explained that the introduction of its RapidTransfer mobile remittance platform was part of its desire to continue to drive digital banking in the country.
The bank's new Managing Director, Ecobank Nigeria, Mr. Patrick Akinwuntan, disclosed this at a dinner in Lagos, at the weekend, to celebrate outgoing members of the Ecobank Nigeria Board as well as to welcome newly appointed directors.
He also stated that historically, the cost for Nigerians in the diaspora to send funds home used to be far too high, while the process itself has long been inefficient and burdensome.  
"Customers often have to physically visit an agent and yet are left with little or no clarity as to when the funds will actually reach the intended recipient."
He explained that Rapidtransfer removes all of such issues, adding that affordability would be a game changer in the way Nigerians send money to their loved ones.
In his acceptance speech, the new Managing Director outlined his vision for driving the bank going forward and assured board members of his ambitions for growth.
He noted that the bank would remain the jewel in the Ecobank Group as well as the affiliate that sets the roadmap for others to follow. Akinwuntan explained that the bank would set the roadmap by providing customer service excellence, a suite of innovative and convenient banking services that makes banking easy for retail and corporate customers alike.
According to him: "Rapidtransfer is a safe and secure low-cost remittance solution, which ultimately will put more money into the hands of the recipient. This will have a multiplier effect on the Nigerian economy by boosting demand and driving business growth.
"Nigeria has a vibrant population of 180 million and I want a large share of these to be served by Ecobank. Therefore, I am setting an audacious customer growth target against the group goal to serve 100 million customers by 2020.
"We currently have nine million customers in Nigeria and I want to grow this to 40 million customers within two and a half years. This may be a huge challenge but I resolutely believe that it is one that can be achieved. The Ecobank Rapidtransfer mobile app can be downloaded from the App Store or Google Play."
In his welcome address, the Chairman, Ecobank Nigeria, John Aboh, noted that the bank is committed to remain leading brand in the digital banking space by 2020, adding that they are ahead in that drive.
Other newly appointed board members were Mr. Akin Dada, Ms. Carol Oyedeji, Mr. Biyi Olagbami, Mr. Emeka Onwuka, Mr. Eric Odhiambo, and Mr. Ade Ayeyemi.