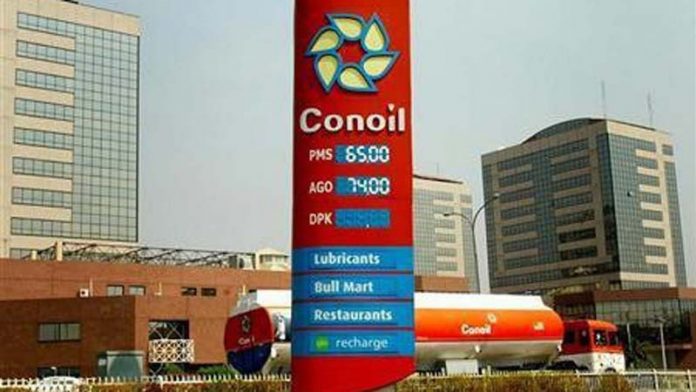 With improved nine-month results, shareholders of Conoil Plc should expect better returns at the end of current financial year, writes Goddy Egene
One of the major reasons most companies stay away from listing on the Nigerian Stock Exchange (NSE) is the high disclosure requirements. Getting listed on the NSE has many benefits, which include raising of relatively cheaper funds. Also, listed companies enjoy high visibility through corporate exposure and many more.
Despite the benefits, many firms still prefer to remain private because they cannot cope with post-listing requirements, which include regular and timely disclosure of financial results and other information.
Another earning season is here where companies release their third quarter (Q3) and nine months results ended September 30, 2018. Conoil Plc was the first company to announce its results, a development that market analysts said was good for stakeholders in general and shareholders in particular. In the nine months results, the major petroleum products marketers reported growths in performance indicators and raised hopes for higher dividend at the end of the financial year.
Nine Months Financial Performance
Conoil Plc the company recorded a revenue of N75.8 billion, up 8.0 per cent from N70.229 billion. Distribution expenses rose from N1.352 billion to N1.665 billion. However, administrative expenses declined from N5.488 billion to N5.219 billion, while cost of finance reduced from N1.884 billion to N1.483 billion in 2018. Finance cost also fell from N1.883 billion to N1.483 billion. Conoil ended the nine months with profit before tax(PBT) of N2.268 billion, up from N2.027 billion in 2017, while profit after tax improved from N1.358 billion to N1.587 billion.
A further analysis of the results showed that its efficiency, measured by profit margin improved compared to the previous period. Gross margin stood at 2.9 per cent in 2018, up from 2.8 per cent in 2017, while net profit margin rose to 2.1 per cent compared with 1.9 per cent in 2017.
The company's earnings per share increased from 196 kobo to 229 kobo, further raising the capacity of the company to increase dividend payment by the end of the 2018 financial year. The performance has placed the company on a good stead to fulfilling its promise to build a stronger financial position and creating higher values for its shareholders.
Hope Rises for Higher Dividend
The improved bottom-line and EPS are assurance of higher dividend payment at the end of the year. Conoil is a regular dividend payment firm. The company has paid N9.0674 billion as dividend for the past five years. Out of the N9.074 billion dividend, N1.4 billion was paid for the 2017 financial year.
The regular dividend payment has attracted commendations from shareholders of the company in recent times. For instance, at one of annual general meetings (AGM) held in Uyo, Akwa Ibom State, the shareholders hailed the board and management of the company for their prudent and efficient execution of projects and plans, strong commitment to the culture of financial discipline, while also ensuring maximum value for shareholders.
In his comments, Sir Sunny Nwosu of Independent Shareholders Association of Nigeria(ISAN), said Conoil Plc has continued to pay dividends to shareholders over the years, saying the shareholders would continue to support the board and management to ensure that it maintains it impressive performance going forward.
Similarly, Chief Timothy Adesiyan of Nigeria Shareholders' Solidarity Association said: "The management and board of the company have not only performed excellently well but have also fulfilled their promise of maintaining consistent returns to shareholders."
"Given the tough operating environment characterised by tight liquidity, rising cost of funds and the inability of petroleum marketing companies to import fuel in the face of little or no supply from the domestic refineries, Conoil still braved the odds, recorded profits and is able to pay dividend to its shareholders."
Alhaji Kazeem Olayiwola of Alheri Shareholders' Association, Kaduna, hailed the resilience of Conoil in the face of a tough operating environment.
"Conoil has continually set standards in fuel retailing with world-class facilities and groundbreaking marketing initiatives that endear it to customers and place it far ahead of competition. I am therefore delighted that this has translated to good dividends to shareholders at a time like this, we sure do have a bright future," he said.
Company Assures Shareholders
The Chairman of Conoil Plc, Mike Adebuga(Jr) promised shareholders at its last annual general meeting, that conscious efforts would be directed at achieving better execution of value-added products and services to grow its business, while also assuring them that the company's long-term future was guaranteed.
According to him, the company keeps expanding its retail network across the country and the non-fuel retail business is being revamped with a view to achieving future growth targets.
He noted that every segment of the business from aviation to LPG to specialized products would continue to receive the desired attention with a view to achieving and maintaining world-class levels of operating and capital discipline.
He declared that the company was fully charged to consolidate its competitiveness in the different segments of its business by exploring and developing emerging markets while holding its grounds in areas where it has competitive advantage.
The company said in 2018, it has maintained its policy of continual investment to boost efficiency has been paying off.
"We have, for several years now, ensured that our strategy remained constant, proven and effective, which is designed to improve returns and grow value for shareholders by focusing on our market strengths without jeopardizing the development of our diverse portfolios. We remain committed to further consolidate our competitiveness in the different segments of the downstream petroleum products marketing business with renewed commitment to explore and develop emerging markets while holding our grounds in areas where we have competitive advantage.
"We recently introduced into the market yet another brand of quality engine oil manufactured specially for the mass market of car owners. It is called Conoil Crown Heavy Duty Oil. By the introduction of this product, we have seized the initiative of filling a yawning void in the industry as a pragmatic marketer of first choice.
We are excited about the instant acceptance that the new product has enjoyed in such a short time and are encouraged in our commitment to utilising available opportunities in the industry for the satisfaction of customers and the eventual benefit of shareholders."
The added that it has continued to expand its retail network across the country, revamping its non-fuel retail business with a view to achieving future growth targets.
Conoil said:"We are sustaining investment in supply and distribution by beefing up our fleet of bulk road vehicles for seamless distribution of products, especially AGO, PMS and ATK. Our strategies for growth are promising. We have remained disciplined in our approach and continue to work harder more than ever before to deliver value to our customers and expand our capabilities in all fronts.
"Conscious efforts are being directed at achieving better execution, especially in the areas of marketing and customer management. Greater attention has been devoted to cutting operational costs in the different segments of our business, while still maintaining and improving on the quality of our products and services.
"As it is our tradition, we intend to bring delightful innovations into fuel retailing business in Nigeria and give greater value to our customers and shareholders."