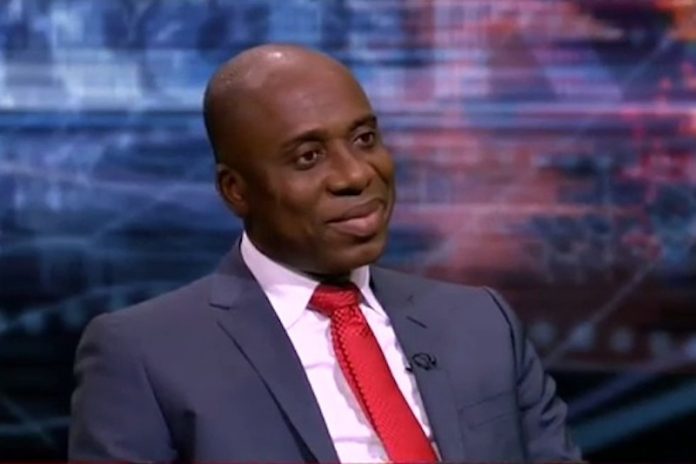 By Martins Ifijeh

Rivers State Government has called on the Minister of Transport, Rotimi Amaechi to stay away from Port Harcourt if he feels the state is unsafe.
Reacting to a statement by the minister during a thanksgiving church service in honour of the All Progressives Congress (APC) Gubernatorial Candidate, Tonye Cole yesterday in Port Harcourt that Rivers State was unsafe, the state Commissioner for Information and Communications, Emma Okah, said Amaechi should show his anger by hosting his party activities, church programmes, and birthday parties outside the state.
He said normal people no longer take the minister serious because he lives in bitterness. 
Okah saud: "Evidence abound to show that the government and the security agencies are doing their best to secure lives and properties in Rivers State, and only a deluded or mischievous mind denies this fact.
"In normal climes, a former governor and a serving minister qualifies to be a statesman, but the case of Amaechi is a harvest of shame as he maliciously discredits everything the state does to develop and provide security for the people," he said.
According to him, Amaechi needs to know that any failure of security under democracy where the governor has played his role was an indictment on the Nigeria Police and the security agencies who are under the control of the federal government, adding that Amaechi should ask the heads of security agencies he posts to the state why there were lapses, if any.
Okah said the government will not join him in the journey to perdition by condemning the hard working security agencies. 
He said instead of Amaechi to empathise with those who sadly, lost their loved ones, he was  spitting on the graves of the deceased and mocking them because he knows he was seeking political mileage with the blood  of the innocent and has not supported the state to fight crime since he became a Minister.
"Rather than allow security agencies to do their work unhindered, Amaechi has continued to politicise the security architecture to achieve only political ends since his stooge lost the guber elections in 2015.
"He must explain to Nigerians why security challenges still exist in all states of the country. Are those governors also not doing enough or should that also not be the reason they and the president should lose elections? Okah asked.
He accused the federal government of not able to address security challenges in  Nigeria despite their superior war chest, resources and imprimatur.
 He also called on Amaechi to explain why over 12 million Nigerians have lost their jobs since 2015.