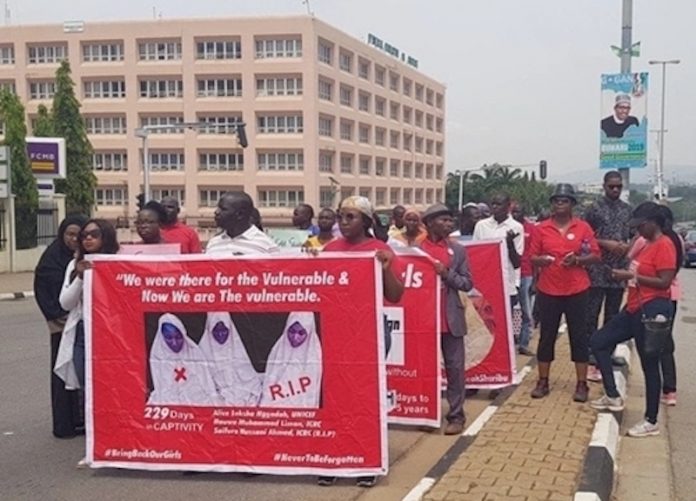 From Olawale Ajimotokan and Kasim Sumaila in Abuja
The Bring Back Our Girls (BBOG) Tuesday marched to the Presidential Villa in protest against the execution of another aid worker, Hauwa Liman, by Boko Haram. The group similarly expressed fear that the failure to release the 15-year-old Leah Sharibu, could lead to a dire consequence.
The BBOG procession started from Unity Fountain along Shehu Shagari Way Tuesday morning. The protesters were, however, stopped by security operatives before they approached the Presidential Villa first gate.
Chairman of BBOG, Edith Yassin, joined by the co- convener, Oby Ezekwesili, and other group leaders, including Nifemi Onifade and Gapani Yanga, described the killing of Liman as extremely shocking and a heart-breaking news.
She said the group was gutted by the deeply regrettable consequences of government's failure in preventing her death.
The 24-year-old Liman was one of the three nurses held captive by Boko Haram on March 1, 2018, during a raid on the IDP Camp in Rann, Borno State that left a number of military casualties guiding the camp.
Last month, the terrorist group executed Saifura Ahmed and is presently holding captive Alice Ngaddah, the third humanitarian worker and Sharibu, one of the 108 students kidnapped at Government Girls Science and Technical College, Dapchi in February this year.
The movement echoed concern about the heightened threat to the lives of both Ngaddah and Sharibu which had become imminent in the light of the threat issued by their captors.
'' Yesterday, Liman mother called me to say that her daughter had been killed but I never confirmed the execution to her because it would make her miserable. But given that Saifura was killed by the terrorists, there is clearly a danger to the other captives who are extremely vulnerable to atrocities of the terrorists. Such concerns must not be taken lightly and we join our voice to those of their families, the employers of Alice and Hauwa, of UNICEF and ICRC, respectively, as well as others around the world to demand for immediate actions that will avert any tragic loss of life. Mr President, you must act now and deliver results of immediate rescue," Yassin said.
She tasked government to ensure the safe return of all people held captive, including the remaining 112 Chibok girls. It also called on President Muhammadu Buhari to match his words and promises to secure the release of all Nigerians abducted by terrorists with firm actions that will yield results, saying no other outcome will be acceptable.
The BBOG leader reiterated the seven demands the group tabled during its last protest last month, adding nothing had changed regarding the engagement of the federal government on the issues it raised on that occasion.