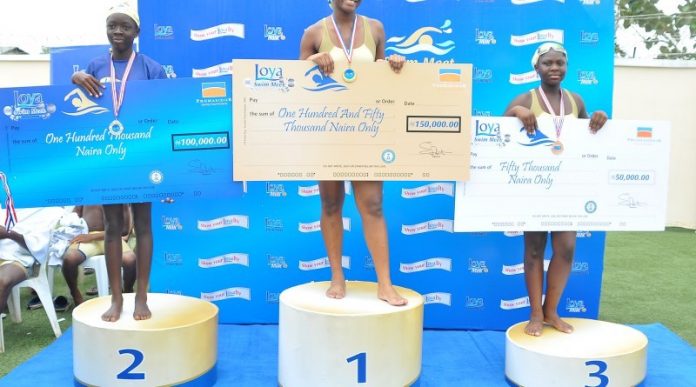 Lifeforte International School has emerged the overall winner of the first phase of the Season 3 of the Loya Milk Secondary School Swimming Competition held in Ibadan, Oyo State.
Lifeforte, which hosted the competition tagged Loya Milk Swim Meet, won five gold, one silver and one bronze medals in the six events competed for by 10 secondary schools in the state.
The International School, Ibadan finished second with a gold and bronze medals. Lead City International School, Valencia College and Bethel American International School also won medals, out of a total of 18 medals and cash prizes.
The competition, sponsored by Loya Milk, a premium brand of Promasidor Nigeria Limited, was officiated by members of the Nigeria Aquatics Federation.
A member of the federation's Technical Committee and Coach at the University of Nigeria, Jimi Adebanuwo, commended Promasidor for the sponsorship, saying such competitions were important for reviving the interest of the younger generation in school sports.
He noted: "As a coach, this is one of the moments I look forward to. Events like this prepare young talents to be better swimmers than some of us who have been there. I am very impressed that this is coming from a corporate organisation.
"We need more private organisations to come to the rescue. This gives hope, taking into consideration that swimming in Nigeria does not get the required recognition. This is a catch-them-young programme, and as the contestants grow older, they will surely get better and more passionate about the sport."
Category Manager (Dairy), Promasidor, Mr. Vincent Olayinka, said there is a strong relationship between Loya Milk and swimming.
He explained: "Swimming is a 360-degree sport. It utilises a lot of energy and every part of the body is engaged when swimming while Loya is fortified with calcium and other essential nutrients required for a rigorous exercise such as swimming. It will interest you to know that Loya contains 50 per cent more calcium, which makes it the choice for strong bones and teeth."
According to Olayinka, Loya Swim Meet is part of the brand's contribution towards helping the country to identify and nurture young talents.
He believed that as the competition, which started in 2016 in Lagos, grows bigger, more schools would discover young talents who might want to pursue careers in swimming.
According to Olayinka, other locations scheduled for this season include Port Harcourt, Abuja and Lagos.
Loya Swim Meet started in Lagos in 2016 with 10 schools participating. It was held in both Lagos and Port Harcourt, Rivers State, the following year.
Besides Loya Swim Meet, Promasidor is engaging Nigerian youths through Cowbellpedia Mathematics TV Show and Promasidor Harness Your Dream, a career awareness workshop for secondary schools.