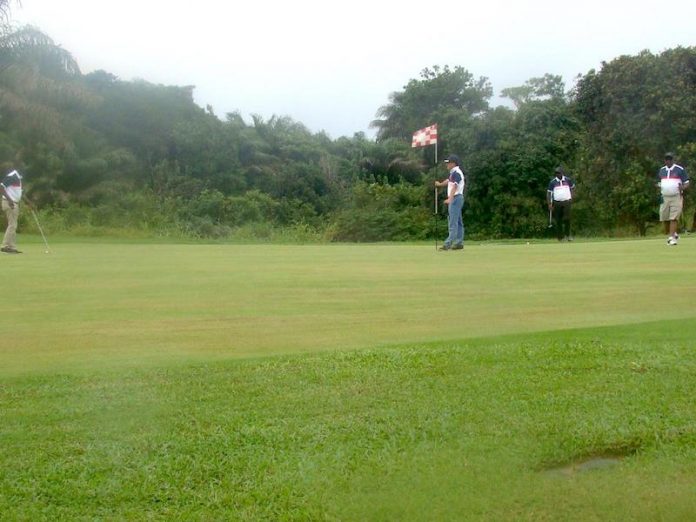 Former Professional Golfers' Association of Nigeria (PGAN), Emos Korblah, contributed immensely to the success of his team, which consisted of Omoboyede Olusanya; Kola Ashiru-Balogun and David Maji, at the 2018 Lakowe Lakes Golf Classic.
Not only did Korblah of Achimota Golf Club, Ghana enjoy fame with the team, he also fought his professional colleagues to a standstill to emerge the winner of the Pros' event with the three under par he shut over 36 holes.
Still in the Pros' event, Aminu Mustafar of Ilorin Golf Club, and Nojeem Sofela of MicCom Golf and Country Club, Osun State finished joint second. Sofela, who missed the diadem by the skin of his teeth, was in top form two years ago, when he helped his team to win the tourney, then christened Lakowe Lakes Golf Club Anniversary and Independence Day Pro-Am.
Sunday Odegha, a past winner of the tournament finished in third place in the Pros' event.
In the competition, which format was better ball Stableford (full handicap allowance) and scoring was lowest two of the group, including that of the professional, Friday Adache of Ilorin Golf Club, helped his team made up of Ikechukwu Boniface Ozoh, Kim Jong Keun and Olajide Aworanti, settle for the second place.
Yemi Ajibola, Douglas Koebbe, and Rautenbach Francois, playing alongside Bashir Bakare of host club grabbed the third spot after carding 258 nett over 36 holes.
Director of Golf at the club, Campbell Elliot, while speaking about the double-pronged tourney, where tour professionals competed among themselves, while still playing alongside three amateur players in their respective teams said, "the tournament having evolved very well in the last five years is getting the right marks and comment as it turns six.
"From experience perspectives, the members are of the view that this is the best and from the perspectives of the professional, they find the course to be in the best condition of all they have played so far. All in all, we would happily say that we are moving in the right direction."
According to him, "It's fun's to tie the country's independence celebration with the club's anniversary, which is what this tourney does.
"Going forward, we had to change the name to Lakowe Lakes Golf Classic in our effort to rebrand the event as a long-term tournament (that we can use to celebrate our club anniversary, as well Nigeria's Independence Day), without necessarily calling it an anniversary tournament.
So, the name Lakowe Lakes Golf Classic has come to stay even though the tournament would be used to celebrate the country's independence anniversary as well as the club's anniversary as well.