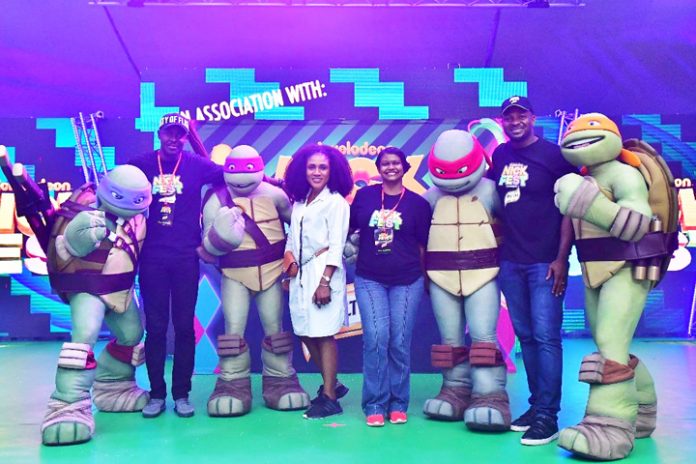 Ferdinand Ekechukwu reports on the recent Nickelodeon Festival in Lagos, aptly described as the biggest family festival in Africa
The sea of colorful logos of various consumer brands provided a pleasant feast to the eyes on arrival at the venue. Apparently the flamboyant spectacle was targeted at parents and children. The environment was draped with lively banners. Vendors littered the open but segmented space. In the mix of celebrity guests, brand influencers and very familiar faces, music and sounds wafted from different corners around the upscale environment.
The beautiful faces seen around were complemented by this feeling of camaraderie that sparkles amongst the teens with children games and exciting adventures for the kids and various age groups. NickFest made its debut in Nigeria last year courtesy of Nickelodeon, popular family entertainment TV network owned by Viacom International Media Networks Africa (VIMN Africa).
Tagged NickFest Nigeria 2018, in partnership with Maltina, the two day event delivered fun-filled experience for families and amazing features to enjoy the best of Nickelodeon lots of singing, dancing, and game shows and pure laugh aloud fuan. NickFest "basically is about creating experiences for families and children particularly to have fun, to bond, to share special moments and memories like no other," explains Bada Akintunde-Johnson, Country Manager, Nigeria, Viacom Africa.
"We had the first installment last year, this is the second edition. Feedback was great as you can see you know the kids have absolute grip of every activity that you find around and you would attest to the fact that this is not what you readily would found around here. "So it's about creating those experiences you know that are memorable, that are talked about by these kids and that live long in their memories."
He highlights the extra special thing about NickFest and the Nickelodeon brand. "It's extra special because, I mean for the kids ordinarily, this is something that would  outlive entirely on TV for them growing up. I can't imagine how priceless it would have been if I had the opportunity to meet the characters I watched on TV. So you know I can relate to this sort of experience what this means for these kids to be able to relate one on one with the characters that they absolutely adore on TV.
"So Nickelodeon is that brand that can enable the experiences no one else can. Dora the Explorer, Paw Patrol, Teenage Mutant Ninja Turtles, these are big name characters hugely popular with the kids and to afford them is an opportunity to relate with them, see them at very close quarters. That's absolutely priceless." Believed to be far Nigeria's  largest family-centric festival, NickFest 2018 was all shades of fun and spectacles.
Kids splashed around in thousands of litres of gloriously gooey slime at the legendary Slime Zone. The venue was transformed into a massive kiddie's wonderland with amazing toys, fun games and activities, and plenty color, notably the Nickelodeon and Maltina traditional bright orange which helped achieved a vibrantly playful ambience. Parents and guardians also had a wonderful time channeling their inner child as they joined in the revelry. Maltina lived up to its "Share Happiness" mantra by putting smiles on the faces of families at the Maltina Happy Land at NickFest through exciting give aways.
Executive Vice President and Managing Director, VIMN Africa & BET International Alex  Okosi, shared some thoughts about the show and its relevance during the kid's festival that has held across Africa, nay South Africa and Nigeria. "I think to be honest to the African kids the great thing about our kids is that in a lot of ways they appreciate the same things around the world; they love their families  and then want to able to have fun.
"I think what is great about Nickelodeon or what is great about the brand is that we do  provide that really fun exciting environment that is relatively safe for kids to interact not only with themselves but also with some other brands. And I think that a festival like this being held in Nigeria (it's only two places on the continent that we have held it which is South Africa and Nigeria) is a great testament too.
"Nigerian kids really do appreciate an xperience like this enough to really, really get  closer to the brand and the characters and the experiences that they love. So as you would see there in the festival grounds we not only have the characters taking on shows that are going on great entertainments for the kids; we have music that's part of the experience. So it's a mesh of all these amazing opportunities that really, really speak to the hearts of most kids."
The organisers were also able to pull in a host of popular celebrities like Adekunle Gold and Simi, Sound Sultan, Darey Art-Alade, M.I Abaga, Mayorkun, Damilola Adegbite, OAPs Manny and Lolo 1 of Cool and Wazobia Fm. The music stars thrilled and entertained amilies at event with electrifying performances. The pair of IK Osakioduwa and the beautiful teen entertainer Amarachi on stage enthralled the attendees as it lightings up the place.
Most personalities later got slimed green in a scene that elicited more fun, a major 
highlight of NickFest. The event featured Nickledeon's superstar characters like the feisty and fun Dora the Explorer and the animated cartoons rending an explosive display that wowed the kids and parents as they are whisked away to their favourite Nickelodeon characters worlds