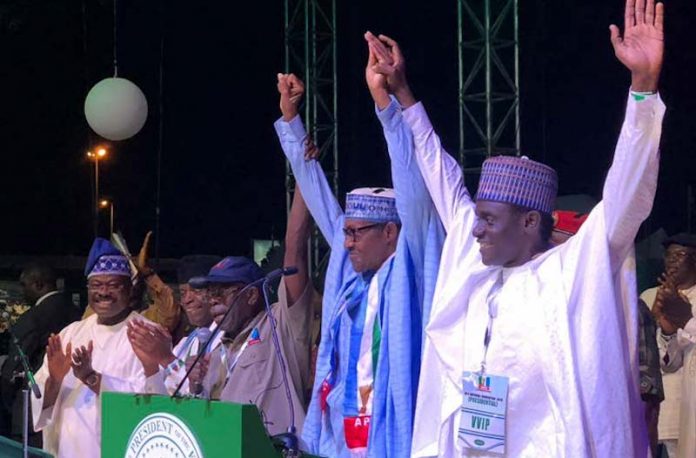 As flag bearer of the All Progressives Congress (APC), in the 2019 presidential election, President Muhammadu Buhari now has new campaign wristbands that were shared at The Eagle Square, Abuja venue of the party's recently held primaries thus highlighting an early start to his campaign.
As 7,000 APC delegates gathered to endorse Buhari for a second term at the Square, pockets of mild commotion began as Buhari-branded wristbands were distributed by Directors of the Good Governance Ambassadors of Nigeria (GOGAN) and the Buhari Unity Band (BUB) namely Hajia Zainab Mohammed, Dr. Abayomi Oyekoya and Mr. Yinka Oladunjoye.
Printed leaflets titled "Ahead 2019 Presidential Election" were distributed along with the Buhari wristbands. Billionaire business mogul, Chief Felix Idiga, is the Chairman and National Coordinator of GOGAN and BUB.
National Leader of the APC, Asiwaju Bola Ahmed Tinubu and Secretary to the Federal Government, Boss Mustapha were the first to wear the wristbands. Mustapha then distributed the bands to the hierarchy of the party.
APC Chairman, Comrade Adams Oshiomhole wore the new wristband, which bears an arty image of Buhari and showed the president who also wore one with excitement. Vice President Yemi Osinbajo and Governor Nasir El Rufai equally shared Buhari's excitement.
According to Chief Idiga who has just picked up a House of Representatives ticket in the Imo State APC primaries, "We believe in the second term candidacy of President Buhari for his exemplary discipline, integrity and commitment to the unity and progress of Nigeria. GOGAN is committed to the same ideals and will continue to cooperate with our party leadership in ensuring strict implementation of our party manifesto."
The new wristband, which thousands of people at the APC presidential converge squabbled for, has the inscription, "Buhari for one more term; Nigerians' 1st Choice" plus APC's logo. The four versions of the wristband made available at the Eagle Square were in English, Yoruba, Ibo and Hausa