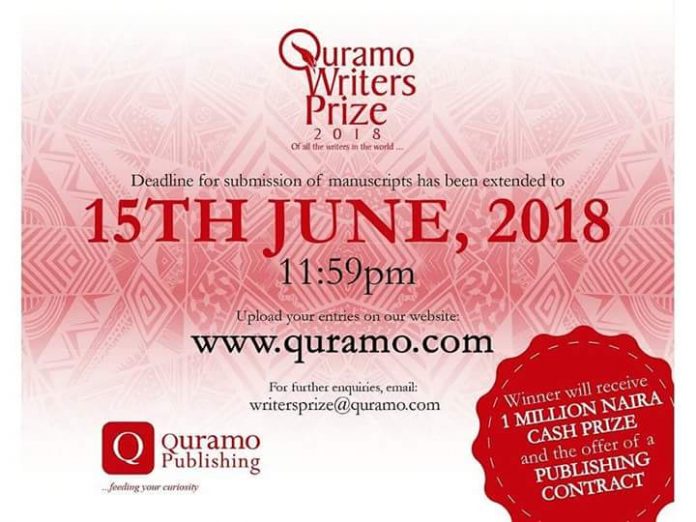 Quramo Publishing has released a list of top 10 entries for the year's edition of Quramo Writers' Prize. The annual prize, awarded to an unpublished fiction has a five-man jury headed by Aduke Gomez. She recently revealed that no fewer than 480 entries were received this year.
"The manuscripts addressed a wide range of issues and were realised in varying styles and perspectives. What was obvious is that there is a significant talent pool of writers in Nigeria, and our literature is well and alive and thriving,'' she stated.
The 10 entries are Achalugo Ezekobe's  Boys on Jumping Trousers;   Ani Obiamaka   Splendour's The   Girl   Who   Saw   Tomorrow;   ChiomaMildred  Okonkwo's  All That Glitters;  Elohor  Turtoe's  Fort Conquer;  Emmanuel Michael,  Running  Waters;  Harry   Nzube   Nlebedim,  A   Cry  Within;  Jesutofunmi Emma   Fekoya's  Mirror   On   the  Wall;  Oriasotie   Emmanuel  Ehimare's  When Yesterday Saved Tomorrow; Richard Onuegbe Oti's From Mbaise With Love  and Wayne Adewale Samuel's Third World Wars Alpha.
A short list of the top five will be announced on October 10 by Gomez and her fellow   judges namely Kunle Kasumu, Edify Yakusak, Ego   Boyo   and   Kayode Kofoworola. The award ceremony is scheduled for Sunday, October 21.  
Since the attainment of independence 58 years ago, the Nigerian entertainment industry has transformed remarkably; as comedy, fashion, modeling, lifestyle, music and movies churns in billions of naira to the economy. The Nigeria movie industry, Nollywood is rated the biggest movie industry in terms of output in the Africa and arguably the third only behind Hollywood and Bollywood. Not left behind is the music industry, which is also dominating the entire continent and even beyond. 
In those five decades plus, the entertainment sector has since experienced tremendous growth. In the music sector for instance, we have since independence witnessed several growth, from the era of Juju music, highlife, Apapla to that of Rap, hip-hop, Afro-Pop etc. And from Iconic musicians like Sunny Ade, Onyeka Onwenu, Osabede, Christy Essien Igbokwe, Fatai Rolling Dollars, to the generation of 2face, P-Square, Wizkid, Davido, Olamide and Tiwa Savage, the music industry has rapidly evolved with the latter's brand of music spreading round the world.
Speaking with THISDAY, David Noiki; a music producer said, "Obviously, there is a remarkable growth in the industry today, especially, with the advent of digitalisation. This has sprung up a lot of talents whom have improved on the status quo. But more improvement can be attained."
With its diverse cultures and ethnicities, it was difficult for popular music in Nigeria to have a mono-cultural identity but the 1960s saw a number of growths in the booming Nigerian music industry like Haruna Ishola, who dominated the Apala style of music. The early 1970s saw some of the biggest names in the history of Nigerian music at their peak; people like Fela Kuti, King Sunny Adé and Ebenezer Obey. Traditional music also spread throughout Nigeria with stars like the Hausa Dan Maraya championing it.
Since the past five decades however, Nigerian music scene has evolved exponentially, giving rise to a number of stars. These young people have evolved in their musical careers, eventually becoming some of the greatest voices in music in Africa.
Kennis Music, a record label founded by Kenny 'Keke' Ogungbe and Dayo 'D-One' Adeneye, both OAPs in Ray Power radio station at the time, signed on artists such as the Remedies, 2face, Wale Thompson, Eedris Abdulkareem, Tony Tetuila and Sound Sultan.
Westernised pop influences and imported music resulted in a profusion of new styles like waka music, hip-pop, Nigerian reggae and the popular Afrobeat. These styles thrived all through the 20th century. At the end of the decade, hip-hop music had spread to the country.
The wake of the 21st century saw women standing out in the Nigerian music industry for their talents and achievements in genres like rap, hip-hop and Afrobeat. Rappers like Weird MC, Sasha P and Eva Alordiah and Afrobeats singers like Omawumi Megbele, Tiwa Savage, Sasha and Yemi Alade shot into the spotlight and flourished.
Regardless, the face of the Nigerian music industry today is masculine with the likes of Olamide, Timaya, Phyno, Wizkid and Davido flying the flag of the country in different arenas, while smashing the records created by their countrymen who came before them.
While both Wizkid and Davido, adds weight to the Western music genres, urban highlife singer Omoba 'Adekunle Gold' Kosoko draws inspiration from King Sunny Adé and Ebenezer Obey, as well as Simisola 'Simi' Bolatito Ogunleye, who shot into limelight in 2011 after the release of her song, Tiff. 
Today, more Nigerians have international collaborations with their foreign counterparts, and are selling out shows and shutting down arenas. 
Another sector of the entertainment industry that has made Nigeria proud is 'comedy'.  Notably from the era of Ali-Baba; popularly called the king of comedy till this dispensation, Nigeria parades an endless  list like AY, Basketmouth, Bovi, Gandoki, Kenny Black etc. and a host of social-media skit comedians such as Wasiu-Elenu, Mc-Lively etc. No doubt, the industry is blooming.
The most remarkable of them all is the film industry, which produces about 50 movies per week, second only to India's Bollywood, more than Hollywood in the United States. Although its revenues are not on par with Bollywood's and Hollywood's, Nollywood still generates an impressive $590 million annually. 
The Nigeria Cinema, often referred to as Nollywood, consists of films produced in Nigeria. Its history dates back to as early as the late 19th century and into the colonial era in the early 20th century.
From the 1957 "Fincho," 1980 "Kadara," 1992 "Living in Bondage," 2002 "Keeping in Faith" to the 2014 "October 1," the Nigerian film industry has come a long way. Following Nigeria's independence in 1960, more cinema houses were established, and in 1972, the indigenisation Decree by Yakubu Gowon made possible the transfer of ownership of about 300 cinemas from their foreign owners to Nigerians, resulting in more Nigerians actively participating in the Nigerian film growth.
 In 1984 "Papa Ajasco" by Wale Adenuga became the first blockbuster, grossing an estimate of N61,000 in three days. In 1985, "Mosebolatan " by Moses Olaiya grossed N107,000 in five days. The theatrical and cinematic efforts of the likes of Hubert Ogunde, Taiwo Ajai-Lycett, Olu Jacobs,  Tunde Kelani, Adeyemi Afolayan, Ladi Ladebo, Moses Olaiya, Adebayo Salami, Sadiq Daba, Jide Kosoko and Afolabi Adesanya among others, played a pivotal role in shaping the film industry, which is now popularly called Nollywood.
In the 90s, Nigerians were introduced to actors who made an impact and are still relevant in the Nigerian film industry history. Actors like Genevieve Nnaji, Bimbo Manuel, Eucharia Anunobi, Tony Umez, Saint Obi, Ramsey Nouah, Rita Dominic, Kate Henshaw, Emeka Ike, Stephanie Linus, Chidi Mokeme, Liz Benson, Pete Edochie, Kenneth Okonkwo, Kanayo O Kanayo, Richard Mofe Damijo, Omotola Jalade-Ekeinde, Bob Manuel Udokwo, Funke Akindele, Bimbo Akintola, Joke Silva, Francis Duru among others.
In 2004, a new cinema era began with the launch of a series of modern Cinema houses by The Silverbird Group. The first new wave film to be shown at a modern cinema was Kunle Afolayan's 2006 "Irapada", which screened at the Silverbird Galleria in Lagos. Ever since then, high and small budget movies like Ije, Suru L'ere, The Figurine, The CEO, 93 Days, Half of a Yellow Sun, The Meeting, October 1, The Arbitration and even The Wedding Party, which is the highest grossing movie with about N450million, have screened at various cinemas in Nigeria and overseas.
Currently the largest film industry in Africa and producing more films than Hollywood; Nollywood has evolved into an industry with reputable film festivals such as Africa International Film Festival, Lights Camera Africa, Abuja International Film Festival, Eko International Film Festival among others. Nigerian films are also screened at international film festivals such as the Cannes Film Festival, Berlin Film Festivals, Toronto International Film Festival among others.
Comedy in Nigeria is likewise tailing the music industry. Notably from the time of Ali-Baba; popularly called the King of Comedy in Nigeria till this dispensation of; an endless list of Comedians in Nigeria with a global reputation such as, AY, Basket Mouth, etc. and a host of social-media skit comedians such as Wasiu-Elenu, Mc-Lively etc. No doubt, the industry is blooming.