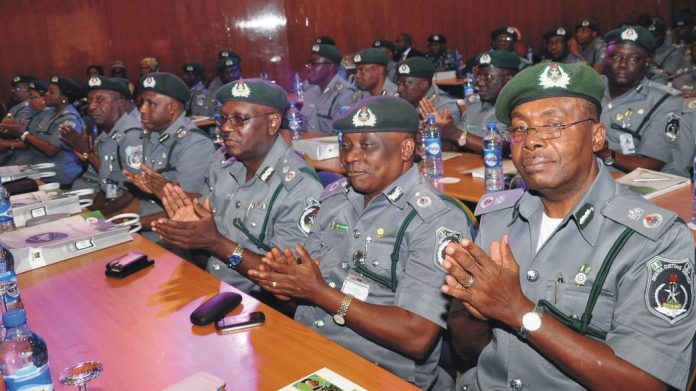 By Eromosele Abiodun
Following the seizure of 50,000 Jerry cans of Premium Motor Spirit (PMS) worth over N1.5billion in Ijofin, Ogun State by customs officers attached to the Federal Operations Unit (FOU), Zone A, Ikeja, clearing agents operating at the nation's seaports have called on the Comptroller-General of the service, Col. Hameed Ali (rtd) to reward the officers with accelerated promotion.
Rapid Response Team headed by Chief Superintendent of Customs, Jack Okpabi was responsible for the interception of the products in a creek in Ogun state.
The seizures were made by Okpabi and 10 other officers who went into the creeks in the middle of the night to intercept the products which was on the verge of being smuggled out of the country.
Consequently, the Association of Nigerian Liscenced Customs Agents (ANLCA) called for promotion of the officers involved in the seizure to encourage others.
The National Publicity Secretary of ANLCA, Joe Sanni said the promotion would serve as reward for hard work.
He said: "I support promotion for officers who have gone all out to combat smuggling and intercept this products. There should always be reward for hard work. I think one way or the other if reward for officers who have done well to combant smuggling is instituted and that such reward await those who go to extra miles to ensure that they curb smuggling, I think it would to discourage compromises by officers and results will be achieved."
Also,  a clearing agent at the Tin Can Island port, Ebenezer Banwo, urged the Customs CG to encourage  officers who put their lives on the line to make arrest.
Banwo, who stated that the officers could have allowed themselves to be compromised and allowed the product leave the shores of the country said fine officers should be motivated.
He said: "They are super officers that needed to be rewarded with promotion and commendation to tell others that integrity pays. The officers should also be used as poster boys of the service because i learnt other security agencies compromised and had allowed the product to leave until the team came to stop it and intercepted it."