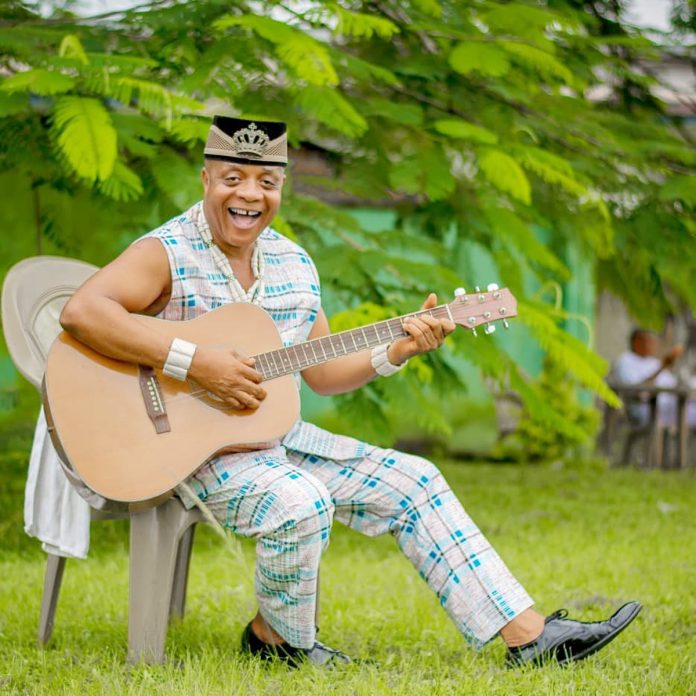 Veteran highlife musician, the Zigima exponent, Bright Chimezie (Okoro Junior) is in Lagos thrilling his teeming fans. The musician who relocated from Lagos to Umuahia, Abia State, so many years ago has a new album in the market, titled, 'Truth and Justice'. In his 60s, Chimezie leaves his Lagos fans mouth agape with his stage performance, as he still exudes the energy he was known for over 20 years ago. Tosin Clegg gets him to talk about his new album, tour in Lagos, family life and lots more
The secret of my strength at my age
I don't know how to put it, let's say it is God. I'm telling you. Even myself, I cannot explain it. As the day unfolds, I get more energy. I take things moderately. I work out and eat wisely.
I have a new album titled, Truth and Justice
That has been our style right from when we started. Once you have a fresh album, you get on the road, you play it live, and you endear it to people. That is how we started and we are sustaining it. We are basically in Lagos to introduce Truth and Justice and thrill our traditional fans.
Why it took so long to release my album
One thing with Zigima is that we are like writers. I consider each album as a book. I have just written a book. Novelists don't write books anyhow. I keep telling people that I am not a commercial musician. Most things I say are not commercial. They are deep. I don't depend so much on sales of my records; I depend on enshrining my philosophy, my thoughts in the hearts of men. It takes us long to work out the song, rhythm and the peculiar Zigima touch it normally has.
About the tour
We are playing in Surulere, Agric, it will continue till the end of September. I have a personal doctor but I have never had any reason to give him an urgent call on my health. No emergency at all. I grew up doing it. I cannot stay for two weeks without a show. If there is no show, I create one.
I am a family man
There comes a time in a man's life when you think of the future. I am married with five children. I had four boys in Lagos here who never knew my home, where I come from and who couldn't even speak my language. I looked at myself, a cultural ambassador; in future, they will ask any of my sons in Igbo 'how are you?' He would answer, 'my father said I am Igbo.' I said I am not going to do that. I called my wife and I said, if I ask you to go to the village and get these kids indoctrinated in the culture and tradition, they would say Okoro Junior abandoned his wife in the village and he is chasing small girls in Lagos. I said no. We relocated.
 I have five children
My first two sons are a set of twins and they are 19 years old – Chukwuemeka and Kelechi. My third child is Chukwudi, fourth is Chinemeze and fifth is Chidinma, my only daughter. She would be seven this year, speaks Igbo fluently and knows about her daddy's people and where he comes from. I do come to Lagos and I am gradually introducing them back to Lagos. Now I have gotten what I want. They speak fluent Igbo; they know where I come from. If I die today, they know where to take my corpse to and there is a home for them. And they won't be threatened by the villagers. 
They are grounded.
There is show business in the East
But the only thing is that the glamour, publicity is here in Lagos. We have done quite a lot in the East that is not reported, and that is the only thing we missed. 
How I feel about my fans still appreciating my music
I feel great about it. Our labour in the past has not been in vain. I have been getting a lot of phone calls, people telling me they will come to the next venue. It's all to the glory of God.
How I introduce myself to the young ones
One funny thing about creation is that there is evolution. As we grow older, the younger ones are picking up. For the fact that I have been consistent, even though I have not been to Lagos, they don't have a vague knowledge of me. There was a time I was like them. I debuted in my 20s and they used to call me the youngest of them all then. They know me. They know what I stand for. I don't need to overstretch myself to get them convinced. 
The release of my album
The album is already in the market but I will do the official release here in Lagos, we are working out something. I'm expecting reconnection even though we are entirely 'Zigimatically dichoted', the thing is still there. I want to tell my fans that I am not dead because there were so many stories when I left Lagos. Some even got me associated with the IPOB group and stuff like that. The true story is that Bright Chimezie is Bright Chimezie. I have interacted well in Nigeria. They know me in Yorubaland, they know me here.
I am a cultural ambassador
Even while I was in Lagos, most of my shows were still in the village. I am not alien to the village because I have always visited. Moreover, I was working for myself and I could situate Zigima at any place and still power sounds. So, what's retirement? People were coming to book me for shows right there in the village. 
My music was able to break the tribal barrier
I cannot get myself boxed up into one particular corner no matter how genuine they are. If there are truth and justice all over the federation, nobody would be asking for Biafra or any other agitation. It has to do with marginalisation and wickedness from man to man. Truth and justice are not only from the leaders but also the led. 
Our truth is as it suits us. Truth is supposed to be painful even to the person that speaks it. With truth and justice, we would have a stable society, a great society. A society where you can keep your phone and nobody will pick it. Very soon I am going to form a party, Truth and Justice Party. 
That is what we need. If we have truth and justice, the constituency allowances would be used well, the security votes would be used well. Without truth and justice, where are we?