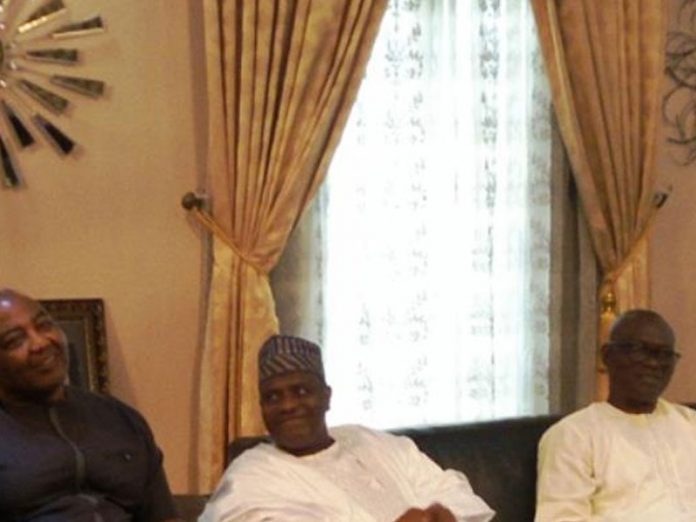 Tambuwal on another consultation visit to Asaba
Omon-Julius Onabu in Asaba
Former Secretary to Delta State Government, Ovuozourie Macaulay, wednesday played host to Governor of Sokoto State and presidential aspirant of the Peoples Democratic Party (PDP), Hon. Aminu Tambuwal, in his Asaba hilltop residence.
Welcoming the presidential hopeful, Macaulay commended him for being steadfast in pursuit of his dream of running for Nigeria's topmost elective position.
Tambuwal, who was recently in the Delta State capital as part of his nationwide consultation tour, had some years back nursed the dream of running for president, Macaulay revealed.
According to Macaulay, :"You had this dream many years back. It is good you have stayed true to it. I am happy you are in the process of achieving it."
"I got the message of your visit a bit late hence this small gathering. What you are seeing here is a rough sketch. This is Delta State and you are welcome to my home."
Tambuwal who was on consultation visit to delegates of the PDP in Delta State, said the visit was aimed at strengthening their bond of friendship.
He commended Macaulay for the reception which he described as warm even as he appealed for his support.
The Minority Leader, House of Representatives, Hon. Leo Ogor, Chief of Staff, Government House, Hon. Tam Brisibe, Hon. Ossai Nicholas Ossai, a House of Representatives member, ALGON Chairman, Delta State, Hon. Constantine Ikpokpo as well as some members of the 'Macaulay political family', including Hon. Patrick Ferife, Mr. Daniel Tutumor, Mr. Mike Ogwah, Chief Sunny Uthoro, Mr. Moses Idiowa amongst others were present.