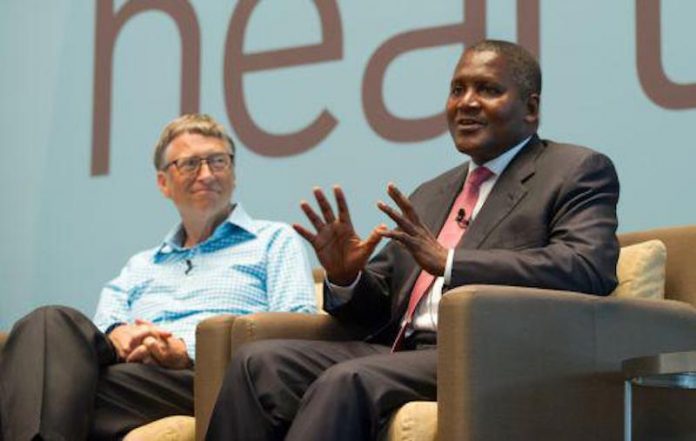 As Nigeria strives to achieve the United Nations 2030 target on the Sustainable Development Goals, co-founder of the Bill and Melinda Gates Foundation (BMGF), Bill Gates, in this exclusive chat with Martins Ifijeh, proffers recommendations
It is almost impossible not to get cold feet when the second richest man on the planet, and the globe's number one philanthropist, Bill Gates, spends 30 minutes of his busy time with you, even though the entire conversation happened on the phone. In one breathe, you feel overwhelmed by what the man worth over $90 billion has achieved for himself, and in another, you feel at home with the simplicity and humility of a man passionate about taking the world out of poverty, illiteracy and health challenges.
Gates is one man, THISDAY has learnt, does not talk much if pressed to discuss his achievements as the co-founder of Microsoft or as a philanthropist. But when it comes to conversations about healing the world of hunger, poverty, poor human capital development and other threats that affect human existence, he is more than willing to jump in and lend his voice.
Developmental Investment in Nigeria
Through the Bill and Melinda Gates Foundation (BMGF), which he founded with his wife, Melinda, he has invested several billions of dollars into making the world a better place. From tackling drought in Somalia, to the earthquake in Haiti, up to illiteracy among Kenyan children, and then addressing Polio in Nigeria, Pakistan and Afghanistan, he has continued to push the globe towards achieving a world free from diseases, hunger, illiteracy, inequality, poverty, and all the challenges of life.
But despite many of such commitments in almost 200 hundred countries of the world, his interest in Nigeria is deliberately huge because of the myriads of human capital development challenges and other issues the country is currently faced with. Such challenges, no doubt, can snowball into affecting other countries of the world negatively if not tackled.
On specifics, his foundation, BMGF, has its biggest African office in Nigeria, and has, as at March this year, invested 1.6 billion dollars (about 600 billion naira) into addressing poliomyelitis, malnutrition, family planning issues, inequality among sexes, and illiteracy in Nigeria; all as part of efforts to improve the lives of Nigerians, out of which, over 70 per cent live below poverty line.
Luckily, as Nigeria and other countries across the globe continue to push through government and philanthropic supports towards addressing these basic issues, the United Nations graciously set a target for all countries to address challenges like poverty, illiteracy, malnutrition, ill health, poor water sanitation, climate change, among others by year 2030, tagged Sustainable Development Goals (SDG).
Goalkeepers Report
But atypical of Gates and his foundation for playing leading roles on issues that affect humans anywhere in the world, they kick started the annual Goalkeepers Report in 2017 aimed at tracking progresses made every year by all countries across the globe on how they are moving towards achieving the target by year 2030.
The Goalkeepers Report, will every year, look at how each country is fairing in their quest to achieve SDG, talk about where things are on course, celebrate the heroes of those progress per year, and then look at where the world is falling short in other to provide recommendations.
Conversation with THISDAY
As his foundation, September 18, 2018 unveiled the 2018 Goalkeepers Report in Washington DC; can we say the world is making progresses in achieving the UN set out goals? Is a country like Nigeria on track towards meeting the targets? What are other countries doing that Nigeria is not doing to achieve these goals if for instance we are not on track?
These questions and many more were the thrust of Gates conversation with THISDAY; an opportunity he used in sharing genuine concern for the country's huge youth population, demographic dividends, human capital development, and many more. He tackled the need to prioritise attention against malnutrition in the North, reducing maternal, child deaths, as well as addressing primary healthcare. Also tackled were issued of human capital development, curbing illiteracy through funding and quality of personnel, polio eradication in Nigeria, and the key role of women in achieving the SDGs.
Malnutrition in the North
Dissecting Nigeria's SDG efforts one after the other, Gates believed that while Nigeria is making efforts at addressing the various goals, the country's progress is not as fast as the people would want it, hence the need for more work. For instance, on nutrition, he said for the country to improve the survival rate and reduce the number of child deaths, more work needs to be put into tackling malnutrition, especially in the country's northern region.
Gates said, "Over 10 per cent of the kids under the age of five don't survive, which means we are still not close to the global average which is below five per cent. We should continue to measure and view as a primary metric with the number of survival rate we get."
He believed for the children who are lucky to survive, the type of diet they take can make a huge difference, adding that when a child falls behind in growth, supplementary nutrition should be given as part of efforts to take that child out of malnutrition.
"I recently had a conference where I connected by video, and Aliko Dangote got the leading food companies in Nigeria together to talk about doing more in fortifying foods, that is, adding things like vitamin A to the various food products that are bought by the people, including low-income. So, I think on that food fortification front, there will be some real improvement and that is one element that helps a lot with nutrition and reducing stunting," he said.
Reduction of Maternal, Child Deaths
Recently, stakeholders in the health sector across the globe have been clamouring for all countries to give priority to their Primary HealthCare (PHC) system if health of humans across the globe must significantly improve, and one of the countries this has been harped on severally is Nigeria because of the huge maternal and child deaths and other preventable diseases still experienced.
For instance, during the visit of the Director General, World Health Organisation, Tedros Ghebreyesus to Nigeria at the second THISDAY Healthcare Summit on Universal Health Coverage held in Abuja in April this year, he emphasised that Nigeria can reduce its huge healthcare burden if its primary healthcare system functions optimally.
Same advice was also shared by Gates as he wants huge improvement in primary healthcare as part of plans to address maternal and child deaths and the reduction of disease burden. He expressed belief that even though the quality of PHC system varies from state to state in Nigeria, the first tier of healthcare is not functioning nearly as well as Nigerians would want it to function.
"PHC system is a key tool to reducing childhood deaths. This is also a platform to deal with nutrition, as well as ensure the key elements of human capital are fully developed," he added.
Focus on Human Capital Development
Gates is of the opinion that Nigeria probably needs to raise a higher percentage of Gross Domestic Product (GDP) and taxes in order to be able to fund some of the key human capital issues because of the benefits this can bring to the country on the long run.
He said human capital development is the key investment that will determine the quality of life and economic growth that can be gotten from large young generation, particularly in Africa, including Nigeria, adding that how a country invest in the young generation determines the level of differences that can be made economically.
He said, "When we say human capital development, the quality of the diet that comes from agriculture reforms, the attendance in schools and quality of schooling, and overall health and nutrition, are the magic elements that really determine how youth-bulge will benefit a country or be a challenge. If countries don't make those investments, level of employment, level of wealth, and food security can actually go down.
"Given the rate of population growth that is going on throughout Africa, which is particularly true in Nigeria, the challenge of getting that quality of governance that includes is huge, hence countries should invest in human capital development."
For Gates, Nigeria sits in a strategic position in Africa, and can play a major influential role on the continent because of its size. This, he said is one reason Nigeria must get it right. He stated, "I was pleased when I was in the country the last time that the discussion about whether we need to invest more in this next generation or not came up. There was at least some coverage, including your paper, THISDAY, which brought that issue up.
"And so Nigeria has some strength. It is better off economically than a lot of the countries in Africa. It has got a lot of very capable, college-educated people that care about these issues. But today, the performance in a number of states of the health and education system definitely falls short. And in order to have this bargain where you say, 'Hey, we are going to raise tax levels,' people will have to get a sense that the money is being spent in an effective way. And that bootstrap where the taxation levels are fairly low because the expectation of what you get is low, getting from that mode, they will say okay we have more resources and we see that in terms of how teachers are hired or healthcare workers are hired or how the delivery is measured to make sure it is working well, there is a lot of work to go on there."
Gates noted that he was hoping the number of the huge youth population is turned into assets, adding that the key work is all domestic and it touches on political issues like holding the government at federal, state, and local levels to account so that the most competent people are picked to improve the education, agricultural and health system.
Curbing Illiteracy
Gates seems to understand the educational challenges in Nigeria, as it is no longer news that the country investment in education is far from what is required. For instance, in many states across the country, teachers, who otherwise should be motivated to impact knowledge to the younger generation are being owed several months in salary, thereby dampening their moral to give share their knowledge.
According to Gates, for the world to really curb illiteracy, two dimensions of the education sector should be considered; First the country should raise the revenue to fund education, such that there will schools, teachers, and salaries paid on a dependable basis; while the second issue is the quality of the education system, such that the right teacher-training and the right feedback on the teacher-quality is out in place.
He believed on the first issue, Nigeria does probably need to raise a higher percentage of GDP and taxes in order to be able to fund some of these key human capital issues, adding that there are a lot of countries where the second issue, the quality issue, is still a huge challenge. For him, every country should start with the policy issue, and then quality of personnel training should be considered. He said generally, across the world, number of school attendance has increased, but that the world needs to focus on the quality of learning.
Agricultural Productivity Level
With the BMGF involved in interventions across several countries on agricultural remodeling and has helped nations improve their agricultural sector, there is no better man than Gates to offer recommendation to Nigeria on how best to make the sector more lucrative than even the country's oil sector. He expressed belief that a developing country serious about eradicating poverty should improve its agricultural sector, this to him is perhaps the first step a country needs to take.
He said, "If farmers can get better advice on agricultural extension, advice about which seeds to use, when to plant them, and how to access credit for fertilizer, you can get more than a doubling in that productivity. And, of course, the benefits of that are very dramatic because poor farmers make up such a huge part of the people in developing countries.
"Historically, the strongest examples come from Asia where China reformed its agricultural sector in 1989 and then had almost a tripling of output because they went for the better seeds and they developed the credit system, they also figured out where they should do irrigation and where they shouldn't. Today, African agriculture, including Nigeria's, basically has a productivity level similar to what China had before those reforms.
"Now, in Africa itself, we have seen strong agricultural growth. Ethiopia, off of a fairly low base, did a lot of reforms and has had very substantial growth. Rwanda, post genocide, has had pretty dramatic growth, and even Nigeria has had some growth, but nowhere near what is possible, particularly in the Northern region of the country, where the productivity levels are still well below what is possible to achieve."
He added, "For this transformation to happen, there is a key role for the government."
Women as Key to Achieving the SDGs
While it is true cultural and religious considerations have hampered efforts at meeting SDG on women and girls empowerment, literacy and good health, Gates believes the approach Nigeria adopted in addressing polio will be very helpful in this regard.
He said, "Nigeria is coming close to eradicating polio because we worked closely with the traditional leaders in a very intensive way. They partnered with us, so, I would expect, particularly in the North, for any changes you want to make, to engage them the right way. I think there are people talking about whether Nigeria can have women's groups, and whether it makes sense to get them together in a collective way. That, particularly in India and Bangladesh, has been ways that at the village level, the issue of best health practices, best agricultural practices, understanding about family planning can be achieved."
He said it will be decided by Nigerians whether that is a tactic they want to engage in or not, adding that the most he and other stakeholders can do is to be supportive of the leaders in Nigeria who think that that is a promising direction.
Polio Eradication
Amid the recommendations for a better model Nigeria can emulate in moving faster towards SDG, the philanthropist believes the country has done well in the push against polio. "We think we are close to making sure there is no more case in the country. There needs to be ongoing work, but overall, it was a very impressive project. And part of what formed that success is collaboration with stakeholders like the traditional rulers," he said.
With the release of BMGF's 2018 Goalkeepers Report, Nigeria would be expected to intensify efforts towards meeting the SDGs. Hopefully, by the time the 2019 Goalkeepers Report is released, the country will play a prominent role as one of the nations that has greatly improved in terms of addressing poverty, health challenges, illiteracy, poor agricultural productivity, and early childhood development.