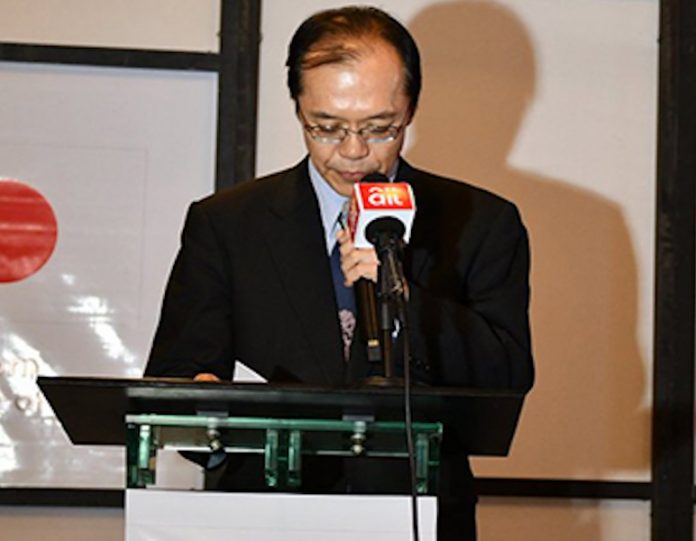 The new Ambassador Extraordinary and Plenipotentiary of Japan to Nigeria, Yutaka Kikuta, arrived in Nigeria recently to assume duty. In this interview, he speaks about the importance of the up-coming Tokoyo International Conference on African Development holding in Tokyo, between October 6 and 7; the trade relations between Nigeria and Japan among other other bilateral trade issues. Iyobosa Uwugiaren provides the excerpt:
Can you tell us more about the Tokyo International Conference on African Development (TICAD)?
The TICAD is not one of the donor-conference being organised by Japan for African countries; it is a high level summit/international conference on African development initiated by Japan in 1993, which is being co-hosted by Japan, UN, UNDP, World Bank, and African Union Commission (AUC). It is held every five-year till TICAD V (2013) and every three-year since TICAD VI (2016) and this year TICAD VII will be held in Yokohama, Japan. It is a kind of African-ownership discussion by African leaders with international partners and organised by Japan and other international organisations. TICAD is a process of engagement among African leaders and other international organisations on how to implement series of TICAD's meetings, ministerial meeting to review and plan how to implement the decisions of previous TICAD and prepare for the coming meeting.
Tell us the uniqueness and importance of TICAD?
It is unique in true sense of the world. It is a strong long-term commitment by Japanese government to fostering peace and stability in Africa through collaborative partnership. It started in 1993 and stresses the importance of Africa's ownership of its development, as well as the partnership between Africa and the international community for African development. Let me also stress the openness and transparency of the meeting over the years in the exchange of views amongst the conference delegates, by all international partners involved, not only African countries but also international organisations, private sector, partner countries, including Asian countries like China; and civil society organisations. But the ownership is on the African leadership side; how African countries can develop in future and how international partners, including Japan can assist.
What role is the Nigerian government playing in this international meeting?
I need to draw attention to the importance of the TICAD. Nigeria is playing an important role. President Muhammadu Buhari attended the previous one that was held in Nairobi, Kenya in 2016. Japan is part of the process to see how we can develop Africa as a whole. However, the role of Nigeria is its decision, how it can be part of the conversation and implementation plans for the future development of Nigeria.
Was Nigerian government invited for the TICAD?
Of course; we have sent invitation to the government through the Minister of Foreign Affairs and we have received a kind of positive signal from the government that it will send a very high-ranking political officials for the meeting, and we are very much encouraged.
What are the expectations from the meeting?
Like I said earlier, the Ministerial Meeting is a kind of review meeting concerning what was committed in the previous meeting, in Nairobi, Kenya; and also, to discuss the agenda for the next year TICAD. It is a very important meeting in the TICAD's process. The involvement of Nigeria in the process is very important, and it is for the future development of the country.
Share with us your areas of engagement with the Nigerian government since you arrived the country?
This is my fourth month since my arrival. I arrived Nigeria on May 24, 2018 to take up this position. My engagement has been on three pillars: the first is economic; the second pillar is development and the third is enhancing the people to people exchange. In terms of development, we are supporting Nigeria in infrastructure development such as water, electricity, transportation, information communication technology, software development and others. I strongly believe that helping Japanese companies in Nigeria to develop is in the best interest of Nigerians. They can create many jobs; they can enhance and transfer technology development to Nigeria. The philosophy of Japanese government is that we work for the receipting country. In the development, there are many commitments that have been made by TICAD's process.
In that process, we have our economic, development and skills acquisition cooperation/plans for each African country. In case of plans for Nigeria, we have mainly three pillars in our assistance towards Nigeria. One is infrastructure, the second is health and the third is a kind of emergency human-career aide through a long-term sustainable aid to the people. So, based on their philosophy and their discussion in the TICAD's process, we develop our assistance plan for each country. The second pillar is the people to people exchange. Before I came here, I heard a lot about Nigeria by Japanese people. But my perception about Nigeria has since changed after my arrival. We should make effort to convey the real image of Nigeria to the Japanese people.
The information about Nigeria as economic and political powerhouse in Africa, its rich culture, music, movies and other are very scarce in Japan. It is only negative things like Boko Haram activities, crimes and other bad things that are available there. But after my arrival here, I found out that though Nigeria has its own challenges; I don't deny it: Nigeria has a lot of challenges; Japan also has its own challenges, but Nigeria is charming and has great human resources, talented people, and young creative people. I will like to convey all these beautiful things to the Japanese people. I will also like to convey to Nigeria, the beauty of the Japanese people.
We need to develop a mechanism for information sharing between the two countries. With population of approximately 200 million people and its abundant natural resources, Nigeria is a great country. For us, Nigeria is an extremely important country to promote our diplomacy towards the African region. In this regard, it was my honour to come to such a great country and serve as an Ambassador representing the Government of Japan. If I look at its cultural aspects, Nigeria is a prominent cultural giant in the areas of literature, music and film, while it is also an information hub. It is famous for influential authors such as Prof. Wole Soyinka who is the first African writer awarded the Nobel Prize in Literature, talented music artists with Nigeria being the origin of Afrobeat, and its film industry known as Nollywood, which is often compared with Hollywood or Bollywood. Therefore, it is my pleasure to be able to work in such a culturally rich country and strengthen the bilateral relationship through cultural exchange.
What is the trade relationship between Nigeria and Japan like?
We attach great importance to the relationship between us and Nigeria because Nigeria is a very important country to Japan strategically as well as economically because as you well know, Nigeria is the biggest economy in Africa. 70 per cent of the GDP of the African continent is shared by Nigeria, and the population as you well know. Now Nigeria is allocated number seven in the world, and in the future, it will be India, China and Nigeria. Everybody knows that. Relationship including trade relationship or investment is important for Japan and Nigeria. Nigeria is a unique country to Japan; many people think that Japan sends a lot to Nigeria or any part of the world; but, we import a lot from Nigeria. Japan imports a lot more than we export to Nigeria; so, the trade balance is in favour of Nigeria. Every year, this trend is continuing in favour of Nigeria. And one of the greatest commodities we import from Nigeria is natural gas.
I am from Fukushima; seven years ago, we had a massive earthquake, tsunami and even the nuclear power plant explosion and Japanese energy resources need to sustain economic growth. Here comes Nigeria, we import a lot of natural gas from Nigeria, especially after the great East Japan earthquake, the amount increased, and we see it every year. Each country Nigeria sells its natural, it is Japan; you take your natural gas to other countries like Spain, but Japan is the highest. I think very few Nigerian people know this–that Nigeria currently supports the energy resources of Japan for the sustainable economic development of Japan, so we are very grateful to Nigeria.
How do you think Nigeria and Japan can sustain this relationship?
That is where we are working very much on. One possible area is continuation of this kind of trade. Now, a number of Japanese companies that are interested to have their businesses in natural gas resources from Nigeria are discussing contracts. Other areas that Japanese companies like you see here are Yamaha; automobile makers like Honda, and big names are coming to Nigeria. This shows the number of Japanese companies operating in Nigeria has being on the rise for many years. In late 1980s and 1990s, there were lots of Japanese companies operating here, the number reduced for sometimes but since 2009, it is on the rise again. And here as you know, these two years, Nigeria's economy was on minus growth ratio. So, naturally the number has not increased; however, after the recession of Nigeria the numbers are picking up, and if you see those companies – Sony and Yamaha, are big names, and we have the records that the numbers are even on the rise again, and many other big names are looking at how to start their business in Nigeria. Before I came here, I had a lot of interviews in Japan.
I met with the leaders of the big Japanese companies and I felt that they are interested to start their business in Nigeria. They have not yet decided to come into Nigeria, but they have the great interest on how to explore the actuality on ground. Even commerce or trading companies or even start-up companies are quite interested to have their businesses start up in Nigeria. I recently visited Lagos and met with companies, and I felt very good with the attitudes of Japanese companies. I felt that if we handle those obstacles or barriers correctly, Nigeria and Japan have a brighter future in terms of trade relationship.
You know very well that political stability in Nigeria also determines economic progress. Is there anything the Japanese government is doing to assist the democratic process in Nigeria, especially as we approach the 2019 general elections?
We will be happy to assist in whatever way we can; but basically, I will like to say that ensuring that there is free, fair, transparent, and peaceful process is the responsibility of the Nigerian leaders and the people. It is not the kind of aide that we can give.
It is not the responsibility of Japan to ensure peaceful election in Nigeria. I will like to say that Nigerian people have their stake to democratic election. But, if there is anything we can help, for example, sending election observer team, we will be happy to do that. Basically, Japan will join the international community to keep a close eye on the process, and if there is any need, we will issue a kind of message to the leadership of Nigeria. But, I will like to say, basically, it is Nigeria's job.
What do you think is the future of Nigeria?
Many ambassadors I met here explain to me how to see the glass: glass half full of water or glass half empty. But, I take the view that Nigeria has good potential for the future. Of course, you have many challenges, but you have great human and natural resources. You have the potential for the future and Japan is very happy to assist in any way. We are trying to help those who try their efforts at self-help, and that is Japanese philosophy; we just don't give fish, we teach people how to catch the fish.
Since you came to Nigeria, is there anything you find strange?
No; actually, my previous post was New Delhi in India; so, I didn't find any problem adapting myself to the life here. Rather, I find it enjoyable, especially for the people. Nigerian people have smiles and very good sense of humour. When I throw any jokes, I got great response from the people. I think the human resource is the asset you have for the future, and at the same time, increase in population in the future will cause great challenge — on how to feed those young generations; how you can keep the jobs for those young generations; that is a very important challenge to Nigeria. If it doesn't go well, it could lead to social instability, crimes and unfortunately serious terrorist activities. So, I do hope, and I have the confidence that Nigerian people together with the assistance of the international community, will face those problems and find a solution. That is my view.