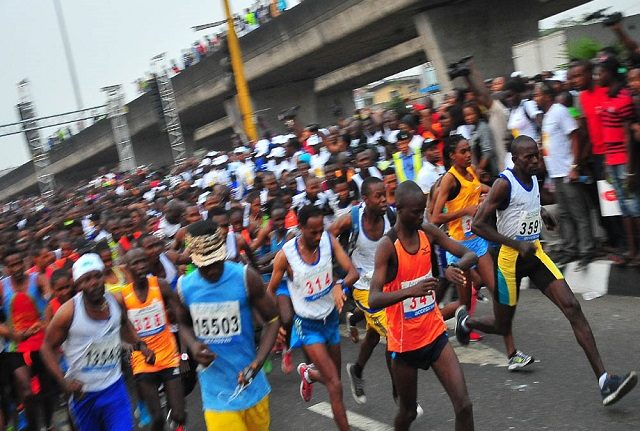 The 2019 edition of the Access Bank Lagos City Marathon is likely to break the previous records of participants in the IAAF Bronze Label race.
Just a week after registration opened, about 20,000 potential runners have collected forms at the Teslim Balogun Marathon Office.
The other outlets like The RevolutionPlus Offices in Ikeja and Lekki and Access Bank branches across the country have also witnessed an influx of intending runners according to a statement signed by Olukayode Thomas, Director Communications and Media.
The Access Bank Lagos City Marathon recorded over 50,000 runners in the first edition in 2016, over 73,000 runners in the second edition in 2017 and over a hundred thousand runners in 2018.
The organisers are expecting between a 120,000 to 150,000 for the 2019 edition slated for February 2nd 2019.
Race Organizer Bukola Olopade said he's excited that the culture of marathon and road races is gradually becoming a way of life, not just among Lagosians but generally every part of Nigeria.
"Entries for Access Bank Lagos City Marathon outside the South West are normally from Jos, Plateau state, but in the last seven days, we have potential runners from most part of South East like Enugu, Aba, Owerri and Onitsha and part of South-South like Calabar, Uyo, Port-Harcourt and Warri, and other parts of the country. Apart from the enormous health benefits that come from running, this is also good for internal tourism".
Olapade also revealed that the organizers are working round the clock to make the 2019 Race bigger and better.
"For this edition, we are going to acquire more Transponders mats, chips and monitors. Each runner will also get a participant guide; there will be a one month campaign on route education and road closures".
Olapade urged Lagosians to emulate citizens of other iconic cities with world-class marathons like Lagos who line marathon routes in their cities and cheer runners like it is done in London, Dubai, New York, Paris, and others.
RESULTS
West Ham 0-0 Chelsea
Arsenal 2-0 Everton
Barcelona 2-2 Girona
Milan 2-2 Atalanta
Frosinone 0-2 Juventus