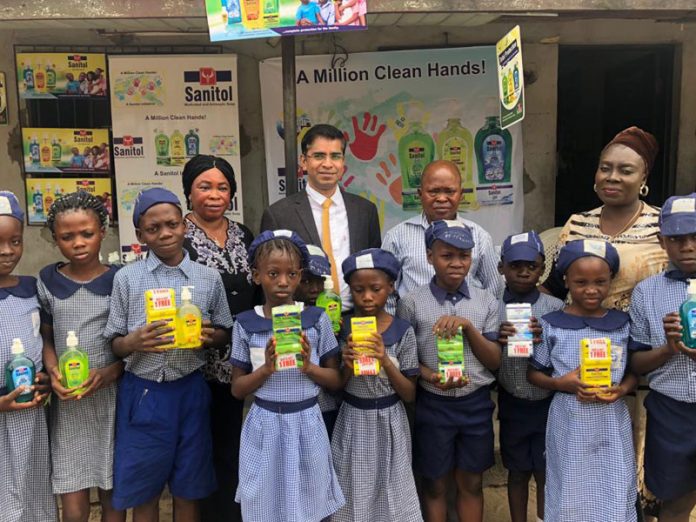 Mary Nnah writes that the 'A Million Clean Hands' programme recently launched in Lagos by Sanitol is targeted at boosting the wellbeing and hygiene of underprivileged communities across the nation
Undoubtedly, inadequate sanitation is just one out of the major causes of ailments, especially in children. Therefore, keeping one's hand clean through improved hygiene is one of the most important steps that can be taken to avoid getting sick and spreading germs to others. This can be achieved by the singular act of washing our hands regularly with soap and clean, running water.
To this end, a leading personal and home care product company, Saponaria Industries Nigeria Limited, is fully committed to helping build better awareness in the community to drive home the need for good hygiene and sanitation through it novel initiative, 'Sanitol – A Million Clean Hands'. Again, this is because improving sanitation in Nigeria will have significant beneficial impacts on households and communities.
Multi-pronged Initiative
This initiative is a multi-pronged mission that is founded on a strong sense of corporate social responsibility and manifests in several ways. Starting from this month of September, items like liquid hand wash soap and various other cleanliness products, from the stables of Saponaria Industries Nigeria Limited, would be supplied to various communities in Nigeria, especially for schools bathrooms and toilets on a monthly basis.
Saponaria Industries is a fast moving consumer products company with an array of market leading brands across the personal care, home care and beauty and cosmetics categories. The firm's strong manufacturing capabilities and distribution strengths are augmented by a continuous focus on brand innovation that fits into a larger corporate mission; to contribute to a cleaner, healthier Nigeria. For many years it has through its Sanitol range of medicated products ran the 'Keep Naija Clean' programme.
The company through its 'Sanitol – A Million Clean Hands' programme recently embarked on an initiative in which it has begun to place the Sanitol range of soaps, hand wash and hand sanitizer in at least 100 schools over the next six months, while also educating teachers and children on the far reaching benefits of a simple act of washing hands with soap and clean water.
Focus on the Less Privileged
Speaking during the flag off event for "A Million Clean Hands" campaign held at Dr Teslim Elias Model Primary School, Isale Eko, Lagos State, the company's Managing Director, Mr. Ashish Misra, explained that personal hygiene and sanitation must be a focus for both Nigeria and Saponaria.
"People must know that washing hands with soap and water is the first line of defence against disease and illness", he noted, adding that, 'A Million Clean Hands' will target schools in lower income communities so that the Sanitol product and message reaches the most vulnerable communities.
On what informed the idea for the choice of areas for the exercise, he said, "There are multiple types of areas like the high and low income areas. But our focus really is to go to areas which are slightly socially and economically underprivileged. "These are areas with problems of access to hygiene products and also needs education, which is why we would consistently, chose slightly low income areas, so that the impact is heightened as spread of diseases and infections are higher in areas like these."
"We want to focus on communities where the idea of hygiene and sanitation still has to take root. This is where the outbreak of disease is likely to happen because condition of living is terrible with still waters everywhere, which breed mosquitoes and infections; here people cook and relieve themselves at roughly the same place."
"We can always go to Lekki and Victoria Island but in these areas they already have a conscious habit of hygiene. But in areas like Isale Eko, Ajegunle, Mushin and the likes, with children in such communities, the idea of hand washing has to still take root and sometimes the financial strength is not available to go and buy these products. The education and distribution will help this effort and that is why we are choosing schools of this type and in fact, we are going to take this further to places like Kano, Kaduna, Zaria, Onitsha, Aba and Port Harcourt."
"In communities like these, we want to reach out to the children in slightly under privileged areas so that not only do they get the message but they are able to share it with their friends and parents and their immediate communities. We would have different schools but we want to concentrate on areas like these because of the incidences of deceases and healthcare challenges are more in areas like these."
Inculcating Hygienic Habits
Speaking further, Misra said, "Our idea is to make sure our products are placed in school bathrooms and we will provide a month supply. We want to start the process. The idea is to start the habit; it is the habit that is the key. We would provide enough for them to have for a full month. Once they get into the habit for a month, they will provide for themselves. They might find other soaps but the idea is to ensure the habit of hand washing before and after toiled is entrenched. The idea is to make sure the toilets and bath rooms are equipped for a full month."
To ensure that the practice of washing the hands regularly, most especially after using the toilet is imbibed, Misra said, "We have done multiple exercises, one of which include education, so we have consistently educated children. October 15 is Global Handwashing Day and this year's theme focuses on the links between handwashing and food. So we are going to take the advantage to educate people once again."
"Right now, many organisations are reaching out to us and are using our products for demonstration; it is actually funny that you have to do a demonstration on good hand hygiene behaviour. A lot of people are not aware of this. We are very sure that having the soaps in the bathrooms is enough to spark off that behaviuor and the idea here is to ensure that the products are available in the communities, especially in the schools' toilets.
"Again, in some schools in these communities, the toilets are not in good condition and water is not available. Electricity is not also there to pump water. So we are also working with organisations to ensure that at least a hand pump is provided. For example, we are contributing to convert one building in Dr Teslim Elias Model Primary School, Isale Eko into a bathroom. So, it is a sustained multilayer effort. But the clear idea is to provide products. What we are doing in terms of building bathrooms may not be a massive exercise because we have quite a number of people we want to reach. We are sure we can reach at least a million children with our products and we hope the children will take this back to the communities they come from".
Misra who revealed further that there were still a lot of children to be reached, noted that after the flag off of the exercise, the firm will reach as much as possible and basically the communities' schools first. The moment our target of a million clean hands is completed, we can now go with another product of ours, Gentle Baby Soap, to hospitals, for newly born children, new mothers, expecting mother and children. So we would keep reaching out to different parts of the communities", he added.
On what his company would gain from the monthly exercise, the MD said, "We are into the business of making soaps, so the more people use soaps regularly, it will not only be of benefit to the company but also beneficial to the communities because if people don't use soaps to keep themselves clean, or even when they use soaps infrequently, it leads to diseases and unhealthiness. But the moment people get into the habit of using soaps regularly and we are able to instill the inhabit perpetually, we would see the market for our larger portfolio of hygiene and health related products growing and then we would have more healthier people in the communities. So our focus is to grow the market as an industry in a whole and also to ensure that the habit of hygiene is instilled."