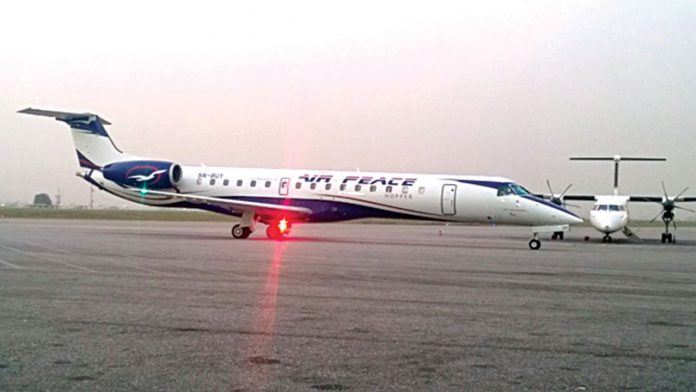 By Chinedu Eze
 Air Peace has said it will  start intercontinental operations in November when all the long-haul aircraft it acquired would have arrived.
This was disclosed by the Chairman and CEO of the airline, Allen Onyema, who said that he was expecting two more Boeing B777, which it acquired recently, in addition to the two which had already arrived the country.
Onyema said this would ensure that the airline has enough aircraft for its international service and so would not be interrupted by inadequate aircraft when anyone on the fleet goes for maintenance.
"We want to make sure Nigerians are proud of their own. We want to make the international community not to have anything to hold on to, to fault us. So, we want to make sure that we put in place a solid structure for the upcoming international operations. These are the reasons why we have not started. We do not want to go into international operations and come out. We want to make sure we have enough planes to do the international operations. You do not begin international operations with one aircraft. If the aircraft develop fault, what do you do? You disappoint passengers?  You don't start international operations with even two aircraft, which is why we have acquired four B777. We have not started because the others have not come in. And we do not want to rush it," he said.
The Air Peace boss said domestic airlines should cooperate more in order to reap the benefits interlining and ease the animosity occasioned by the current bitter competition prevalent in the industry.
He also said that the airline is negotiating for interline and code-share partners in its international routes to ensure that it takes passengers beyond its own destinations.
"We should cooperate more. We can even do spares pooling. It will help airlines. We are seeking partnership with other foreign airlines. We do not want to do point to point. We want to be a one-stop shop airline for passengers.
"Nigerians get more comfortable when they are flying international airlines. They believe those ones maintain their aircraft better  because of the not-too-good incidents of the past.  A lot of people are sceptical about using any of the domestic carriers.  Some will prefer to travel by road, 10 hours and even be at the mercy of kidnappers. They do not care because they do not trust Nigerian airlines. Again, Nigerian flying public believe that Nigerian airlines are ill-equipped and ill-maintained. Even those that agreed to fly; some of them would start praying four days before their flight.
"It is a matter of perception. Nigerian airlines are well-maintained because the  Nigerian Civil Aviation Authority(NCAA) is on top of their game when it comes to the issue of maintenance. The NCAA is even over-doing it. So, some of the things they could take for granted abroad, we do not take for granted here. I speak for myself as Air Peace. First of all, I wanted to give Nigerians a platform by creating employment; that is why I created this airline. I am pro-Nigeria, I am pro-people. We have over 2,000 employees within a space of three years and these are direct jobs," Onyema also said.