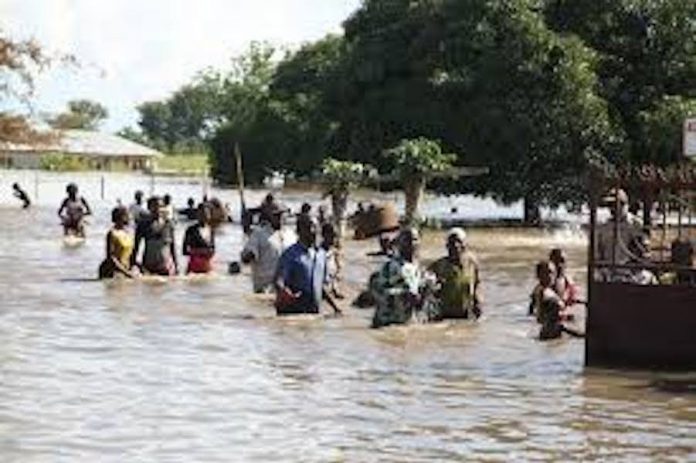 Laleye Dipo in Minna
Not fewer than 100 communities in six Local Government Areas (LGAs) of Niger State have been submerged by flood since the beginning of this year's rainy season.
Thousands of people have also been rendered homeless in Mokwa, Lapai, Agaie Katcha, Edati and Lavun LGAs as a result of the disaster.
Governor Abubakar Sani Bello made this known yesterday when carrying out aerial inspection of the affected communities, according to a statement by his Chief Press Secretary Jibrin Ndace.
The governor, according to the statement also disclosed that " a number of people have died as a result of the incident".
The governor added that apart from the heavy rains, water from the tributaries of rivers Kaduna and Niger also caused the flood.
Governor Bello who was speaking in Muye town in the Lapai LGA after conducting the aerial inspection of the affected communities declared that " the situation has gone beyond the capacity of the state" and called for federal government intervention.
"What I saw today is very devastating, on a rough estimate more than a 100 communities have been submerged in water and it doesn't appear that the water is receding. That we have not seen the end of it, is very disturbing. The situation is definitely getting out of hand and it is beyond what the state can do".
Bello stated that the state government on its part would ensure the provision of relief materials and the relocation of the victims from the areas.
"This flood starts all the way from Kede, towards Muregi down to Muye along the river bank. So, definitely at this point we will have to seek for the support of the federal Government and that is exactly what we are going to do.
"The first step taken by the state government is to send some relief materials to the affected communities because I strongly believe they will lack food at this time and the final step and probably the lasting solution is to relocate them at some point but now we have to take care of their immediate needs with regards to food and drugs," he added.
The governor had recently directed the release of N60 million for provision of relief materials for flood victims in the state.