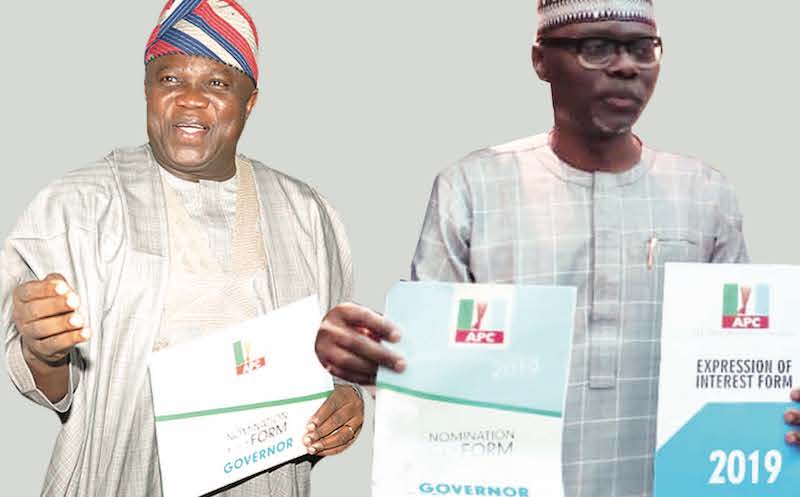 Gov: No rift with Tinubu
Gboyega Akinsanmi
The battle for the sole of Lagos State began to crystallise wednesday as Governor Akinwunmi Ambode and his main challengers, Mr. Jide Sanwo-Olu and Dr. Obafemi Hamzat, submitted their nomination forms for the governorship of the state to the national secretariat of the All Progressives Congress (APC), Abuja.
While Sanwo-Olu submitted his forms in person, Ambode and Hamzat returned theirs through their aide.
THISDAY's information however suggest that Hamzat might withdraw for Ambode, following, the National Leader, Senator Bola Tinubu's speculated support for Sanwo-Olu.
Apparently trying to boost the morale of his foot soldiers, Ambode said yesterday that he had no rift with Tinubu and the party leadership, asking his supporters to remain calm but steadfast.
Rather than confronting the APC national leader, however, Ambode challenged all his supporters to continue to pray for his administration, assuring them that God, who brought him to power, would show His hands at the right time.
He denied any disagreement with the APC leader during the election of delegates for the APC national convention and presidential preliminary election in Epe yesterday, noting that comments on the social media did not represent the truth.
The Mandate Movement, Tinubu's political group, had endorsed the Managing Director of Lagos State Property Development Cooperation (LSPDC), Mr. Sanwo-Olu to contest the 2019 governorship election in Lagos State.
Subsequently, all Chairman of 20 Local Government Areas and 37 Local Council Development Areas (LCDAs) signed Sanwo-Olu's governorship nomination form, claiming that they were acting on the instruction of the APC leader.
APC chieftains including former APC Deputy Chairman, Cardinal James Odumbaku and former Commissioner for Agriculture & Cooperatives, Mr. Kaoli Olusanya, allegedly directed Ambode to return his nomination form or face impeachment at a meeting held at Watercress Hotel, Ikeja Monday night.
As shown in the video of the meeting that THISDAY received through WhatsAPP, Odumbaku claimed that there was no other political group in Lagos State again than the Mandate Movement, noting that the Bola Ahmed Tinubu Campaign Organisation had been fused into the Mandate Movement.
He, therefore, said Sanwo-Olu "is our anointed candidate. We gathered here on the instruction of our leader. We must honour him by supporting his choice candidate for the 2019 governorship election in the state. The era of Ambode has gone. This is a new era. In 2019, Sanwo-Olu will be the one to occupy the State House."
But while addressing the delegates for the APC national convention in Epe yesterday, the governor acknowledged that the media had been flooded with report of a major rift between Tinubu and him over alleged difference on his re-election.
He said: "I want you to know that there is no fight anywhere. Tinubu and my good self we are not in any fight. We are not in any controversy. We are praying to God that the best is yet to come. The best will be what Lagos State deserves.
"I want you to just continue with your prayers that at this time, God will show His hand. He will make sure that everything that is of blessing to Lagos State and also blessing of Epe will come to pass," the governor explained.
He, specifically, commended the party leaders and faithfuls who made input to the success of the delegates' election in Epe, assuring that the APC remained the party to beat in Lagos and Nigeria.
"We have concluded our delegates' election in Epe Local Government. By consensus, we have picked our three delegates that will be going to the national convention come October 6 for the presidential direct primaries and the convention for all other people.
"I want to say a very big thank you to all our delegates that are present here; I want to say a big thank you to all our leaders that have also supported us to make sure that this event has come and is done very successfully.
"I want to reiterate once again that our party remains the party to beat. We are the party at the national level and we are going to remain the party in the state," he said.
At the event which was held at APC's Secretariat in Aiyetoro, Epe, Alhaji Shakiru Seriki (Bamu), Otunba Bode Alausa and Mrs. Olayinka Oladunjoye, the State' Commissioner for Commerce, Industry and Cooperatives, were elected as national delegates from Epe division which comprises of one Local Government Area (Epe) and two Local Council Development Areas (Eredo and Ikosi-Ejirin).
The party leaders and faithful in the division also took turn to affirm their unalloyed support for the second term bid of the governor.
They include the Chairman of Epe Local Government, Adedoyin Adesanya; Chairman of Eredo LCDA, Saliu Adeniyi; Chairman of Ikosi-Ejirin LCDA, Samson Onanuga: party chairman in Epe Local Government, Otunba Kehinde Adeniyi; State Welfare Officer, Alhaja Abiodun Bankole; former member of House of Representatives representing Epe, Hon Bola Gbabijo and member of Lagos State House of Assembly representing Epe Constituency II, Segun Olulade.
Others are APC Women leader in Epe, Mrs Iyabo Adegboyega; LGA party secretary, Alhaji S.A Owolomose; youth leader, Abdul Ibrahim; Otunba Bode Alausa, Akin Oladipupo, among others.
Youths in the division also staged a peaceful protest displaying placards of various inscriptions to affirm their support for the Governor's second term bid.
Speaking in Abuja yesterday, Sanwo-Olu expressed confidence that he would win the contest, saying he was prepared for the job having had experiences in governance of the state.
"I have had a wide range of experience and I have a dream to obviously contribute a lot more as a 'Lagosian and son of the soil, I will just be able to let our people get to where they know that governance is all about people, it is about what we expect, it is about what will go back to them, improve the cause of life, course of security and there are lots of other things we are going to be rolling out," he said.
When asked to comment on the insinuation that he was being sponsored by the national leader of APC, Bola Tinubu, the governorship aspirant said he cannot deny that Tinubu is the leader.
He also acknowledged that his candidacy had been endorsed by leaders of the party at the local government level.
He added, "There is no doubt that things would be said here and there. A man that is standing in front of you, fully grown-man with several years of experience, like I said, it is about the Lagos of our dream, it is about the Lagos we want to take to the next level.
"I think it has nothing to do with our leader and there is no denying the fact that he's our national leader. And he takes back position not only in the State but in the national and you know he has interest in the well-being and improvement in Nigeria's dream.
"So, by extension, Lagos is a dream that he is pertinent about and we will continue to refer to him as our leader but most important thing is, I am in front of you, this is who I am, this is what I have come to express to you and Lagos, certainly will be a better place to live for all of us."