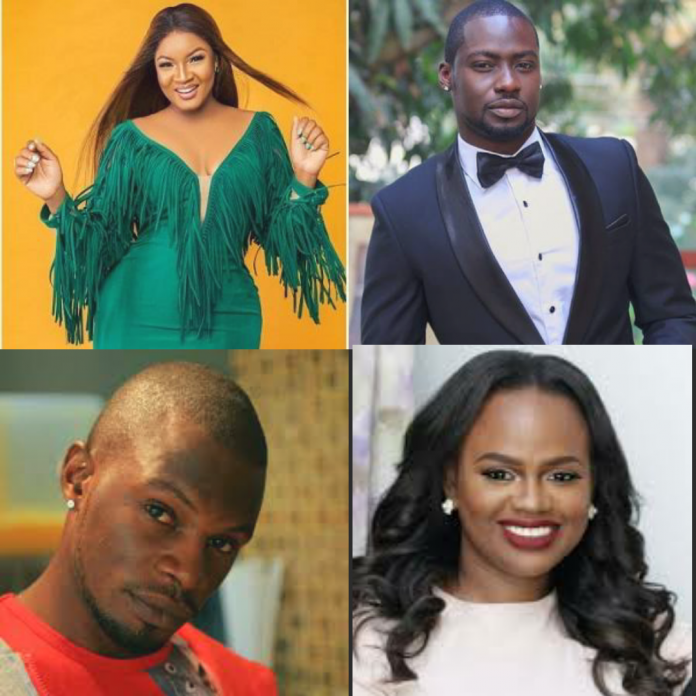 Vanessa Obioha
As the hour draws nearer to the sixth edition of Africa Magic Viewers' Choice Awards (AMVCA), all eyes are fixed on the coveted prizes of the night: Best Overall Movie, Best Actor in a Drama (Movie/TV Series), Best Actress in a Drama (Movie/TV Series), and Best Director.
Last year saw '76, Sambasa Nzeribe, Rita Dominic and Izu Chukwu carting away prizes in these categories. Although this year's nominees were met with mixed feelings, there is still that fevered expectation on who will emerge winner at the glitzy event tomorrow at Eko Hotels and Suites, Victoria Island, Lagos.
Battling it out in the Best Actor in a Drama (Movie/TV Series) are Nigerian actors Wale Ojo (Alter Ego), and Kalu Ikeagwu (Benevolence).
They are up against Ghanaian actors Chris Attoh (Esohe) and Adjetey Anang (Keteke, Sidechic Gang); and Ugandan actor Raymond Rushabiro (The Torture).
Of all the contenders, Rushabiro is the newbie. A renowned stage actor with the popular Ugandan theatre crew Ebonies, it will be a surprising twist to see Rushabiro clinch the award in this category for his performance in 'The Torture'- a 2017 film about an older man who falls for a younger woman, only to realise later that she only wanted him for the financial support. After going through heartache, he captures her and avenges with torture.
However, he will have to contend with Wale Ojo, a past nominee and the only actor nominated twice for different movies. His role in the movie 'Alter Ego' was applauded, particularly for the chemistry he shared on screen with Omotola Jalade-Ekeinde, his co-star. Will luck shine on him tomorrow when the results roll in?
Chris Attoh is no stranger to the AMVCAs, though he is yet to win in this category. Perhaps, it might be his lucky day.
For the first time, Omotola Jalade-Ekeinde bags a nomination in the AMVCA for her role in Alter Ego. Will it also be her first win? Apart from the Ugandan actresses Agaba Joan (The Torture) and Cinderella Sanyu (Bella), other nominees in this category are Nigerians. Keira Hewatch is famous for her role in Lekki Wives, while Miriam Kayode and Lilian Echelon have also proved their worth in different productions. Omotola apparently has a higher edge than others going by her robust career experience. Yet, there is no guarantee that she be lucky star tomorrow. It will be fun to see which of these thespians emerge winner in this category.
The contest for Best Director in any movie awards is one watched with keen interest. This is the category that separates the masters from the learners. The intriguing part of this category is that the winner's production doesn't necessarily clinch the Overall Best Picture. For instance, in the 2016 AMVCA, Akin Omotosho took home the award for Best Movie Director for his production 'Tell Me Sweet Something.' That same year, Stephanie Linus won the Best Overall Picture for her movie 'Dry'.
The contenders in this category are an exciting mix. Ugandan Richard Mulindwa is a celebrated star in his home country with the release of his film 'Only Son' in 2016. The story about a young man's struggle to regain his father's wealth after a bad deal fetched the director a place in the stars.
His recent movie 'Torture' interestingly scooped three nominations in this year's AMVCA for Best Actor/ Actress in a Drama (Movie/TV Series) and Best Cinematography (Movie/TV Series). Sealing the night with a glorious win in this category will be a breakthrough for the East Africa country, which for the first time in the AMVCA has more than one nomination.
Jade Osiberu is another interesting diector to watch out. Moving from small production to her first feature film 'Isoken' which gathered five nominations including Best Art Director and Best Movie (West Africa), Osiberu may finally get her deserved place in the African Film Industry.
Will it be another glorious night for the Ghanaian director and producer Shirley Frimpong-Manso for her sweet romantic comedy 'Potato Potahto'? In 2014, she won the Best Movie Director for her movie 'Contract', which also won the Best Overall Movie that year.
Garnering the highest number of nominations in this year's edition, Moses Inwang 'Alter Ego' may surprisingly be the most rewarding winner of the night. Alter Ego received positive reviews for its lead actors Omotola Jalade-Ekeinde and Wale Ojo stellar performances.
Also hot on Inwang's heels is Don Omope, whose film 'Tatu' earned Nollywood star Toyin Abraham her first AMVCA nomination. Aloaye Omoake and Asurf Oluseyi may also spin a win.
Nigerian movies have been highly favored in the category of the Best Overall Picture in the history of AMVCAs. With the exception of the first edition which was won by South African Sara Blecher for her movie 'Otelo Burning' and 2014 where Ghanaian filmmaker and director Shirley Frimpong-Manso took home the award, all others have been won by Nigerians: Kunle Afolayan's 'October 1′ won in 2015, Stephanie Linus' 'Dry' in 2016, and Izu Ojukwu'76 won last year. The Nigerians in this year's film race: Moses Inwang(Alter Ego), and Awal Abdulfatai (Descent) however will be facing stiff competition as they are up against Shirley, a past winner for her movie Potato Potahto; Kenyan Phoebe Ruguru for his gripping tale '18 hours'; highly acclaimed Malawian filmmaker Shemu Joyah for his intriguing narrative 'The Road to Sunrise' and Ugandan Hassan Mageye for his heartbeating story 'Devil Chest'. Which one of them will be smiling for the camera tomorrow evening?
The 2018 AMVCA witnessed a few changes. For the first time, the award calendar was altered. Usually held in March, this year's is holding in September. Also, the award which is organised by Africa Magic and MultiChoice Africa was able to get the backing of the Lagos State Government for this year's celebration.
Over 3000 entries were received this year across 27 categories, out of which seven are open to public voting.
Wangi Mba-Uzoukwu, Channel Director, Africa Magic said: "We are delighted to once again celebrate outstanding achievements in the African film and television industry on the platform of the AMVCAs.
"As always, we promise a night filled with exciting and stellar performances led by some Africa's biggest names in the music industry. Our viewers at home will not miss a moment of the event, as they can tune in to all Africa Magic channels on Saturday, 1 September to see who wins the coveted AMVCA titles."
The awards will once again be co-hosted by South African media sweetheart, Minnie Dlamini-Jones, and Nigerian on-air-personality, IK Osakioduwa. For two years, the lovely duo has thrilled guests and viewers as hosts of the AMVCAs with their brilliant synergy, charm and infectious wit.