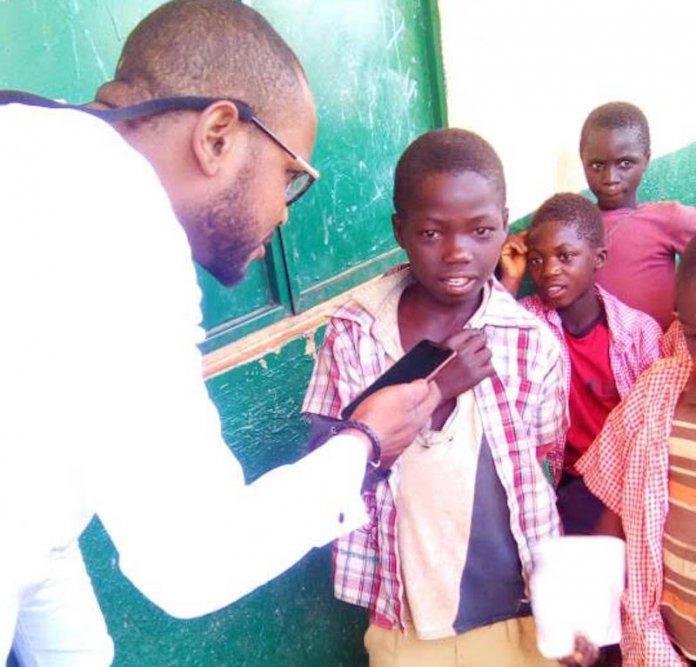 Martins Ifijeh chronicles the life of Dauda Kazeem, a 15-year-old orphan, who could pass for a 10-year-old because of immense poverty, malnutrition and lack of care. He often skips school so he can take care of himself and his younger siblings
Life, they say is not a bed of roses. Some are born with a silver spoon in their mouths. Some have it thrust at them, while others struggle their way through to have the spoon. But there are some who do not have the same level playing field to compete for the spoon. Everything around them smacks of struggle, failure, and disappointment. The more they make effort at it, they more things around them bring negative results.
One of such persons is Dauda Kazeem, an otherwise ambitious little boy, who would have loved to be born into a family where he could play with choice toy cars, have proper early childhood development, go on vacation overseas, and attend the best schools in town. But all fingers are not equal. Dauda was born into a family with the smallest finger.
A first look at him suggests he could be seven or eight years old and under the protection of struggling parents. But no. Dauda is 15 years old and he caters for his family. His parents are late and he has four younger ones that must eat and have a roof over their head.
His poor parents died of food poisoning same day a few years ago in the government-forsaken Bangai community in Riyom Local Government Area of Plateau State, leaving him and his four siblings to wiggle their way through life all by themselves.
And since then, the uphill task of fending for himself and his younger ones was thrown at him by providence. The only extended family member that should have been their guardian is an aged grandmother, who is too old to take care of herself, not to mention Dauda and his siblings.
The situation, therefore, resulted in intense poverty for him and his siblings. It also in no small measure slowed down his education and other things around him, including his nutritional status, his weight and height. It has also deprived him of early childhood development, and all a teenager his age should have.
Dauda is presently in primary five in LGEA Primary School in Bangai community. But despite being in a class befitting children of 10 or 11 years, he skips school every Wednesdays to Fridays so he can work on people's farms for N500 ($1.6) per day. It is the only way he can buy food for himself and his siblings.
"Tomorrow is Wednesday, and I will not come to school because I need to work on people's farms until Saturday," says Dauda, during the United Nations Children's Fund (UNICEF)/Media visit to his school recently, where the international non-governmental organisation with support from the European Union, is providing water and sanitation facilities for the school children.
The visit was facilitated by UNICEF during a two-day media dialogue on Water Sanitation and Hygiene held in Jos recently.
That is what Dauda does every week. He goes to school only Mondays and Tuesdays and spends the next four days tilling the ground so he and his siblings can eat and have a roof over their head.
The decision by Dauda to skip school three times a week is already telling on his education. His classmates, who flanked him during his chat with THISDAY says he is one of the dullest in his class; a gesture Dauda vehemently rejected.
Like the 'daddy' he is in his class, other classmates who made the uncomplimentary gesture took to their hills for fear of Dauda hitting them. He first ran towards them before returning to continue the interview. His response, however, shows that being a dull kid isn't what he was comfortable with. But skipping school trice weekly makes it difficult for him to be like his brilliant classmates. After all, an empty stomach cannot do well in class. He first has an obligation to tackle hunger, before education.
Dauda's height and weight do not correspond with his age. He is too small for the age he carries, meaning he is highly malnourished. He looked not more than a 10-year-old.
One then wonders if Dauda, who is the breadwinner of the home is this malnourished, how then can his other siblings be, who may not have access to the lean money that comes into the house, as Dauda does.
Asked how much he presently has, since he caters for everyone in his home, Dauda says he has N600 ($1.8) in the house. "It is part of my savings. By tomorrow I will make another N500 ($1.6), and add it to what I have saved. But from it, we will buy food for tomorrow. I do not save for long because we all need the money for food," he added.
He said there were times he labours for farmers who ended up giving him tubers of yam or potatoes. "I am always happy when gifts like yam and cassava are added to my N500 ($1.6)."
Dauda says he and his siblings have gone to bed on several occasions without food. "I sometimes even come to school without food," he explained.
Asked what he would love to be in future, Dauda says he wants to be a policeman. He says he admires policemen in uniform, hoping one day he would also be in the attire.
While Dauda's situation is pathetic and has obviously deprived him of proper early childhood development and sound education, there are about 11.5 million Nigerian children like him who may not grow up to reach their full potential because of malnutrition, lack of early childhood development, and lack of education.
Unfortunately, tackling malnutrition has not been given the priority it deserves in the country. Millions of Nigerian children, just like Dauda go to bed hungry, while many have lost the window period for proper brain development because of lack of food and other support system needed by children to face adulthood in future.
While Dauda and his siblings are most likely among the 11.5 million children in the country who are malnourished, he could be considered a hero for standing in the gap for his brothers and sisters. He took up the responsibility of his late parents, and his education is suffering so he can put food on the table for his younger ones.
In societies Nigeria often hopes to emulate, Dauda should be as tall as the reporter interviewing him (as seen in the first photo above). He should probably be in his first year in the university living his dream. He and his younger ones would have been the social responsibility of the government, from feeding, education, up to shelter.
But Dauda and his siblings have been deprived of the support system they ideally should get from a country.
Even his community, Bangai, could pass as a typical 19th-century village, as it lacks most of the basic amenities, including water, roads, and functioning healthcare facilities, needed by the citizens.