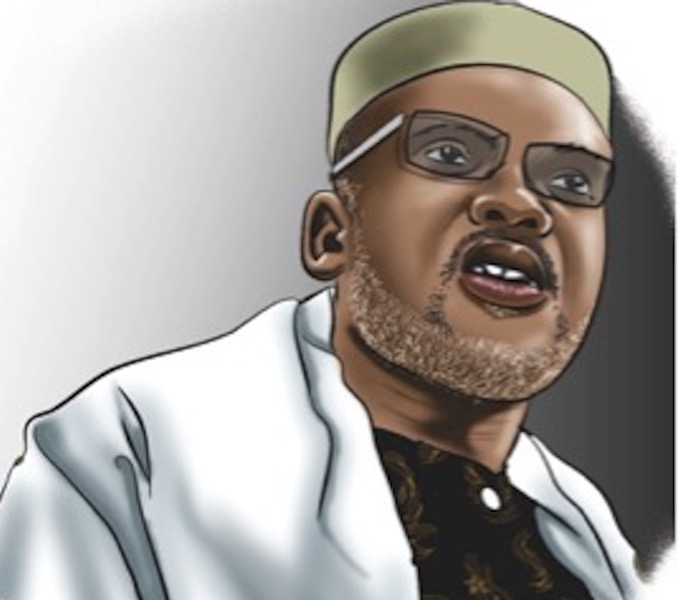 Mikky Attah challenges the notion that the Soutth-states may be inexplicably drawn into the agitation for Biafra
Since the Nigerian civil war, it had appeared that the status quo was acceptable to the Igbos, thus it came as a shock to Nigeria when a separatist group, The Movement for the Actualisation of Biafra (MASSOB ) was later born in 1999.
It is a sad telling on the Nigerian nation that over half a century after the civil war was fought against Biafra, none of the issues raised has been addressed and the Igbos are still targets of attack; even though currently, the killings are no longer specifically targeted at them.
The Nigerian government has never been accepting of separatists groups, and clamped down on MASSOB, throwing its founder, Ralph Uwazuruike into an underground SSS cell.
There he was kept for three years, until in 2007 when Justice Binta Nyako granted him a three-month bail- just to let him go and bury his mother who had died while he was locked up.
The only thing that came out of MASSOB for the Igbos was suffering, arbitrary arrests and greater hopelessness.
Therefore it was just a matter of time before another Igbo separatist group was formed. This time, the Indigenous People of Biafra (IPOB). It has not adopted the Mahatma Gandhi Philosophy of MASSOB; it has also been registered under the United Nations, and other international bodies, as a recognised entity of a body of people.
The Federal Government wasted no time in declaring IPOB a terrorist group, and characteristically, threw the IPOB founder, Nnamdi Kanu in jail.
However, in the midst of repeated military invasions of the country home of Nnamdi Kanu, with repeated military operations in his hometown; Kanu, when he was eventually given it; jumped bail and fled the country.
Nnamdi Kanu, who is a British citizen, has since been re-arrested and repatriated to a Nigerian jail, where he remains till date.
Now, the demands of the Igbos remain valid. They are also legitimate. I personally believe firmly in anything that will bring about self- actualisation, and as a writer, I was fully in support of Brexit, and was glad when it passed.
However, there is the matter of the actual composition of Biafra, which today has become a thorny issue; leading to a call by IPOB for a referendum.
But before the referendum, the original map of Biafra has to be examined, with a view to tinkering with it, wherever necessary.
Going back to history, (a subject the Federal Government has expunged from the educational curriculum); it would be discovered that the original map of Biafra comprises all the Igbo states , as well all the Niger Delta states except what is today known as Delta State.
It is not in doubt that so far, it is only the Igbo people who have been agitating for Biafra.
For the rest of the Niger Delta, that is, the South-south states, there has been no resistance or condemnation for IPOB, or for Biafra.
This is in direct contrast to the position of northern Nigeria, in which several groups have stridently condemned the IPOB movement.
On the other hand, however, the Niger Delta region does not appear to be seeking to remain in Biafra any longer. I say this not as a spokesperson for the region, but as an informed resident of the region ( I just moved from Cross River to Akwa Ibom State); and as one who is constantly feeling the pulse of the people.
Last year, a couple of political figures from the Niger Delta spoke out in this vein, saying they would absolutely not want to be part of Biafra.
The Rivers State Governor, Nyesom Wike stated bluntly that Rivers State is not a part of Biafra.
Nigeria's immediate past president, himself a Niger Deltan from Bayelsa State, put it that " Biafra may not be better for Niger Deltans."
Amidst calls for non- inclusion amongst other parts of the original Biafra, I once watched a television interview granted by Nnamdi Kanu in which, when he was asked about this, he said it is the (Niger Delta) people themselves who should choose where they want to belong. In that interview with Kadaria Ahmed, Kanu emphasised the need for a referendum, the outcome of which he was very sure that the others would go with Biafra rather than the conundrum that is Nigeria.
I do agree with him that the people themselves need to decide.
What I want to propose are the logistics for carrying out the referendum. The Niger Deltans are the contentious "members of the Biafran Republic."
The South-eastern, Igbo states of Imo, Abia, Enugu, Anambra and Ebonyi States, casting a single vote each- yea or nay, would predictably give a block vote in favour of Biafra.
Similarly too, the six Niger Delta states will also vote to make their position known; ending any contentions as to where they would want to be, thereafter.
A youth leader from each of the states could be selected, with gender considerations also taken into play. A safe, accessible, non Biafraland venue could be chosen for the referendum, such as Abuja.
neutral empires I offer myself), who have nothing at stake could oversee the exercise, which should be concluded in a matter of minutes.
Another way to go about it would be to include or exclude, on a state by state basis, those states that wish to remain, or to leave.
The aftermath should be the redrawing of the Map of Biafra. This would then be an authentic, updated, veritable working tool for better advocacy of the Biafra Actualisation project.
*Attah is a radio presenter