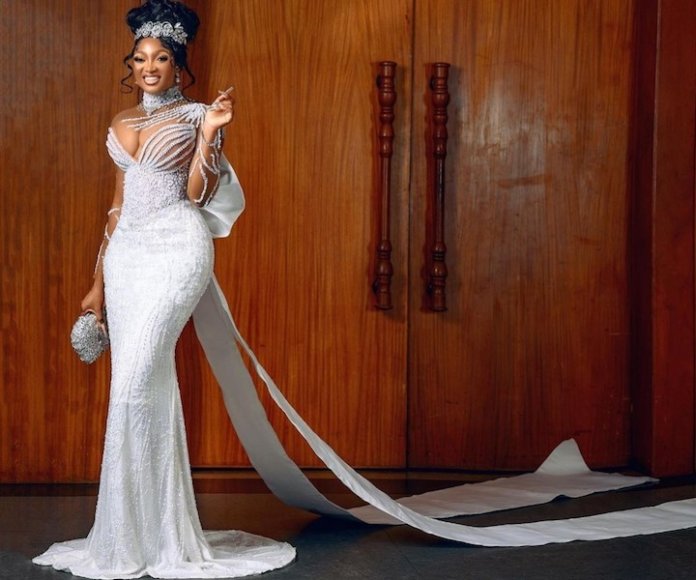 Iyke Bede
Actress and brand influencer, Raheem Abike Halimah, famed as Papaya Ex, recently marked her birthday in style.
Graced by the likes of controversial socialite Pretty Mike, skit comedian Jame Brown, and Denrele Edun, the birthday soiree was an influencers' haven, so much so, their collective social media prominence transformed the bash into a trending topic across various social media, with fans and well-wishers expressing kind gestures.
Donning a bridal inspired gown and a long train to go with, Papaya Ex made a grand entrance into the royally decorated hall of The Canyons Lekki Halls and Events Centre.
Although Papaya Ex stole the show that evening with her dance moves, with friends showering her with gifts, James Brown recorded an impressive entry taking notes from Pretty Mike's page. Brown arrived late flanked by two young men costumed as traditionalists.
While she remained grateful for their support throughout her climb to fame, she made firm her gratitude to the Supreme One.
"Nothing is special," she noted of this year's anniversary. "I just decided to switch up the game by having it in a hall as opposed to previous ones held in clubs. This is already successful. Who knows? The next time might be in Dubai."
As far as growth goes, the 'Two Way Street' actress revealed her plans to become a regular figure in Nollywood movies.
"When I got into the influencing game, it was not a career, it was not a job. It was more of a freestyle just as most people do, however, this year, I'll be going into doing movies full time."
Although she is focused on actualising her goals of becoming a household name in the Nigerian film industry, her prospects reveal she won't forgo her influencer career for Nollywood.
"I was having fun initially, and I still am. In the next five years, regardless of whether I get married or have kids, I will still be here in the social media space."
Other side attractions from the occasion included music from a live band and The Scarf DJ.