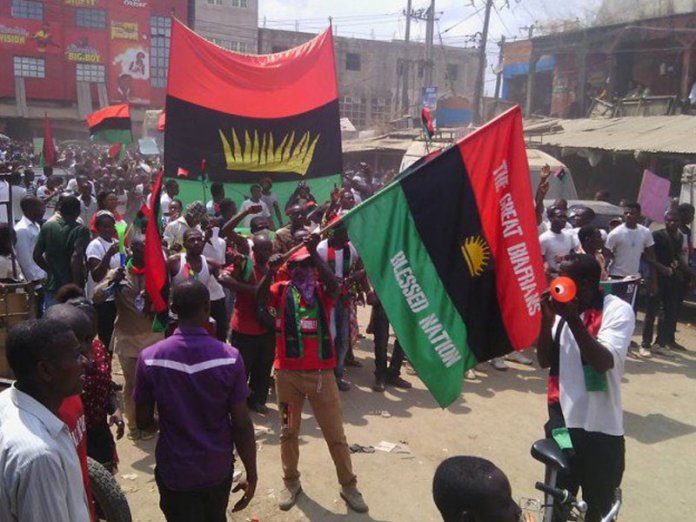 By Francis Sardauna
A civil society organisation, Partnership for Peace and Community Development (PPCD), has urged the federal government not to allow what it termed 'unlawful activities' of the Indigenous People of Biafra (IPOB) to destabilise the unity and stability of Nigeria.
The group said the government should not be deterred by the activities of the IPOB and their "faceless collaborators," whom they said were out to malign and distract innocent Nigerians from discharging their lawful businesses and constitutional rights.
The Convener of the PPCD, Muhammad Abbah Sada, disclosed this last Wednesday at a press conference held at the Katsina NUJ secretariat while reacting to recent call by the IPOB to ban National Anthem and cow meat in the southern region of the country.
He explained that the recent "childish, reckless and unintelligent" threat of banning the Nigerian National Anthem as well as selling of cow meat in the Southeast by IPOB was an attempt to set the country on fire.
Sada, however, urged Nigeria youths residing in the northern region of the country to remain calm irrespective of the activities of the IPOB for the interest of peace, unity and stability of the country.
According to him, "After a holistic appraisal of the issues and the pros and cons of the threat, PPCD has come to the conclusion that it is either IPOB is a fifth columnist that is out there to set the country on fire or is against the interest of the majority of the Igbo people residing in other parts of the country.
"If not, why will you embark on an agenda that will threaten and endanger over 20 million Igbo people living and cohabitating with their brothers in the northern part of the country peacefully for a very long time.
"We at the partnership for peace and community development are convinced beyond reasonable doubt that recent activities of IPOB have shown that they are out there to disunite the country."
He added that: "As we condemn the activities of IPOB; we wish to appeal to the state and federal governments to remain focused and undeterred in its duties by providing the basic necessities of life to all Nigerian people."