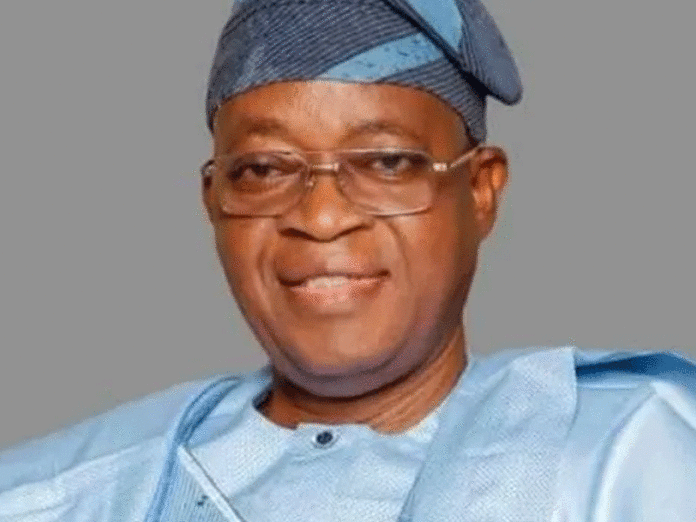 Adedayo Akinwale in Abuja
Supporters of the Governor of Osun state, Gboyega Oyetola has said that the governor and no other aspirants would get the mandate of the All Progressives Congress (APC) in the forthcoming governorship election.
The spokesperson of the Senate, Sen. Ajibola Bashiru, who led other supporters to the national headquarters of the party stated this yesterday in Abuja.
He said there was nothing like mass defection from APC to the Peoples Democratic Party (PDP) in the state, saying if there was any movement, it is movement towards APC.
According to him, from what is on ground today, objectively, and you can go and conduct vox pop in the streets of Osun, the party to beat is APC and the aspirant that will get the mandate of APC is Alhaji Gboyega Oyetola, no doubt about it.
Asked if the Oyetola has reconciled with his predecessor, Rauf Aregbesola, Bashir said while he would not reduce the issue of the party to personality, he stressed that political parties are institutions of democracy and they are run on the basis of the structure of the political parties as well as the leaders of the party.
Bashir said the highest party hierarchy is constituted in what is called Egbe Igbimo Agba which is headed by Chief Bisi Akande and also have former governors, deputy governors, members of National Assembly, current and seasoned politicians as members.
He added that the party in the state also has federal constituency structures in all the nine federal constituencies, as well as ward, local and unit executives.
Bashir said: "So, it is about structures that win elections and not personality. So we believe that the existing structure of our party is such that the party that is really in existence today is the APC and I will give you statistics."
He recalled that in the presidential election in 2019, Osun was one of the States that delivered for President Muhammadu Buhari.
He stressed that there was no doubt that APC in Osun is strong, vibrant, cohesive and articulate to deliver for the party in the 2022 election.
The Senate spokesman noted that the governor was not persuaded to run because he declared his intention to run at the maiden meeting of the traditional council held last week.
Asked if Oyetola will resign his membership of the Caretaker Committee of the party, Bashir said whether the membership of the CECPC would be an issue would be a matter of legal interpretation.
Reacting to the comment of former Deputy Speaker, Hon. Lasun Yusuff that APC didn't win last governorship election in the state, Bashir described the statement as unfortunate.
He said: "Unfortunate in the sense that how would somebody be seeking to fly the ticket of a party that he ridicules in public. It stands logic in the head. I don't believe he said that but if indeed he said that something has to be probed in that regard.
"But I will also tell you, the election was conducted in 2018. The outcome of the election was contested by the losing party at the tribunal and of course they got judgment at the tribunal. The matter went to the court of appeal, the court of appeal decided the case in favour of our party and in favour of Alhaji Gboyega Oyetola. The matter was appealed by the losing party to the Supreme Court and the Supreme Court put a final seal as to the victory of our party in that election."