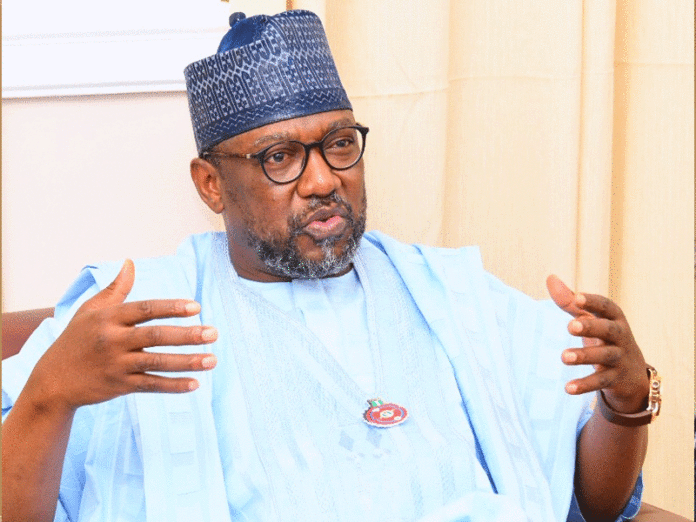 Laleye Dipo
Ahead of the All Progressives Congress ( APC) National Convention where national officers of the ruling party will be elected, Niger State Governor, Alhaji Abubakar Sani Bello, has made a strong case for the North-central geo- political zone to be given the chairmanship of the party.
Bello said in Minna on Monday that the zone deserves the position because it has been marginalised in the scheme of things in the sharing of political positions since democracy began in the country despite block votes given to political parties
Receiving a delegation of the Senator George Akume Contact Team, which was at the government house to lobby the state for the Chairmanship of the party in the convention Alhaji Bello said: "It is well-deserved that the North-central Geo- political zone should get a fair bargain in the political arrangement of the nation
" I feel the North-central has not been fairly treated, politically we have been abandoned we are neither here nor there in political calculations we are hardly noticed even though the zone has always delivered block votes during elections"
Bello also lamented that: "The North-central zone had been socially and politically marginalised and unfairly treated in terms of infrastructural development" adding that the region's infrastructure has suffered immense deterioration because of its location as the gateway between the northern and southern parts of the country.
He, however, said that while backing a north-central zone candidate for the national chairmanship of the APC he will only support a candidate with "the requisite credentials and pedigree to unite the party and importantly retain power in 2023."
" I remain resolute and committed to seeing that the ruling APC retains power at the centre as well as at the states and local government levels in the country," Bello said.
The governor said the zone being the food basket of the nation and with the potential to feed the entire African continent requires the support of the federal government in the development of agriculture and infrastructure in the zone.
Earlier, the Leader of the Contact Team Senator Jack Gyado, had told the governor that their principal,Senator Akume has the requisite qualification for the position of the national chairman of the ruling APC.
Majority of those angling for the National Chairman position are from the north central zone among them Senator Mohammed Sani Musa, Senator Tanko Almakura and Alhaji Mustapha Salihu.
The APC is yet to fix a date for the national convention where the new chairman and others will be elected.
The opposition People's Democractic Party PDP has already elected Professor Iyorcha Ayu from Benue state also in North-central zone as its national chairman.