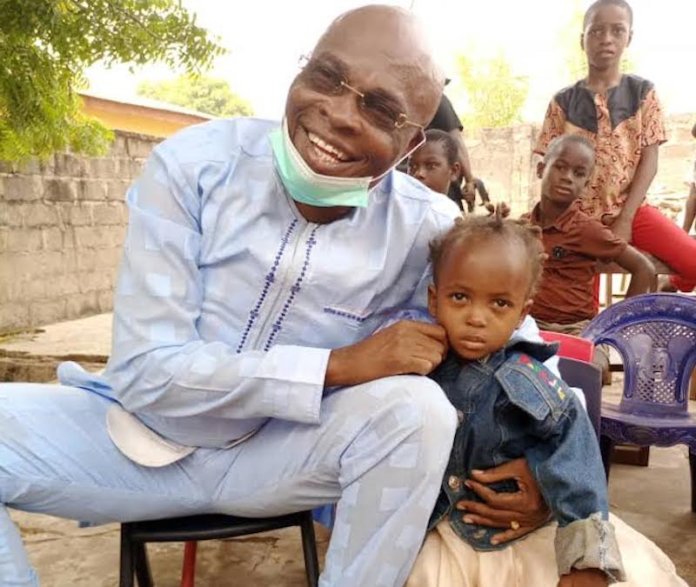 Adibe Emenyonu report on the visit of Proprietor of Pacesetters' Group of School, Mr. Kenneth Imansuagbon, to Orphanages in Edo to identify with them last Christmas
Giving especially the Yuletide period to the vulnerable ones around cannot be over emphasised. This was why Mr. Kenneth Imansuangbon, owner of Pacesetters Group of School, Abuja, visited orphanage homes in Edo, his home state to show love and care for the children, pray with them and wish them well.
Imansuangbon said the decision to visit orphanage homes is to give hope to the hopeless and put a smile on the faces of the vulnerable children in the homes.
He said the gesture is based on his belief that the less privileged should also be part of the Christmas celebration irrespective of their status in the society.
Imansuangbon, also referred to as "Rice Man" because of yearly distribution of rice to the less privileged in Edo, also, appealed to other well meaning Edo people to join hands with him to make the yuletide worthwhile for those who cannot afford the means to celebrate.
He enjoined the well-to-do, to emulate the virtues of late owner of Well Integrated Farms and Ocean Marine Solution (OMS), Capt Hosa Wells Okunbo, whom he said touched many lives with his resources.
The former Edo governorship aspirant philanthropist's train, also berthed at his hometown, Ewohimi, headquarters of Esan South East Local Government Area, and other towns across the state where he gave gift items to motherless babies home and others who are in need.
He said his decision to embark on this mission in the last 12 years at every Christmas is to ameliorate the suffering of the down-trodden in the state.
"I'm calling on all Nigerians, Edo sons and daughters to join me in the struggle to defeat hunger. We need to feed our children. We just have to conquer hunger.
"Let us learn from late Capt. Hosa Okunbo. He gave to everyone; he shared with all that came in contact with him. You don't need to be super rich to share with the needy. Our leaders must see now that our people are hungry.
"Leaders must feel the suffering of the people. If you eat and your neighbor can't then we are in trouble. Look at the way people are struggling to grab 10kg bag of rice. I will do everything to fight hunger", Imasuangbon declared.
At Agenebode, headquarters of Etsako East local government, the 77 year-old proprietress of Christ Family Ophanage Home, Mrs. Ebohia Rabi Bello commended Imansuangon's philanthropic gesture.
The proprietress, who has over 216 orphans in her orphanage, prayed to God for guidance and protection all through the remaining part of the year and beyond for the donor.
She said: "Infact, this is the third time the rice man is visiting us with loads of food items and toiletries. We are very grateful and pray that God should grant his heart desires."
At Ewohimi, Esan South East Local Government Area, a beneficiary, Mrs Idusere Maltida has this to say: "I am so happy to have received this free bag of rice from Imansuagbon. This is not the first time and this will go a long way to feed my family at this Christmas period. I'm very grateful to the rice."
Similarly, Elizabeth Igbogun, (window). with three months old baby at Aduwawa, an outskirt of Benin, said "I just gave few months ago. I'm so happy to receive this rice . When I was passing by I sighted the rice man so I decided to approach him and behold he gave this bag of rice. I'm a widow and the only one taking care of my Children."
Quote
I'm calling on all Nigerians, Edo sons and daughters to join me in the struggle to defeat hunger. We need to feed our children. We just have to conquer hunger…Leaders must feel the suffering of the people. If you eat and your neighbor can't then we are in trouble