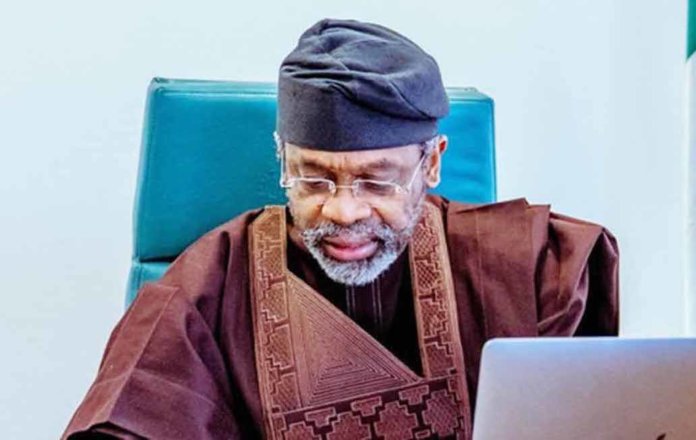 Folalumi Alaran in Abuja
The Speaker of the House of Representatives, Hon. Femi Gbajabiamila; the Director-General, National Institute for Legislative and Democratic Studies (NILDS), Prof. Abubakar Sulaiman
and the United Nations (UN) women Country Representative in Nigeria and ECOWAS, Ms. Comfort Lamptey, have called for increased participation of women in governance.
They made the call at a capacity-building session for female legislators hosted by the NILDS in partnership with the United Nations Development Programme (UNDP) and UN Women Nigeria in Abuja.
In his remarks on the occasion,
Gbajabiamila, said increasing women's participation in politics would not only reduce the alarming rate of unemployment, but will also strengthen the country's economy, particularly in the face of the COVID-19 pandemic.
The Speaker, who was represented by the Hon. Nkeiruka Onyejeocha, assured that the National Assembly would continue to introduce and facilitate bills that would alleviate the pains and sufferings of women and children in Nigeria.
On his part, DG of NILDS, Sulaiman said there had been a decline in political participation, growing voter apathy, and the prevalence of traditional challenges such as undemocratic party nomination processes, negative gender stereotypes, unequal opportunities, and lack of financial capacity in Nigeria since the outbreak of the coronavirus pandemic.
According to him, with the workshop themed 'lobbying and law-making in Nigeria', legislative lobbying is an important instrument that can be deployed towards improving the position of women both politically and economically.
He said, "A report by the Centre for Democracy and Development (CDD) shows that 2,970 women were on the electoral ballot in the 2019 General elections, representing only 11.36% of nominated candidates. In the end, only 62 women were elected, representing 4.17% of the elected officials, representing a decline from the 2015-19 figures. The strategies of women's lobby groups have changed from treating women's political participation as a women's issue only, to one requiring a re-making of politics amongst voters, political parties and government officials in order to effect changes in how political institutions work."
Also, UN Women's Country Representative, Lamptey, said that the UN is dedicated to assisting Nigeria in the areas of gender equality and that the protection of women and children is vital to the country's well-being.
"This is why UN Women and the National Institute for Legislative and Democratic Studies inked a Memorandum of Understanding in December 2019 to deepen collaboration and partnership in order to promote women's rights and gender equality in national and state legislatures.
"This partnership has birthed the development of a training manual on gender sensitive legislation in the National assembly and has been embedded into the NILDS training curriculum for Nigerian Legislator as well as strengthened capacities of staff of the Institute to facilitate gender responsive practices for both male and female lawmakers at the national and state level," she added