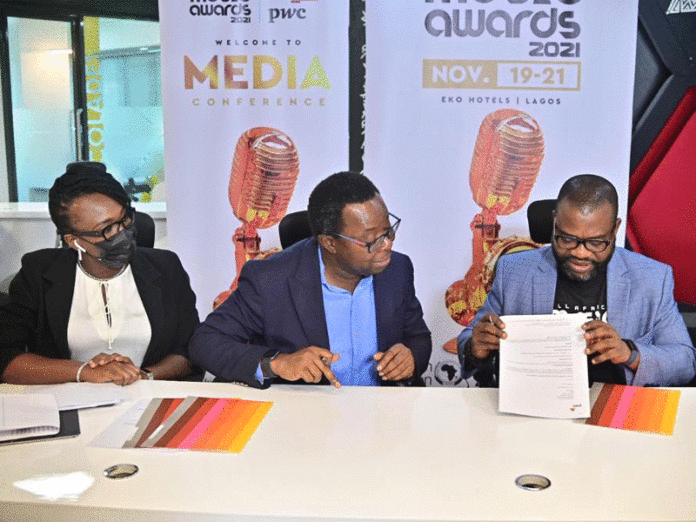 By Vanessa Obioha
Ahead of this year's All Africa Music Awards (AFRIMA) scheduled to hold Friday, November 19 to Sunday, November 21, the organising body has announced its partnership with PriceWaterhouseCoopers (PwC) to audit vote results.
The move by the pan-African award body was to ensure authenticity and impact a high level of credibility to its vote-counting and results-distribution processes.
This procedure will be translated through PwC's assessment of the voting system's controls and functionalities for vulnerabilities, accuracy and integrity of all final results in each nomination category.
"We wanted to maintain a transparent platform process that is embedded in integrity through this partnership," President and Executive Producer, AFRIMA, Mike Dada, asserted during a press conference that was held at the PwC Experience Center in Lagos.
He continued: "Often, award show processes of tallying votes are quite controversial, although that hasn't been the case for AFRIMA, there still was a need to scale up and identify with a global brand that everyone is confident with their auditing proficiencies. The conversation around collaboration with PwC started about four years ago."
According to data released by PwC in 2020, the Nigerian creative industry alone contributed about five per cent to the national GDP. Although impeded by the pandemic, PwC sees great potential in teaming up with AFRIMA to attain a profound socio-economic impact in the lives of the average Nigerian creative.
Attesting to PwC's reputation as a firm of integrity, accuracy and confidentiality, Partner, West Africa Telecoms, Media and Technology Industry Leader, PwC, Femi Osinubi, said: "In recent years, the dynamism of Nigerian and African music has been reflected in the widespread recognition of works produced by African artists on the international scene. We are proud to support the growth of the industry.
"Also, today's audiences are far more socially connected, informed and empowered. With a little bit of information, they can detect and call out fraudulent schemes in no time. Accordingly, businesses must ensure the legitimacy of their practices. More importantly, award ceremonies like AFRIMA must follow strict protocol handling their balloting processes. They must handle these processes with the highest level of professionalism and trust."
Further promoting better living for Africans, AFRIMA hopes to use its platform to achieve its three-pronged agenda of ending COVID-19 in Africa; increasing awareness on climate change; and establishing a year-long project, SHEA (Strengthening Health and Education in Africa) that concerns itself with improving the health of millions while increasing access to education.