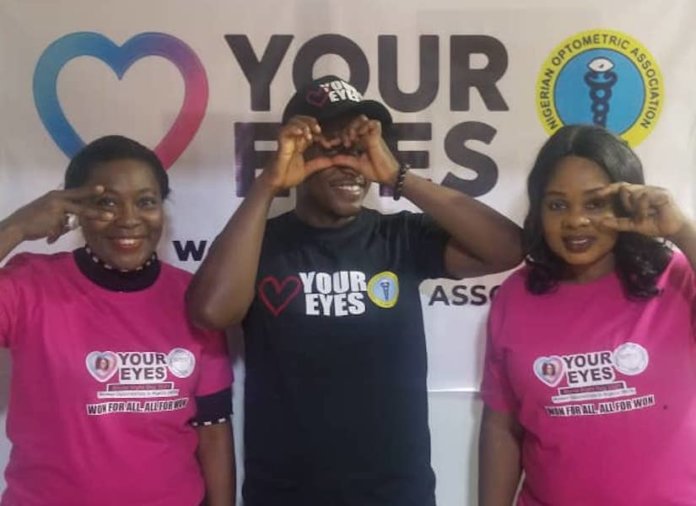 Chiamaka Ozulumba
The Nigerian Optometric Association (NOA) has cautioned parents across the country to pay attention to the sight of their children in order to avoid visual impairment and possible blindness.
The National President of NOA, Dr. Obinna Awiaka, made this call at a media conference to join 175 countries to mark this year's World Sight Day on the theme, "Love Your Eye, Save Your Sight".
With this year's celebration emphasising on vision screening of a minimum of one million Nigerians for refractive errors. "We are harping on the importance of preventive eye health in efforts to reduce the unnecessary visual impairment, blindness and the psycho-social and economic implications associated with it.
According to Awiaka, 2.2 billion people have visual impairment of blindness globally. One billion could have been prevented.
Though the majority of those with visual impairment are over 50, children are not left out. One out of every three children in Nigeria has an uncorrected visual impairment which will affect school work, learning, recreation, self-esteem, and may encourage truancy, delinquency, and dropouts.
He noted that nearly everyone on the planet will experience an eye health issue in their lifetime yet, more than a billion people worldwide do not have access to eye care service.
Listing on, Awiaka said the implications of visual impairment places enormous economic, social and psychological burden on sufferers , families, community and the nation at large.
The Vice President NOA, Dr Ogechi Nwokedi, bemoaned non-availability of eye care service in rural communities, inadequate eye care personnel especially Optometrists at all levels of health in Nigeria.
"Poor attitude, practices and lack of awareness by the public which negatively in. their health-seeking behavior. Poor funding and lack of prioritisation of eye care needs by the government," she added.
While the optometrists called for improved funding of the eye sector by the government, creation of more job opportunities for optometrists at all levels to cater for the teeming population, the Assistant National Secretary NAO, Dr. Priscilla Imade re-echoed the need for regular eye check for children.
She implored parents to pay attention to their children's sight, adding that many children perform poorly in school because of the sight issues.