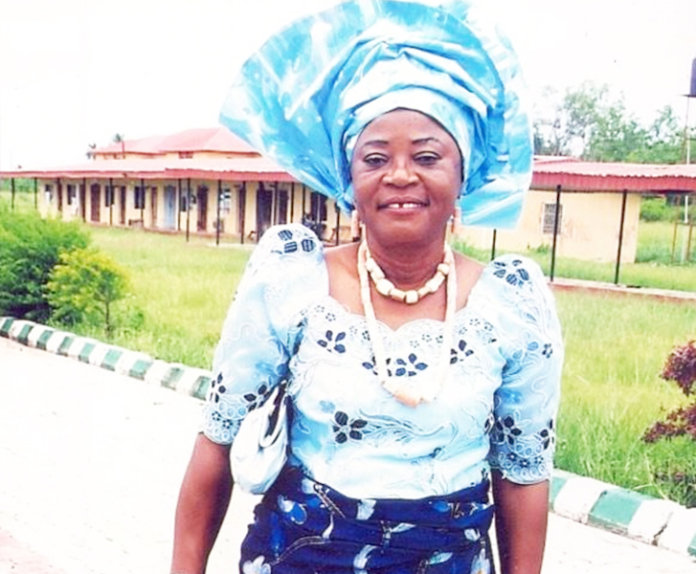 Hammed Shittu
The remains of mama Gladys Sussana Aso, mother-in-law of Chairman, Senate Committee on Media and Publicity, Suraju Ajibola Basiru, were committed to mother earth at Igbide, in Isoko South Local Government Area of Delta State, recently.
The colourful ceremony brought together her children, sons and daughters in-law, relatives, friends and well-wishers who came from near and wide to bid her farewell and pay their last respects.
The burial activities commenced with her children, family members and friends converging at the Grace and Mercy Mortuary, Ughelli for a long motorcade procession to Igbide.
Mrs. Aso lived a life of purpose. She was a teacher, mother, grandmother and a friend to many. Though her demise came to many as a shock, but mama was indeed a virtuous woman.
She was loved by the people of Igbide town and her sterling straightforward, honest, trustworthiness and kindness distinguished her among her peers in the town.
The solemn funeral service was conducted by the Grail Movement with Dr. Nosa Ogbeide as Celebrant.
The Celebrant emphasised that Mrs. Aso's transition was to be with her maker –the Almighty.
At the conclusion of the service, the body of mama Aso was interred at the Amata Aso family compound, Uruwhre Quarters, Igbide.
After the interment, there was a reception for guests at Eru Primary School, Igbide. The reception began with the traditional presentation of wedged kolanut and drinks by the children and family members who ignored the heavy rain to ensure that the guests were well attended to.
This was followed by the singing of one of mama's favorite songs, the hymn – All Things Bright and Beautiful. Amidst music that was supplied by ace-Isoko artiste – Arebe. The climax of the ceremony was in-law's greeting in accordance with native laws and customs.
Mama Aso was survived by Ufuoma, Oghale, Ewomazino, Othuke, Ajiri and Martins; sons/daughters in-law, sixteen grand-children and sisters, as well as other relatives and friends who enjoyed unalloyed love and support from her throughout her sojourn on earth.
In a tribute to his mother in- law, Basiru described his late mother in law as a good mother that cared for all.
He said she was a mother of all mothers in view of her love and kindness to all her children, all her in-laws and the members of her community
Basiru prayed to God to give the soul of his late mother- in- law eternal rest.
Mama Aso passed away on August 20, 2021 after a brief illness at the age of 71.
Other members of the Senate that accompanied their chairman to the event were Senator Ibrahim Oloriegbe (Kwara Central); Senator Sadiq Umar (Kwara North); Senator Kola Balogun (Oyo Central) and Senator Adelere Oriolowo (Osun West).