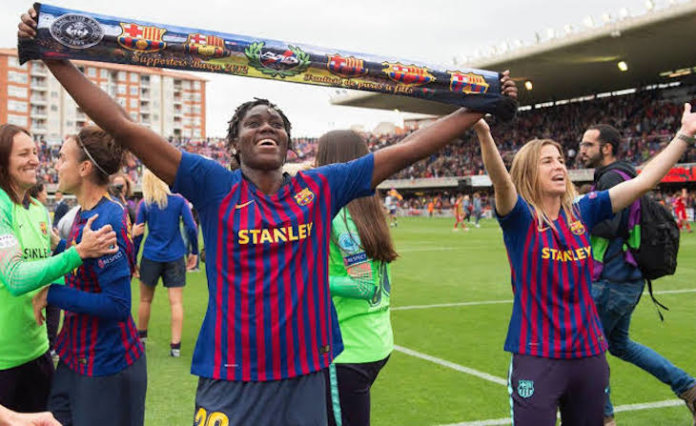 Femi Solaja with agency report
With one step away from becoming European Women's football champion, Super Falcons' Captain and Barçelona Femeni colleagues have retained the Primera iberdrola league title last night.
The UEFA Women Champions League finalists last term, won the title in grand style after a lone goal away win at Tenerife.
Although the Nigerian star player was not featured in the match, her sterling performance in the season stands her out as one of the heroines of the season with 26 wins from 26 games, while their immediate pursuers, Levante, stumbled at Espanyol. The combination of results has mathematically given Barça their second consecutive title and sixth in their history (2012, 2013, 2014, 2015, 2020 and 2021).
This is a record-breaking Barça team. Never before had they won 26 straight games in the championship.
Now, they have 30 (25 + 5) across the last two seasons, equalling Levante's record between 2000/01 and 2001/02.Another mark that the Catalans have beaten is that of most league titles.
They now surpass Athletic Club (5) and lead the all-time list for the first time.
It was Bruna Vilamala's against goalie Granadilla late first half that was that settled the match.
The Catalans won last year's title when the season was ended prematurely due to the Covid-19 pandemic.
It has long seemed a case of if rather than when they were going to clinch the title this campaign after making a breathtaking start and never relenting.
They have won all 26 of their games to lead the standings on 78 points, scoring 128 goals while only conceding five.
They are 16 points above second-placed Levante with three games in hand. They are also unbeaten in the league since February 2019.
Lluis Cortes' side will meet Chelsea in the Champions League final on May 16, hoping to win the tournament for the first time in their history.
Current 'African Footballer of the year' winner, Oshoala, scored Barcelona's only goal in the 1-4 loss to Lyon in the final of the tournament three seasons ago.