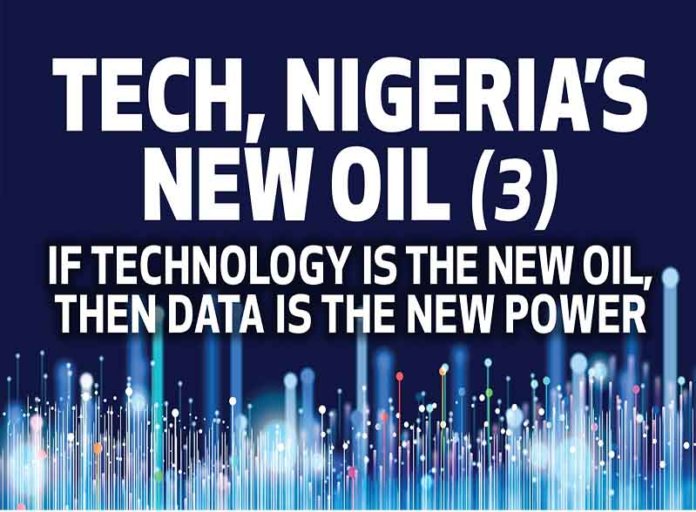 With the fast pace at which fintech companies are growing in Nigeria, it should be noted that the success of these businesses are largely due to their access to huge data on customers and this drives their innovation, product development, customer relationship management, among others, Oluchi Chibuzor, continues our focus of Nigeria's emerging tech players which started three weeks ago
"The power of artificial intelligence is so incredible, it will change society in some very deep ways," billionaire Microsoft co-founder, Bill Gates.
If technology is the new oil, then data is the new power. While fintech is fast-growing in Nigeria, non-fintech brands are also springing up in the media, analytics and Artificial intelligence space in Nigeria. We should note that brands like Google, Facebook, and Twitter are essentially media and analytics companies.
Artificial intelligence (AI) is everywhere, we use AI on a daily basis for everyday tasks. Whether on your phone using Siri or if you have Amazon's Alexa, they both use AI to complete tasks and answer your questions. Facebook Feed is using AI to predict what content is the most relevant to you as a user. Netflix is using AI to create suggestions according to your viewing preferences. Overall, AI has improved our lives and made it easier for many to do their jobs or consume content.
Tools like Google map uses AI to predict time to your destination, it also suggests best route to your destination, weather forecasts uses Analytics and AI to predict weather for the next day. We have all encountered the use of analytics and AI in some way especially in the gaming industry, many of us have played games with the "Computer" and have lost, the computer essentially used the power of AI and analytics to defeat us.
Analytics and AI have become part of our everyday lives. Meet Nigerian Technology Entrepreneurs in media, analytics and AI space and how they are solving everyday problems using media insights, analytics and artificial intelligence, contributing their quota in making sure that Nigerians are not left behind in the new wave of technology innovation and development being done in the media, analytics and AI space globally.
Sobowale Temiloluwa
Temiloluwa is the CEO of Intelligent Interactive Limited, one of Nigeria's leading brand marketing and digital analytics companies. A Kellogg Alumni, a sales and Marketing Scholar with specialisation in analytics. He is the first individual in Africa certified by Google in 2010 as a professional in four areas, (Analytics, search, display and fundamentals), and became the first consultant to Google in Nigeria on Analytics and AdWords. He has worked in Nigeria for global brands like SimilarWeb: a leading web competitive intelligence platform, MarkMonitor: world's leading online brand fraud management and Radian6 a social media analytics company acquired by Sales force. His passion to provide support and power the growth of local brands into global brands using analytics and AI brought about his development of repnalytics.com a leading AI and analytics driven brand and digital insight tool, helping Nigerian brands get the most from intelligence available online from consumer conversations on social media, and brand mention across the web. His organisation also provides digital competitive intelligence support to Nigerian brands, so that they can favorably compete with brands in their industry locally in Nigeria and global industry too.
Femi Adeyemo
Adeyemo is the founder and Chief Executive Officer for Arnergy, a Bill Gate's affiliated venture backed distributed utility that provides energy reliability to residential, commercial and industrial customers in Nigeria. He led Arnergy to complete a $9m equity capital injection from 4 tier 1 global investors. Arnergy enables SMEs and economic clusters run sustainably by providing reliable and affordable uninterrupted electricity with rooftop solar solutions. Beforehand, Adeyemo executed nationwide rollout of four mobile telecommunication access networks, he was the Single Point of Contact on rollout and Managed Service Operations projects to Multinational telecom OEM including Ericsson, Huawei and Nokia across Africa, South America and Asia from startup phase to nationwide scale. With 15 years of versatile experience, Femi is particularly skilled at operation excellence deploying high availability and reliability for operations ranging from Solar Energy to Telecommunications. Arnergy leverage internet of things(IoT) to provide real time monitoring of energy yield, energy consumption and advisory data points that help consume energy efficiently. Her big data optimises climate data including weather and solar irradiation to deploy optimize and reduce total cost of ownership leading to provision of affordable energy solution to homes and business across emerging markets starting with Nigeria.
Eyitayo Ogunmola
Ogunmola is a technology education entrepreneur that has built a company that helps Africans and People of Colour learn premium tech skills and make into jobs in the technology industry. Today, his company Utiva has the biggest Data School, Artificial Intelligence School, Product School and Design School across 4 cities in Nigeria. Eyitayo's company is marketing talents to companies across the world. He is the founder of Utiva and a partner at Darlytics.
Ogunmola is a 2020 Facebook Community Leader, an Antler Entrepreneur, a 2020 Halcyon Incubator Fellow(US), 2019 Global Good Funds Fellow (United States); 2018 Chevening Scholar (Funded by the UK Government); 2016 Atlas Corps Fellow (United States), 2019 Unleash Talent (Shenzhen, China), 2015 NLI Associate Fellow, 2014 Carrington Youth Fellow.
His aspiration, above anything, is to reEducate the Nigerian Human Capital; helping post-secondary school leavers learn digital skills and helping employers hire trained talents.
Started his career in international development, Ogunmola has worked on USAID Funded programs across 6 countries. He also studied Business Strategy and Change at Edinburgh Business School and freelancers as an AI Product Manager. Till date, his organisation has developed more than 20,000 young people. With a large network of about 14,000 students across 25 Universities, an ecosystem of about 6,000 Data Professionals, AI Developers, Product Managers, Design Professionals etc, the organization currently leads in Premium Skill Learning.
Toba Obaniyi
Toba Obaniyi is the CEO OF Whogohost LImited, a cloud solutions company in Nigeria. Founded in 2007, Whogohost has grown from just providing web hosting services to help individuals and businesses to offering a wide range of cloud services and solutions to help small businesses and large enterprises to be more productive online.
As one of the largest web hosting providers in the West African region, we have data of several thousand customers that help us understand their business needs and service preferences.
This data helps us to determine complementary services to offer our growing customers, and determine our customers' usage patterns which is important to determine services and solutions that we should push aggressively and those that may not be performing as well as we expected. Data is super important in determining trends and predicting future needs and product evolution and innovation.
Dele Odufuye
Dele Odufuye is the Country Director of Cavista Nigeria. He is an award-winning IT professional, entrepreneur, mentor and investor with years of professional experience in building innovative technology solutions that solve business challenges. Prior to his work with Cavista, Odufuye served as the Chief Executive Officer of Tsaboin, which produced TrafficTalk, a free traffic information sharing platform for mobile, web and desktop platforms. In 2013, he founded API Focus, a non-profit community that educates tech startups, software developers and firms to make API part of their core offerings to foster information exchange.
Odufuye has been the recipient of the 2008 Nigeria Future Awards' "Best Use of Technology" two years running and received the Special Recognition Award by Olusegun Aganga, the Minister of Industry, Trade and Investment of Nigeria.
He earned his Bachelor of Environmental Management and Toxicology degree from the University of Agriculture, Abeokuta
Tomiwa Aladekomo
Tomiwa Aladekomo is the CEO of Big Cabal Media, which publishes the tech and youth publications, TechCabal and Zikoko. Big Cabal is building the next generation of African media brands and creating some of the most exciting original content from the continent. TechCabal is a futured-focused publication that leads clear and compelling conversations on the impact and business of tech in Africa. Its data analytics, research and consulting service, TC Insights provides actionable intelligence about Africa's technology industry to big tech companies, investors, entrepreneurs, regulators and other players on and off the continent. TechCabal's job is to help people on and off the continent to understand the potential of the sector and how to participate in its success. Zikoko is one of the fastest growing youth publications in Nigeria and Africa today, creating high-engagement content around culture and what it means to be young in Nigeria today. Zikoko sits at the heart of Nigeria's youth culture, telling the most important stories that matter to youth audiences, via written content, video, images and memes.
We create, reflect and amplify the most urgent elements of youth culture in ways no other platform can. An experienced executive, Aladekomo has worked extensively across media and marketing roles in Nigeria and North America. He believes in products that address real human needs, brands that stand for something, marketing that thrills and great ideas executed well. He has taken Big Cabal through a transformation that's made it one of the most exciting new media companies on the continent, telling Africa's stories in depth and in innovative and fresh ways. He is passionate about Nigeria and is actively involved in driving sustainable change in the Nigerian political system by creating a thriving hub of bright minds, providing the much-needed infrastructure and atmosphere required for grooming future leaders. He isn't just passionate about Nigeria, but about Africa as a whole. This passion is what fuels the pace-setting work he does at Big Cabal Media, and also as a Board Member of the Africa Tech & Creative Group; which is working to ensure that the implementation of the AFCFTA (Africa Continental Free Trade Act) works for tech, creative and small business communities all over the continent.
Preston Ideh
Preston Ideh is the CEO of Stears, a digital information company based in Lagos. Stears' mission is to make it easy for anyone, anywhere in the world to access high quality information on Africa.
Stears Data is the data access, analytics and research division of Stears, which uses analytics to answer questions about the Nigerian economy. For instance, Stears Data worked on a project using proprietary data, combined with satellite imagery, to estimate income levels at local government level in Nigeria. The project was inspired by work done at the World Bank which provided evidence to support the use of night light data to estimate regional income inequality. Stears leveraged machine learning models created by researchers, combined with its own data, to improve the accuracy of its on estimations.
Stears was co-founded with other alumni from the London School of Economics and University of Oxford. Before Stears, Preston worked as a Corporate finance lawyer at Linklaters and at the energy giant BP in London.
Chukwuemeka Fred Agbata jnr. (CFA)
CFA wears multiple hats which are all focused on launching and supporting technology startups on the African continent. He is a Partner at Pacer.vc, Co-Founder of GoDo Hub and Founder Institute's Regional Director for Africa. For more than a decade, CFA has actively promoted the African tech ecosystem through Tech Trends on Channels TV, ICT Clinic in the Punch newspapers and techbuild.africa.
He currently serves as a Director of the Innovation Support Network (ISN) Hubs; a network of >100 innovation and technology hubs across Nigeria, and is also a Director with Nigeria Internet Registration Association (NiRA), the sovereign managers of Nigeria's .ng domain.
CFA supports a few charitable foundations including: FATE Foundation, Sam Ohuabunwa Foundation, and Centre for Values in Leadership. He has written two books; Becoming a Professional Blogger & Powering your Business on the Internet and Social Media. Also, along with Taiwo Fajolu, he co-authored Technology Disruption. He enjoys reading, travelling, building relationships and making impactful connections
Dakayi Kamanga
Steve Dakayi Kamanga is the founder of Betastore, an online platform with a B2B model, designed for connecting retailers with manufacturers to facilitate seamless distribution of goods from manufacturers to retailers. Betastore in the past few months has demonstrated a huge level of traction through its continuously rising customer base and was recently named among the elite company of the global founder institute companies; a position reserved for the top 1% best performers among the thousands of Founder Institute companies across the globe.
Before founding Betastore, Steve was the Head of Commercial Planning in Jumia from 2017 to 2019 and Head of Operations, Warehousing and Marketplace also in Jumia between 2015 to 2019.The company adopts data analytics in determining the consumption rate of certain products through tracking the frequency of booking the products by retailers.
Titilope Adewusi
Titilope Adewusi is the Founder of 9ijaKids, an online learning platform that provides adaptive learning for k-12 students' individual learning needs. It contains thousands of fun, interactive resources where kids can learn while playing. With over 50,000 users enrolled, 9ijakids is currently working on building more content, translating its content to French and Arabic, acquiring more users and fine tuning its adaptive technology for an ever more personalized learning path for the learners. 9ijakids uses data analytics to understand the behaviours of its users, determine required content for each user to enable a more personalised learning path and retain its customers. In addition, it leverages data analytics to understand preferred content that drives further development.
Seun Abimbola
Seun Abimbola is the Founder of Rentit, an online marketplace designed for the public to easily rent different items while creating opportunities for the item owners to generate income. This platform operates within the E-Commerce Space and adopts a B2C business model, creating values for items users to easily rent instead of buying items that are not permanently needed. It allows the owners of the items to earn income while they retain the ownership of the items.
Rentit adopts data analytics in promoting its efficiency through constantly tracking the data of customers' needs in terms of what is rented at certain time and location and the information is in turn used in making vital decisions with respect to the items accepted from owners.
Tope Sulaimon
Tope Sulaimon is the CEO/Co-founder of Scrapays. His leadership and activities led Scrapays to emerge one of the top five finalists of Orange Corners, Nigeria that closed over 25,000 Euros in Grants. Emerged second runner up UK based TecXposition Pitch Event, emerged MEST Africa Challenge 2020 Finalist amongst others.
Scrapays was created to drastically improve recyclable material recovery rate in developing nations through development and incorporation of existing local participants as agents and collectors, to deliver less than a day recovery cycle and drive producer participation.
The company adopts data analytics to its volume driven business, consequent of waste producer participation. Habitual modification to drive desired outcome is crucial, user engagement is also closely monitored through leveraging the power of data.
Wale Ogunjobi
Wale Ogunjobi is the Founder of SabiTeach, an online platform created for connecting learners to vetted Tutors. This platform adopts B2C business models and it operates within the Edtech Industry. Sabiteach is designed to address some of the pressing challenges of learning in the Nigerian society and beyond by creating opportunities for students to achieve plausible educational feet through being tutored by experts while at the same allowing the tutors to earn income as they teach their favorite subjects. Sabiteach is leveraging data analytics to determine the most pressing needs of learners through the type of tutors they are requesting to be connected with and this ultimately contributes to making vital decisions in the company's overall operations.
Tayo Oviosu
Tayo Oviosu is the Founder/CEO of Paga, a fast growing Fintech Company in Nigeria, that is using emerging technologies like Artificial Intelligence (AI) and Analytics in addressing societal challenges in the financial industry.
According to him, at Paga, "we are driven by a massive transformative purpose – to make it simple for a billion people to access and use their money – in essence using technology in making life possible for our customers by building the Square/PayTM for Nigeria, making it easy for individuals to perform digital transactions and sellers to collect payments.
In solving the societal challenge of cash use Paga has developed a homegrown solution – people can now download the Paga app, link their bank cards or accounts, or fund the account at agents, and transact digitally."
Those who have multiple bank accounts can transact from one place with money in any of their accounts. Those who are not banked can leverage Paga's agent network to come into a digital world. Shops can use Paga's application to collect payments digitally and reduce the acceptance of cash, and thus reduce theft, he said.
Oviosu who called for collaboration in the growth of Fintech players, said:
"There is significant collaboration behind the scenes. Paga has opened up all its APIs for not just other fintech players but the entire technology community. Now any business can leverage Paga's apis on Paga.dev to innovate – without worrying about payment infrastructure. Two great examples are Flutterwave's partnership with Paga to allow for consumers to pay with their Paga accounts; and Visa's partnership with Paga to drive contactless payments. We are also seeing traditional Banks want to partner more deeply with us to leverage our retail distribution and access to the last mile."
He said Fintech remained an enabling technology to drive commerce, and thus economies. Nigeria is no different than other countries in the potential fintech offers to drive growth, jobs, and simplify how we live our lives. At the core is how do we exchange value – today that is mostly done in cash. This will change to fully digital at some point. Advancements in Nigeria to allow for mobile wallets, such as Paga, and the CBN's drive for a cashless Nigeria are the start. The future of fintech is more innovation to make it simple for people to exchange and grow their money. He therefore called on the federal government to put in place, policies that will help structure a firm future for Fintech in Nigeria.