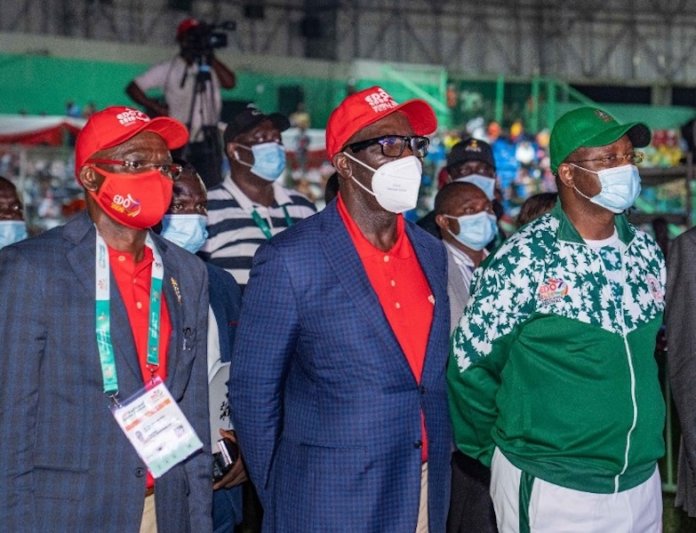 Adibe Emenyonu in Benin City
President Muhammadu Buhari has expressed satisfaction with the quality and standard of sporting facilities offered by the Edo State Government to host the ongoing 20th National Sports Festival in Benin City.
He also commending Governor Godwin Obaseki for his administration's investment in sports development.
Buhari who described sports as one of the veritable tools that unite Nigerians, hailed the Governor for spearheading the upgrading of sports infrastructure in the state.
The President gave the commendation during the official launch of the newly revamped Samuel Ogbemudia Stadium and the opening ceremony of the multi-sports biennial fiesta.
The refurbished Samuel Ogbemudia Stadium boasts of a 12,000-capacity covered arena, with a natural turf and refitted running tracks.
This new look has spread across other sports, with extensive refurbishments on the tennis and squash courts, a new Olympic-sized swimming pool and indoor suspended gymnasium, which is the first of its kind in West Africa.
There are also available facilities for weightlifting, wrestling and other combat sports. The Stadium has also been outfitted with new high capacity electronic score screens, floodlights and Video Assistant Referee (VAR) technology.
Buhari, represented by the Minister of Youths and Sports Development, Chief Sunday Dare noted that the revamp of the Samuel Ogbemudia Stadium and other facilities has raised the bar for sports development in Nigeria.
He noted that "the investment made in sports infrastructure by the Edo State Government points to the direction our sports development must take in Nigeria."
According to him, "The 20th National Sports Festival was due to have taken place a year ago but due to the outbreak of Covid-19, it suffered several postponements. However due to the determination of President Muhammadu Buhari in ensuring that the youth are engaged productively through sports and the doggedness of Edo State Government to host the festival as well as the commitment of the Ministry of Youth and Sports Development, we are glad that we are finally having the festival. It is indeed a befitting festival," concludes the President.