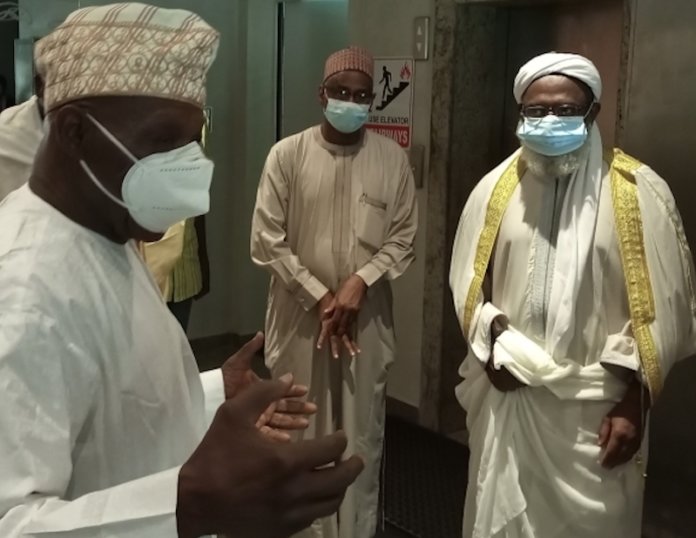 *Want repentant bandits rehabilitated
Kayode Fasua in Abeokuta
The federal government was Sunday counselled to work for a regional solution to the seemingly intractable security challenges facing the country, by seeking the involvement of the Economic Community of West African States (ECOWAS).
It has also been enjoined to rehabilitate, provide skills, and employ kidnappers and other criminals who are willing to repent. It was however advised to smoke out the hardened ones.
These resolutions, among others, are contained in a communique issued after a two-hour closed-door meeting between former President Olusegun Obasanjo and some northern elders, led by prominent cleric, Sheikh Ahmad Abubakar Gumi.
The session, which held at the Olusegun Obasanjo Presidential Library, Abeokuta, Ogun State, came amid agitations on the South west over series of kidnapping and Fulani herdsmen's attacks and killings, in many Yoruba communities.
But in the communique jointly signed by Obasanjo and Gumi, the two elders agreed that the federal government was getting overwhelmed and should seek the collaboration of the ECOWAS, to contain the rising tide of criminalities.
"The federal government should take the issue up seriously within ECOWAS to work for a regional solution," they affirmed.
On immediate move to rein in the kidnappers and other criminals, Obasanjo and Gumi stated, "Wean those who are ready to be weaned out of the bushes and crime.
"Settle and rehabilitate them; give them skills, empower them and let them have employment.
"The hardened criminals must be hard hit with stick. Unlawful carrying of arms should be very seriously punished."
Besides, the two leaders agreed that every community in Nigeria must be encouraged and empowered to stand firm and strong against criminals.
"There should be protection and reward covertly for whistle-blowers, against criminals living in the community.
"Special courts should be created to deal promptly with cases of banditry, kidnappings, ransom demanding and unlawful carrying of weapons," they urged.
As a clincher, both Obasanjo and Gumi stated that the national slogan now should be, 'Security is the responsibility of all Nigerians'.
They agreed to sustain their collaboration in finding a lasting solution to the security challenges facing the country.
Gumi thus invited Obasanjo to Kaduna for a continuation of their meetings and consultations, which the latter graciously accepted.