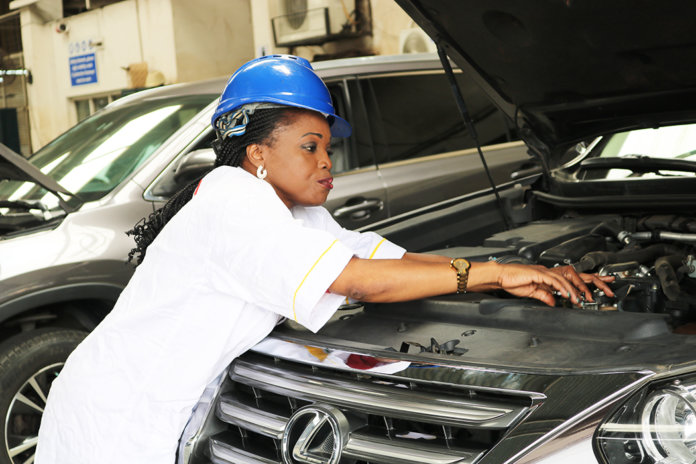 BRANDS & MARKETING
As the world commemorates the 2021 edition of the International Women's Day anniversary, the occasion throws up conversation at the 71 year-old Mandilas Group, with patrons paying glowing tributes to a few women, whose angelic innovations have helped the brand to sustain its tempo. Raheem Akingbolu writes on how these set of brand managers have weathered the storm over the years
For over 70 years, the Mandilas Group has remained a market leader with provision of a wide range of first-class internationally renowned products and services. As a pathfinder in the global automobile industry, the Group has evolved over time and currently operates under two major divisions namely – Mobility and Cooling. Specifically, between the 1950s when the company introduced the Volkswagen brand with distributorship links to other global auto brands such as Audi, Peugeot, Nissan, Daihatsu, Honda, Kia, and Skoda, it has since become a household name in the Nigerian automobile industry. However, whether in its contribution to the growth of the automobile market or Aircon Division, one incontrovertible fact is that the womenfolk have played prominent roles in raising the bar for the Mandilas brand.
For instance, with an automobile industry experience that spans over 25years, it will be difficult to push aside Kemi Koyejo, who is currently the General Manager, Mandilas Mobility Division. Speaking on how she feels about operating in an otherwise male-dominated field, Koyejo was emphatic in stating that performance is the most important and not gender.
"Maybe I felt I was working in a male-dominated field initially, when we were quite few in the industry. I have however come to terms with it over the years having realised that performance doesn't have anything to do with your gender."
Perhaps her background also helped her career growth, having grown up from a family where there were no gender specific chores. She told THISDAY that the boys were made to participate in the kitchen and girls were made to clean cars during her formative years. As someone who enjoys taking up challenges, Koyejo, however, admitted that her initial course of study have also helped her a lot to conquer whatever doubts she could have nurtured.
"My story is incomplete without Mandilas. The company has given me a platform to express myself. I became the first female National Marketing Manager years ago amidst doubts and was able to make the best of the opportunity. The platform is currently further enhanced under the leadership of the current and first female CEO –Ms. Ola Debayo-Doherty."
Another inspiring story is that of Uzoamaka Fannie Nwakanma, the current Branch Manager of the Ibadan Workshop. With a background in French and Business education, Nwakanma had proved her mettle at the World Health Organisation as translator before joining Mandilas Enterprises Limited in 1999.
Speaking on her experience as a branch manager in an auto workshop, as being the only female amid men in the branch, for more than four years now, she pointed out that the development has motivated her so much and has built a strong confidence in her that she now sees challenges as the easiest task to handle.
"It has also proven to me that determination is not attributed to gender. It is important to build a 'Can Do' mindset in every area of our lives. Being a female does not have any limitation in handling challenges and tasks of any sort," she pointed out.
But has she ever felt inadequate in terms of lacking the skills and competences for the job? This is one of the questions Nwakanma takes delight in responding to any day.
"Not at all, I understood the operation too well and was flowing with it. I was also diplomatic in dealing with some unknown skills; I have never exposed my inadequacies to my subordinates. I would rather seek assistance from my colleagues and they are ever ready to respond to me."
Two things have however motivated her to achieve her goals as branch manager; the conducive platform provided by Mandilas and her winning team.
Her words: "Mandilas plays a major role in all of these by making available the platform for this to be achieved. Also, my team has been very cooperative in all areas, this motivates me. I understand the fact that they are all men and have an ego; therefore I give them their due respect. I make them feel important. I don't assume I know everything, I carry them along in problem solving, I seek their ideas and make room for their contributions, play with them, but know when to draw the line, talk to them without being rude or hostile, drop the apologies when necessary. They have been wonderful and highly respectful and this makes my job easy."
A Branch Manager, Victoria Oluwaseyi, who leads the team in Ilorin, also shared an inspirational experience. Though it can easily be concluded that her background as a certified mechanical engineer smoothened her ride in the company, it is a lot more than that. Having worked in Coscharis, Elizade Nigeria Limited, RT Briscoe and now Mandilas, experience and passion sure speak more for Oluwaseyi.
Speaking on how she feels operating in an otherwise male-dominated field, she painted a picture of how a male customer, who looked down on her some years back further re-ignited her to be the best on the job.
"It feels great to be operating in a male dominated field though some clients find it hard to believe a lady can do the same job as a man. Some years ago, a client came to diagnose his vehicle, so I was called upon to attend to him. On getting to him, I greeted him and told him I will be attending to him. He became very furious and said to me that I cannot attend to him stressing his point that ladies don't know about cars. That's an instance of how it feels."
Beyond all these, she told THISDAY that she had always had a positive attitude and it has helped her not to feel inadequate.
Another inspiring story of these angels is that of Cecilia Imomoh, who is currently the Head, Technical Sales, AC Contracts at the Mandilas Cooling Division.
Imomoh has demonstrated experience in both consulting and contracting industries over the years and this has helped her career trajectory in the company.
To her, it's quite interesting and challenging at the same time working in a male-dominated field as this is what she's always loved to do and what she is passionate about.
"Challenging, because you are sometimes faced with the reality of gender-biased society, where you must work twice as hard as your male counterpart to gain credibility, when you grow in your career, they assume you were only being favoured.
I remember my first experience with a particular consultant on a massive government project in Abuja, the moment he realised it was a lady that worked on the design, he started questioning all parameters, unfortunately for him, he did not know I was prepared. I reminded him that engineering standards do not know gender."
According to her, the passion for deeper HVAC knowledge prompted her to approach Mandilas as a Youth Corps member years back and that has remained one of her best decisions in her career.
Has Imomoh ever felt inadequate in terms of lacking the skills and competences for the job? The answer is no.
"No. Though some tasks come with their challenges, I see them as an opportunity to break a new shell,"
Even as the head of technical sales at the AC Division, where she is perhaps the only female amidst men in the branch, she is not intimidated.
The story is the same at the Port Harcourt Workshop, where Juliet Ama-Ajuoyi is a branch manager. Though an accounting graduate, Ama-Ajuoyi career trajectory and her early education at military formations, have built her to surmount any challenge. She did her one-year NYSC with Nigerian Engineering Works Ltd and later worked with Kapital Insurance, Regency Insurance until she was employed in Mandilas Enterprise Ltd. in 2008 as the Senior Accounts Supervisor.
When asked if she has ever felt inadequate in terms of lacking the skills and competences for the job, she explained that having been in the floor for eight years, gave her a great insight and knowledge of work activities.
At the Ebute-Metta Workshop, where Edna Poroye is a branch manager, one doesn't need anybody to reveal that Poroye doesn't see herself as working in an unusual setting. Also an accounting graduate, Edna thinks of the automobile and how the industry can be better enhanced. "I have four wonderful brothers and from her secondary school days, I mixed well with boys though shy growing up, but I made a conscious effort to break out of it. I became a tom boy."
Speaking further she said she hasn't for once felt inadequate in terms of lacking the skills and competences for the job.
Driving home her point on how women can survive in a male-dominated environment, she was quick to mention that Mandilas has given her the platform so hers is to strive to succeed.