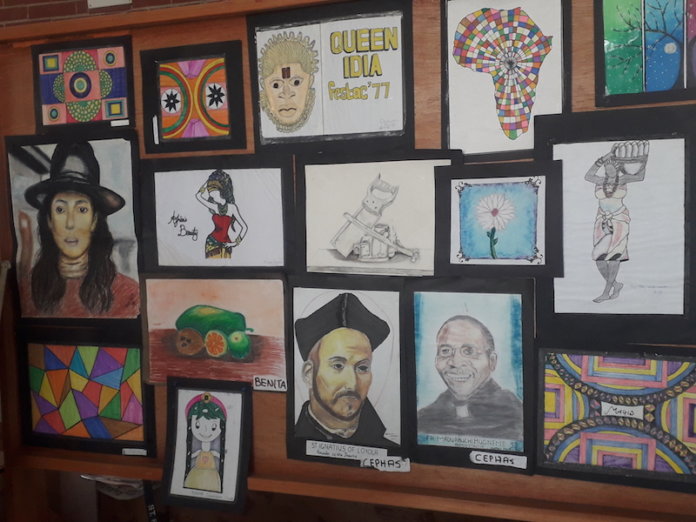 Yinka Olatunbosun
The 30th anniversary of St. Francis Catholic Secondary School, Idimu was marked by a low-key Cultural Day celebrations. A series of dance performances were held outdoor in compliance with the Covid-19 protocols. The Cultural Day had been a massive tradition in the school which featured Broadway style stage productions. In lieu of that experience, a group art exhibition of works in different media lined up the art studio. With students as curators, the works are expressions of ideas and emotions for the participating students. Other events held outdoors included the kolanut ceremonies, cultural dances, multi-state parades, long service awards and recognition.
In his welcome address, the school administrator, Rev. Fr. Maduabuchi Leo Muoneme said that the school values culture as well as the beauty and unity in diversity.
"In our quest to provide quality, transformative and wholistic education for our children, we cannot but promote cultural formation. We desire that our children be rooted in their culture so that they can be better prepared to become global citizens,'' he stated.
The Head of Arts Department, Barry Erho expressed his delight at being a part of the school's history of academic excellence where creativity and art are largely encouraged.
"We are happy to be working for a school like this. Most schools underrate art but I am working in a school where we have an administrator who promotes arts,'' Erho said.
One of the student curators, Akinola Ireoluwa Glory explained how the body of works for the 30th anniversary of the school was assembled.
"In this art studio, students come here to express themselves in different forms like printmaking, bead making, mixed media, painting and sculpture. They use the art to express themselves. Sometimes, they cannot voice out some things but they can show it through the art. They can express themselves not just in writing but in art or craft. Over there is the Benin crown made of paper. Anyone can submit works to the studio,'' she said.
The Archbishop of Lagos, Alfred Adewale-Martins who described the anniversary as an "opportunity for thanksgiving, reflection and rededication'' also voiced his concern on the state of insecurity in the nation.
"Kidnapping is certainly a terrible dimension of the general insecurity in the land and is an indication of the failure of security operatives and agencies that we have in Nigeria. I hope that as we have new men who are in charge of security, we hope that this will make a difference to the whole security situation in our country. Children are being kidnapped from their schools and that is a worrisome dimension of the whole thing. It is a wake-up call to government and security agencies that whatever the problems are, they should tackle it head-on,'' he said.