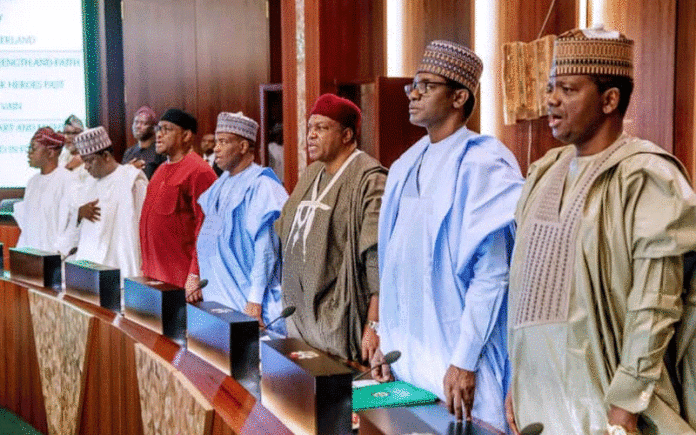 If Nigeria will effectively tackle health security threats, states must play prominent roles in disease prevention and management. Martins Ifijeh x-rays roles played by states and need for them to prioritise the healthcare area.
It is one thing for a nation to outline efforts towards improving health security. It is another thing for states under it to support the effort and ensure epidemic preparedness and national health security are prioritised.
For Nigeria, not many states have seen the need to give attention to disease prevention and management. To them, since the federal government and stakeholders have started importing COVID-19 vaccines to tackle the present pandemic in the country, it was best to return to the status quo, which is reducing funding for disease outbreaks and other related areas of health.
To be clear, many states have reduced their allocations to epidemic preparedness in their 2021 budgets, as against last year when they jacked up funding to tackle outbreaks. They have either yanked off disease prevention allocations from their budgets or have reduced it to an insignificant amount that would hamper efforts at tackling disease outbreaks like Lassa fever, cholera, looming Ebola Virus Disease, COVID-19, among others.
Kebbi State
For instance, Kebbi State's epidemic preparedness budgetary allocation for 2020, which amounts to N506, 800, 000 was reduced in 2021 to 502,400,000 despite the enormous challenges before the state this year. In 2019, it budgeted N246, 800, 000 for the healthcare area.
Breaking the epidemic preparedness budget of the state down shows that it budgeted N80 million for Epidemic Control this year, whereas, last year, it allocated N1, 201, 010, 47 for the same area of healthcare. This suggests it has reduced its priority for Epidemic Control within the space of one year. In 2019, it allotted N30, 000, 000 for same section of health management.
In 2019, it budgeted N30, 000, 000 for Disease Surveillance, whereas this year, it reduced the said amount to N10, 000, 000. However, this was higher than its allocation for 2020 which was N5, 000, 000. Surprisingly this year, the state did not budget any amount for vaccination or vaccination services, whereas in 2020 and 2019, it allotted N10.6 million to the service each year.
On the Control and Eradication of Animal Diseases, the state budgeted N40 million for the entire year, whereas in 2020 and 2019, it budgeted N50 million each for the two years. In 2020 and 2019, Kebbi allotted N300 million and N100 million respectively for Disease Outbreak, but in 2021, it allotted zero naira to the area. In 2020, it allotted N100 million for the Provision of Control of Neglected Tropical Diseases Programme as against this year where it reduced the amount by half to N50 million.
Enugu State
Documents obtained by THISDAY recently, showed that Enugu State has reduced its budgetary allocation for epidemic preparedness this year. In 2020, it budgeted N1.02 million for disease prevention and management, while in 2021, it reduced the amount. This is despite 2021 considered the year governments were meant to improve funding for disease prevention and management since they are supposed to understand disease outbreaks better than previous years before the COVID-19 pandemic.
On specifics, Enugu State in 2020 budgeted N1, 000, 000,000 for Intervention and Response to Epidemic Prone Diseases (COVID-19); while in 2021, it budgeted N300, 000, 000 for the same response; which suggests it reduced allocations for disease prevention and management of COVID-19 by 70 per cent. In 2021, it even budgeted zero amounts for epidemiology, surveillance, control of diseases like cholera, measles, polio, rota virus, procurement and repositioning of health commodities, drugs, response materials, laboratory materials for response to epidemic prone diseases, where as in 2020, it spent N20 million on this.
Kogi State
If there is one state in Nigeria that has openly shown ignorance to the importance of epidemic preparedness, it is Kogi State. Its Governor, Yahaya Bello has on many occasions insisted that his state does not have COVID-19, a claim he is yet to back up scientifically since last year. Just recently, he noted that he would not be taking the vaccine, noting that the state was free of such infections. To make matters worse, one of the senators from the state, Senator Smart Adeyemi said all 12 federal legislators from the state were in support of the governor's idea about the COVID-19 pandemic.
Although THISDAY could not ascertain if there was a budgeted amount to tackle disease outbreaks in the state, utterances from the leadership of the state indicate that not much priority will be given to disease prevention and management in the state this year.
Lack of Priority across States
Kebbi and Enugu are not the only states that have reduced their budgetary allocations for disease prevention and management in the country. Majority of the 36 states have either reduced their allocations for previous years, or maintained the abysmally poor allocations they have operated from the previous years.
States like Lagos, Edo, Gombe, Borno, Bayelsa among others are set to spend lesser amounts this year on disease prevention compared to what they spent last year on the same area of healthcare. This is despite the coordinating agency in charge of national health security – the Nigeria Centre for Disease Control (NCDC) clamouring on states to make its work easier by prioritizing epidemic preparedness and funding disease prevention.
In 2021, the NCDC increased its allocation for health security by almost 100 per cent. The federal government had approved N1.4 billion as the capital budget for the agency, representing a significant increase from last year's budget of N700 million. This increase is however not the ideal amount the agency hoped can address the health challenge. It is believed that despite this increase, the amount will be insufficient to run the generators in one of the centre's laboratories let alone running the entire agency for a full year.
The Director General, NCDC, Dr. Chikwe Ihekweazu had in a previous interview with THISDAY called on state governors and their legislative houses to set aside comfortable allocations for disease control in their various states. He believed this would complement the work of the federal agency, as well as help improve the health of citizens.
He said: "We can collectively address issues around disease outbreaks if states give us the desired collaboration. The federal cannot do it alone; we need all states to give their quota towards disease prevention. Just as funds are allocated to infrastructure and other areas of development, this should be done also to disease prevention because a health security threat in one state can spread to other states as well. Only collaboration can effectively address this," he said.
Experts believe Nigeria is collectively yet to prioritise health security, which means progress made or been planned to be made in other sectors this year may come to nothing if the country experiences another major health crisis in addition to the COVID-19. They believe that if health security is prioritised, it will not only ensure government's overall plans for the citizens in 2021 are achieved, it will help in preventing, detecting and responding to public health threats which are capable of reversing the gains the administration of President Muhammadu Buhari has made or hopes to make by the end of 2021.
Health security, according to the World Health Organisation (WHO) is referred to as the activities required to minimise the danger and impact of acute public health events that endanger the collective health of populations living across geographical regions and international boundaries.