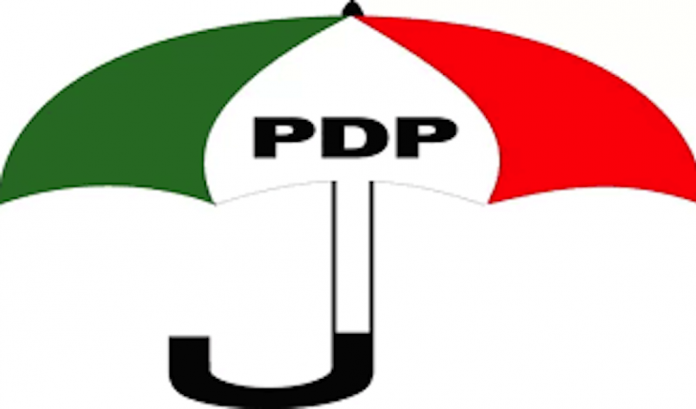 Says ruling party must relinquish power in 2023
By Chuks Okocha
The Peoples Democratic Party (PDP) has asked Yobe state Governor Mala Mai Buni to resign his position as governor and Interim National Chairman of All Progressives Congress (APC) following the pronouncement of the Supreme Court, which found the leadership of the party as "irresponsible and reckless", for engaging in unsubstantiated allegations against the justices of the apex court.
The main opposition party has described as bragging a claim by the ruling party that it will remain in office for 32 years, saying such claim is a direct confrontation with the position of the generality of Nigerians, who had already reached a national consensus to kick the party out of office in 2023.
The PDP further said that it was indeed appalling that the Buni leadership of the APC could, in their penchant for falsehood, go to the extent of falsely accusing the justices of the Supreme Court of holding a meeting with PDP leaders allegedly to subvert justice, in a case, in which the PDP is not even a party.
In a statement issued yesterday by the National Publicity Secretary of the party, Mr. Kola Ologbondiyan, PDP said that the pronouncement of the Supreme Court, the highest court in the land, has ultimately vindicated its stand that the APC is a party of irresponsible, reckless and dishonourable persons, who only thrive in fabrications, falsehood, lies, blackmail and character assassination.
According to the PDP, "It is shameful that after mismanaging its nomination process in the Imo North Senatorial by-election, the APC leadership is seeking to drag our party into its vicious attempt to use the instrument of blackmail and character assassination against the justices of the Supreme Court to settle their internal scores.
"While it is obvious that the APC is plagued with political cannibalism, infighting and backstabbing, it is shocking that it will carry its wild tendencies to this ridiculous extent," PDP stated.
The PDP also described APC's claim of registering 36 million Nigerians in their failed fictitious registration exercise as another political hoax and empty claim, which cannot sway Nigerians in any way.
In a seperate statement, Ologbondiyan said that the PDP was aware that Buni made such a garrulous statement claiming that the party will rule for 32 years in the belief that intimidation of the Independent National Electoral Commission (INEC), the judiciary and security agencies as well as deployment of thugs from neighbouring countries, will help them to subvert the will of Nigerians in future elections.
According to the PDP, "in Buni's whims and thoughtlessness, Nigerians should make themselves ready for another 26 years of anguish, pains, hunger and starvation, insecurity and limitless suffering. This is the height of recklessness, insensitivity and affront to the sensibilities of Nigerians."