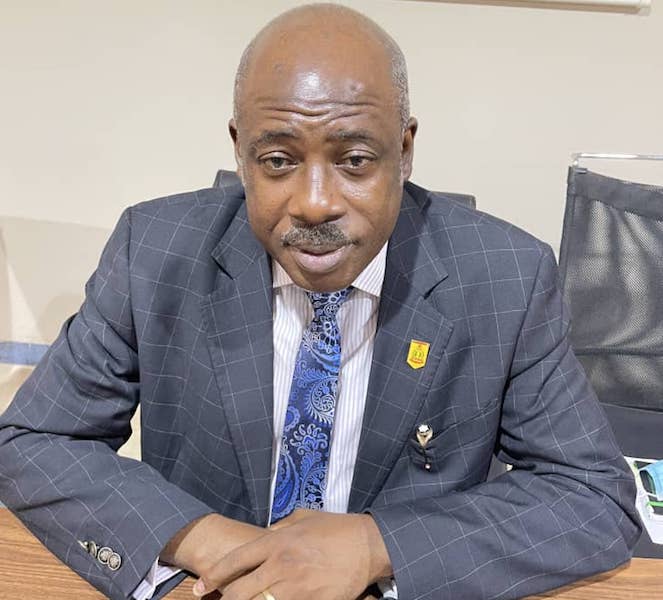 · Second Wave more Deadly, No respecter of Age
With one year gone of continuous battle against the COVID-19 pandemic, just as Nigeria recently took delivery of the first batch of about 4 million Astrazeneca Covid-19 Vaccines, the Medical Director, Life Centre COVID-19 Testing, and Treatment Facility, Gbagada General Hospital, Lagos, Dr. Obashina Ogunbiyi, a retired Major General, say's in this recent interview, that it was not yet time for Nigerians to let their guards down as vaccines doesn't assure of a 100 per cent immunity against the virus yet. Sunday Ehigiator brings excerpt
One year of pandemic in Nigeria, how has been your experience so far?
It's been awesome this past one year. I can say that I have been involved with the response in the past one year, from the Lagos State Emergency Operation Center. And the index case to Nigeria, came on February  27, 2020 from Milan in Italy, a 44 years old Italian. And that (index) case in Nigeria was the third case in Africa, the first being the one detected in Egypt.
Nigeria (index) case was the third in Africa. I have been involved like I said, from around about that time, under the platform of the Emergency Operation Center for the COVID-19 response in Lagos State, till date.
And we've had a series of ups and downs in the course of this past one year. In the first wave, we had a lot of cases, confirmed cases, some were discharged, and some were lost.
I want to zero in on the critical care aspect because I am a critical care physician. And in the early days, we were having lots and lots of deaths, from the severely ill cases because we were rushing to put them on the mechanical ventilator, especially those who had hypoxia, which is low oxygen tension in the blood.
Knowing full well that in normal times, pre- COVID-19, whenever a patient has low oxygen tension up to a certain percentage, the next thing you do to manage it, is to put them under the mechanical ventilator, and we were doing this. Likewise in Europe, America, China, where this started, this was the practice.
However, when we knew better about the pathophysiology, that is the mechanism of action of the Corona Virus itself on the respiratory system. That was when we knew that we may not necessarily have to put this patient to the rigors of mechanical ventilation.
And worldwide, there was a change in the management of the severely ill patients. Instead of invasive ventilation, we started using non-invasive ventilation for the management of these critically healed patients. And that tremendously brought down the mortality or the death rate of the severely ill patients.
Also, we do know that this coronavirus disease has no cure, and the management of it is just by the use of adjunct drugs. We started with using antiviral drugs, later on we found out that they are not helping much.
We started using antibiotics, but later on, we found out that the problem may not actually be that of infectivity of the lungs, except in some few cases. Also we've had a series of people using amalgamation of turmeric, garlic and so on and so forth.
This is not in the hospital setting though, and people claim different types of healthy living things and so on and so forth.
Also, in terms of clinical management of these patients, sometime in November 2020 or there about, there was this recovery trial in Oxford, where for the first time, a drug called Dexamethasone, which ordinarily is an anti-inflammatory drug, was found to be very beneficial for the moderately, to severely ill Corona Virus disease patients, especially, those that needs and will be on oxygen therapy.
And this was widely accepted because, like I said, the recovery trial had a lot of sample size, a big sample size. So, over the months, days and this past one year, we've had a series of drugs which were used on a basis of try and see.
Also, we've had the chloroquine and hydroxychloroquine debate as well; again these have been shoved aside. Presently, there are all sorts of drugs.
We also use the plasma of the patient that has been affected and is healed. Their plasma is sieved out from the blood, and that has been used as well for treatment. Again, this has not been confirmed to be very useful.
Although, some centers use it as an adjunct to the treatment. Presently, the in thing is that of the COVID-19 vaccine. As we are all aware, we are not new to vaccines, even in this part of the world.
Because we've been using the BCG vaccine, triple vaccine over the years, yellow fever vaccines, we are used to all those. And now, the COVID-19 vaccine is being introduced.
There are several types of the vaccines developed in various countries. And as I speak today, Nigeria has received the first sets of 4 million doses of the Astrazeneca Covid-19 Vaccines.
Last year, we had the first wave, and by October-November, we had shelved all sorts of COVID-19. Some people have stopped using facemask, and it is as if it is back to normal.
Unfortunately, by late December-January, we started 2021 with a second wave, which was deadlier than the first wave. This is not likely to be caused by different variants of the corona virus coming into place.
Because, we found out that the second wave was due to the rapidly spreading nature of the COVID-19 variants.
In clear terms, what are the major differences as observed in the first wave, as compared with the second wave?
Initially during the first wave, we found out that older people were involved, and especially those with comorbidities, which mean those with other additional illnesses, like hypertension, asthma, diabetes mellitus, and even obesity, this was the story with the first wave.
However, with the second wave, we found out that it is not a respecter of age; not even young people at all. It cut across all ages, so to say. And it is more deadly, because we found out that within days of being infected with this COVID-19, variant, during the cause of the second wave, patients may become, from the asymptomatic stage, to become a critically ill patient within days.
Unlike before that there was time for you to apply medications, time for you to observe the patients, and so on. However, with the second wave, within 24 to 48 hours, whatever is going to happen has happened.
What that means is that, for most people that lost their lives, in the cause of the second wave, among other things, it was due to, the inability to report to the medical facility or isolation center as soon as they developed symptoms.
In terms of recovery rate, how would you say it has been in Nigeria, when compared with other Countries?
There is no way we can talk of the recovery without talking of the confirmed cases. Comparing this as I noted this morning, for instance, globally, there are over 110 million cases confirmed, with a death rate of over 2.4 million globally.
Now if I want to compare this with the United Kingdom, as of date, the United Kingdom has over 4 million confirmed cases, and they have recorded over 122,000 deaths.
Now what this tells us, in respect to the statistics I just mentioned in the UK and globally is that we are having an increased recovery rate of the COVID-19 patients, compared to the early days.
This too is the same thing with us in Nigeria. For Nigeria, we have slightly over 156,000 confirmed cases and 1,915 deaths as of this moment I speak.
We have discharged over 130,000 cases as at date. So if the total confirmed cases in Nigeria are 156,000, and in all the centers of each state we have discharged 133,000, I think that's a good figure, even though every death counts.
The Life Center recently moved from tenths to a permanent structure, how does this improve on the treatment structure in place for the Covid-19 pandemic?
Yes, this is the Life Center, which is a Private Public Partnership (PPP) Model for the treatment of COVID-19. It's a testing and treatment center for COVID-19 in Lagos State.
This is to add to the Lagos state efforts at curtailment of the COVID-19, apart from Lagos state public facilities in IDH Yaba, as well as, those in some selected local government headquarters where testing is carried out.
Also, the State has in place some oxygen kiosks located at strategic areas of the state. This is part of the state's efforts at mitigating this COVID-19 challenge. The state has also accredited three private facilities for testing and management of COVID-19.
So, we are coming on board to compliment the efforts of these other centers. This center is specifically for those who may not be able to afford the wholly private centers.
So, we have our services here affordable to the middle and high income groups. It is highly affordable, that is where we come in here.
What are some of the lessons learnt since COVID-19?
They are enormous. For instance, uppermost, in the health sector, for Nigeria particularly, it's the collaboration between partners and government with respect to the COVID-19.
A lot of partners have come together to assist the nation; the World Health Organization, UNICEF, AFRINET and WACO, they've all come together to assist us in facing the challenge of COVID-19, and that is wonderful.
We've not had this kind of collaboration before in the state. Also, we have found out that, as I mentioned earlier on, the challenge in COVID-19 had always been with that of oxygen utilization in the lungs.
And over the months, especially during this second wave particularly, we've had a series of challenges with oxygen. So the oxygen supply chain management in the nation particularly, has been at its slowest edge. But what has happened, COVID-19 had brought it out, and it has been mitigated.
We now have an oxygen plant built by the state at IDH for instance. If you follow the news recently, even Mr. President has approved some amount of money to build additional oxygen plants in almost all the states of the federation.
So, this is another good thing, and the oxygen being produced is not going to be for only COVID-19 patients, it's for hospital patients too. We have some rural areas that didn't have access to oxygen previously, now they are going to have access to oxygen.
Now that there is a movement of oxygen in various oxygen plants to various hospitals, it is likely that the price of oxygen will even come down by the time we finish this.
Again, another positive thing with the COVID-19 is the fact that previously, we do know that if you come with a headache, come with fever and so on, and you go to your general practitioners, doctors most often than not will diagnose you for malaria or typhoid as it were.
But now, the average medical practitioner has learnt that there are some symptomatologies, which may not necessarily follow the norm that we used to know.
Again, this has improved diagnosis, and management of cases. We have those that we thought had COVID-19, but by the time we tested them, they were found to be COVID negative.
And so, these people were taken away from the isolation center, and that's even why here for instance, we have death available for suspect cases different from confirmed cases.
One of the hallmarks of our center here, within 24 hours, we would know whether you are a confirmed case or not. In which case, if you're not a confirmed case, you would go out of the isolation center.
The turnaround is 24 hours, and testing as it were, we can test as much as any cases that we have.
How would you react to the fact that some Nigerians still don't believe the virus is real?
Thank you so much for that question. You are not too far from the truth. Initially, when we had the first wave, it was so deadly reading in the newspaper the amount of deaths, the amount of ill people in Europe, in America, in China and so on.
However, the rate of infectivity in Nigeria for instance, was so small. And a lot of myth went round that these countries are countries that are in the temperate region, we are in the tropical region, and that the sun is helping to kill the virus, among other things.
There are other myths as well, among which if I would remember very well, the fact that countries that had BCG at birth were totally exempted to the Covid-19 challenge.
I remember reading an article from UNESCO sometimes, saying that because of the poor and weak health system in Africa for instance, that within a few months of the pandemic last year, that a lot of Africans will die, a lot of the health systems will collapse and so on, but this has not happened.
So, this is what some of our people are talking about. If you go to some areas in the country, am not specific to Lagos now, they don't do social distancing; they don't use facemasks, and so on.
However, that does not mean that they have not been affected. That does not also mean that they have not been dying. I had a case last year, which involved one of the drivers of the NURTW, who was infected.
He became so badly affected that he had to even be ventilated in the COVID-19 intensive care unit, here in Lagos. When he was discharged, he offered to be a COVID-19 ambassador, so as for him to tell others that COVID-19 was real, and that his colleagues keep adhering to the COVID-19 protocol, as it were.
So, it does happen, but the rate is not so much. But, what I will say to we Nigerians is that it's a personal responsibility, because you don't know who is going to be affected, you don't know who is going to get healed, you don't know who is going to be asymptomatic, and it's just for us to note that the virus is in the air, and it is still very prevalent.
With the first round of vaccines now in Nigeria, how best do you advise the government in vaccinating the populace?
Using vaccines in this circumstance is a voluntary thing. The government may not be able to enforce it. Just by the same way the government has not been able to enforce the rule in the use of facemask by everybody.
While saying this, I can say that one of the countries that had the least numbers of COVID-19 cases is New-Zealand, and one of the ways by which they did this was to enforce the use of facemask, enforce the quarantine rule, and enforce social distancing. Enforce, mark my words. No wonder they are one of the countries with the least numbers affected by COVID-19.
However, talking about vaccines, yet it hasn't been proved universally that the vaccines are completely prophylactic against the virus. Why am I saying this, even the best of the vaccines have not proven more than 95 percent.
None of the vaccines so far has been found to give a prophylactic rate against COVID-19. Again this may not be unconnected with the fact that the Virus itself is still evolving, we still have not known everything about it.
We may not be able to say everybody must have the vaccine. Unlike BCG for instance, which has been proven over time that in this environment, all children there need to have the BCG.
So, this is the challenge with the vaccine uptake by Nigerians. Like rightly said, some people have their beliefs, some have even the scientific belief as well, that the way these vaccines were produced was so fast compared to other vaccines we have been used to.
Now the question is, the people that manufacture this vaccine, do they go through the first trial, second trial, phase two trial, phase three trial and so on, which is known for vaccine production.
However, on the other hand as well, with this novel disease, something needs to be done as soon as possible. Some of us believe that the technology we have now, compared to the technology we had 30 years or 40 years ago is different.
What that means again is that things can be speeded up unlike before. So, I am not in a position to determine for instance, that vaccine uptake should be made compulsory for everybody.
On the other hand, if 90 percent of the populist can be assured of having immunity as regards vaccine uptake, then why not. So, that's my view.
Locally produced vaccines or imported vaccines, which would you root for?
I know we used to have a vaccine production laboratory at Oshodi in those days, and most of the vaccines being used for immunization purposes are produced locally, as it were.
Now, the question is, do we have technology and infrastructure to produce our own local vaccines. To that, I will say maybe yes. How soon will the local vaccine come into being, I may not be in the position to say this.
However, with the vaccines which are being brought to us, and are proven to be acceptable to a large percentage, immunity is assured. In actual fact, I think there is what we call health immunity, and as it is, it's only the vaccine uptake that can safely guarantee this.
Anybody can be affected by the COVID-19, and like I said it's no respecter of persons. The affectation may end up either good or bad.
We've had cases of those who, even in the temperate regions in Europe who took the first dose and refused to take the second dose, are affected by the COVID-19 and they died in the process.
I don't want to mention names, but I know one or two people in the UK for instance, even health practitioners.
Any additional remarks you would like to make?
Yes, taking the vaccine, doesn't give you 100 percent immunity against the COVID-19 challenge. I want to say to all Nigerians, that they should still keep washing their hands regularly, keep using hand sanitizers, as well as make sure there's social distancing, and stay home, don't go where you're not expected to go.
There are so many super spreaders events happening in the country presently. If you don't have to be there, do not go there.
Finally, is the use of the facemask, COVID-19 is spread through droplets, and it has been proved beyond all that is of Facemask, especially in public, goes a long way, not only to protect you as an individual, but also to protect the next person next to you.
So, I want to say we all should stay safe and abide within the safety guidelines and protocol of COVID-19 as I've just highlighted. Thank you.