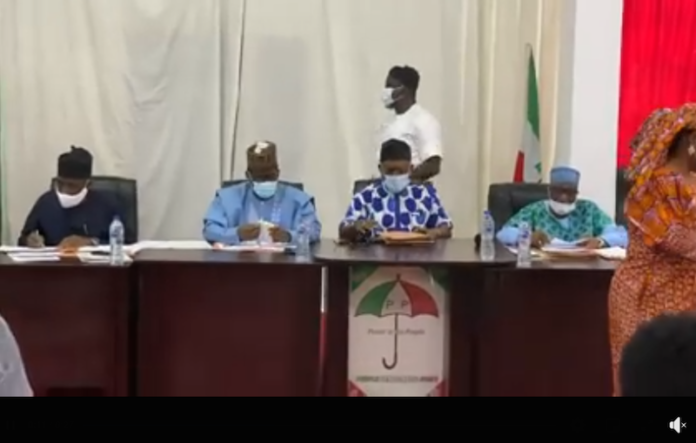 Chuks Okocha in Abuja
As the Anambra State governorship election gradually draws closer, an aspirant of the Peoples Democratic Party (PDP), Dr. Witson Udeh, has called on the leadership of the party to jettison any consensus arrangement to determine the standard bearer of the party in the state.
Speaking after picking his governorship and Expression of Interest forms, Udeh said the best path to walk is to allow all aspirants to test their popularity among party delegates, whose duty would be to pick a sellable candidate for the party ahead of the election.
He said governance models adopted in running the state in the last few years have not availed the state the mileage required to transform its economy for the good of the people.
According to the gubernatorial hopeful, "Consensus arrangement is not democracy. That we choose to do some things the way we like for our own selfish interest does not mean that these are tenets of democracy. You must understand the people's wish, and that is why in most of the advanced countries, we don't find the party making the decision as to who will be the candidate.
"How do we know how popular the candidates are? You have to go out there and test your popularity even at the primary. At the end of the day, they will find out who has the highest votes, and make such person the candidates for the general election.
"There is no need, just because of your own selfish interest, trying to impose somebody on the people. That is why most times, they lose elections.
"I have worked in Wall Street and Main Street. I run several companies, and I am a lawyer. We have acquired lots of exposure in solving all kinds of problems for humanity."
On what he would do to address the worrisome state of insecurity in Anambra State if elected the governor, the PDP chieftain stressed the importance of leveraging on technology as against the old model of mounting road blocks to identify and arrest criminals.
He said: "If we are talking of Anambra State today, it is not different from most states in the country. What kind of a country can you run when you don't know the identity of the citizens living in it? How can the police or law enforcement agencies identify these criminals if they don't know the people and don't have forensics? How can we identify or solve these problems?
"The problems in Nigeria and Anambra State in particular are that the government for some reason has not done its job to know the people that live in the state. If you know the citizens in your state, you can monitor most of the crimes."