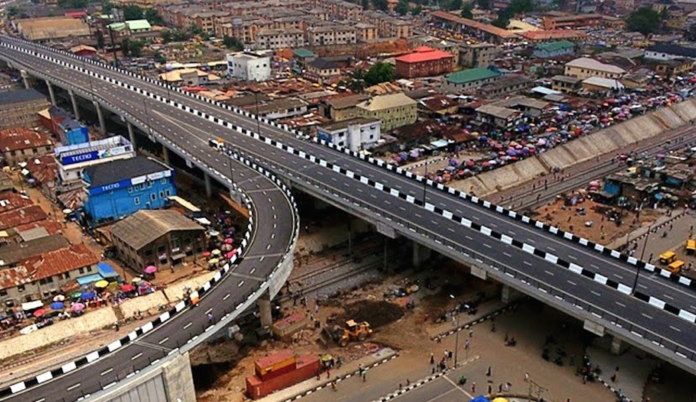 Micahael Babalola writes that the Agege Pen Cinema flyover is easing traffic in the Lagos environs
Some people run away from Lagos because of traffic jams. Yes, it's no news that across the state, vehicular traffic is a nightmare many Lagosians contend with daily. But motorists that need to pass through Pen Cinema and Total in Agege are presently heaving a sigh of relief.
And it's understandable. Since four years ago, they suffered terribly as their routes were subject to various closures as a result of the Agege Pen Cinema Flyover construction.
Thankfully, the hardship is a thing of the past as the 1.7km flyover was commissioned on Friday, March 5, 2021. I had seen photos and videos but I had to see it for myself, with my own eyes.
Hence, on Monday morning, the first working day after the commissioning, yours truly walked on it. At about 6:45am, I started ascending the bridge from the Oke Koto end. What struck me at first was the layout. With two well-marked lanes on either side, both sides of the bridge have an expansive service lane. As dawn was just breaking, the bridge was well-lit and I saw how cars wheezed across, heading towards Oba Ogunji Road.
But cars speeding across Total and through Pen Cinema? After spending over 30 years of living in the axis, I never would have imagined that happening. For me, that image was a bit surreal- like a good dream come true. But then again, governance should be about tackling the present for a better future. The landmark has been permanently altered. Just like neighbouring Abule Egba, which got Jubilee Bridge as part of Lagos' Golden Jubilee celebration, and which put an end to the bottleneck there.
Before four years ago when construction of the flyover started, the junctions of Total and Pen Cinema posed horror to motorists who needed to pass through. At nearly every hour of the day, one could be assured of spending more time than needed. And on the bad days, one could be stuck for hours.
While the construction lasted, Lagosians bore the brunt in manoeuvring and spent many hours stuck in traffic. No wonder Lagosians, especially those who would benefit from the bridge whooped with joy as it was commissioned. At the commissioning, former Lagos State governor, Asiwaju Bola Tinubu, thanked the current administration for sticking to a blueprint designed over two decades ago.
But really, modern urban planning requires effective data collection, planning with trends and a commitment to delivering proper solutions. With such clarity and focus, it's easier to plan and execute life-changing projects. But design is also critical in this.
Thinking of how good design trumps many city headaches, I remember a friend once remarked that great cities are built from under. This is the case with the London Underground and New York subways. Going down and expanding from under was a design strategy that was born in about the 16th Century but started taking firm roots in the 1800s.
But it's not all the time one needs to or can go down to build or rebuild. In such cases, an alternative may be to go up. In the past, the axis that the Agege Pen Cinema Flyover now stretches across had two four-way junctions and a bypass. The first four-way junction was at Total Filling Station on Old Lagos-Abeokuta Expressway. And the other four-way junction linked the roads leading towards Ogba, Ikeja, Iju and Agege. Traffic would be chaotic at these points – to the point of frustration. But the bridge has replaced that old design. And while I know it's often difficult adapting to change, I think this is good change which should be embraced.
Also, I think the bridge has reduced traffic on other roads. After walking on the bridge, I retraced my steps towards Iju Road and was pleasantly shocked that the usual traffic around Iju Garage leading to Pen Cinema was absent. And the time was 7:10am. In years, I have not witnessed that area free of traffic congestion by that time. But I can understand why. In this new design, there is no room for much choice in directions or 'crayfish waka' as pidgin speakers refer to meanderings. The roads are more direct, leaving less options to motorists to veer in and out. While this has limited choices, it has also ensured swifter movements of vehicles.
It's a wonder how we in that axis survived the hardship. However, it turns out, we also shared the hardship with others who might not need to pass that road when we joined them on alternative routes. Hence, I wasn't shocked when also on Monday, I witnessed how traffic on Lagos-Abeokuta Expressway moved smoothly. By 6:30pm, the traffic was flowing. I'm sure that as more Lagosians get to know all the roads have been reopened, the traffic would get easier.
Then, I think the idea of a wire fence on the sides of the bridge, maybe to discourage people jumping, either accidental or otherwise, is good. But that fence may not prevent any car from tumbling over. Also, I don't like the absence of an elevated pavement on both sides of the bridge. Is it that the thought of a walkway, no matter how small, is undesirable? Or not necessary? What if someone's car breaks down and one wants to wait for a tow or something? Or is it bad to put something just to make a jogger or walker feel safer?
But all in all, the bridge would definitely bring succour and I commend the Babajide Sanwo-Olu administration for delivering it. It's to move on. Proper marking of lanes and medians, construction of roundabouts and intersections, providing adequate width of roads, regular maintenance, banning of street trading are all tools which the Lagos State government must continually work on to ensure the bridge delivers accordingly. Just as the bridge has opened up other roads too.
Thankfully, the wait and the flyover has started paying off immediately. A friend who lives in Agege and works in Ikeja is relieved now. According to him, prior to the start and during the construction of the flyover, his commute time to and fro usually lasted more than an hour on each leg. That restricted him from doing other things other than going to work and returning home. But sharing his happiness on Monday, he gleefully announced that it took him 19 minutes to get to work. Those who live in Lagos understand how Lagos roads can be congested on Monday mornings. This development has made my friend promise to do more socialising after close of work.
Now that the Agege Pen Cinema Flyover has been delivered, the Lagos State government can look at building a flyover at Fagba junction along Iju Road where traffic is also nightmarish. That is another critical spot that needs re-addressing. The last administration of Governor Akinwunmi Ambode had promised to build a flyover there upon completion of the Agege Pen Cinema Flyover. Knowing Lagos, I'm positive the Sanwo-Olu administration would commence the Fagba flyover as soon as possible. And like Oliver Twist, I look forward to that.