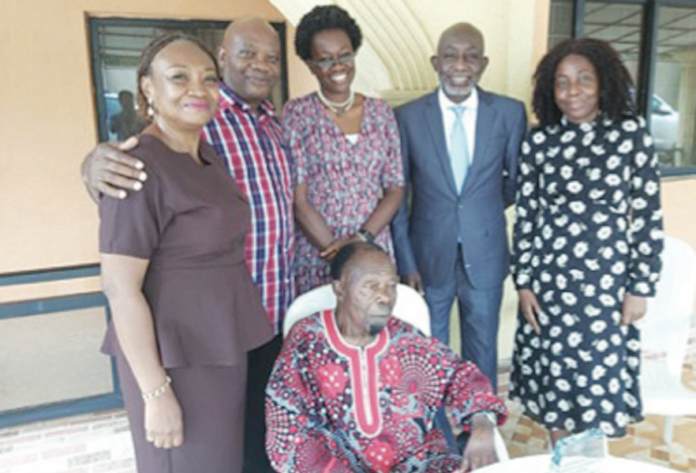 From left, members of the Class of '82 Mrs Ronke Adeniyi, Mr. Niyi Ijalaiye, Ms Funke Aboyade SAN, Mr. Akin Oladeji and Mrs Ronke Adedayo when they visited Emeritus Professor of Law, David Ijalaiye SAN in July, 2020
Members of the 1982 Graduating Class of the Faculty of Law, University of Ife, remember with fondness and gratitude their beloved lecturer, Nigeria's first Emeritus Professor of Law, David Adedayo Ijalaiye, SAN who joined the Saints triumphant last Thursday, March 11, 2021 aged 92. May his soul rest in peace. Amen.
Our very dear and beloved Professor Ijalaiye,
Letter of Gratitude and Appreciation
It is with immense joy that we write these words of deep appreciation to you, our unforgettable teacher.
We recall with fondness and gratitude, the values of life and lessons of the law which you selflessly imparted to us as you took us through the Law of Evidence in our third year and Jurisprudence in our fourth year. You broke it down and made it all so simple, even as you built up our self-confidence and kitted us out with the tools and knowledge we would need as we progressed in life and career.
Who can forget how you simplified an otherwise technical course like the Law of Evidence? In explaining the hearsay rule for instance, "Do not say dem say, for dem say will not be able to say what dem say, when dem say will be called upon to say what dem say"! You lit up and sustained our interest in the subject.
We had heard so much about the Law of Jurisprudence and how it was so difficult, and many of us had approached our final year with a measure of trepidation. You never made any of us feel small or inadequate, or unable to measure up. Rather, you encouraged, coaxed and drew us out of our shells. You made us think outside the box. You made us think! Your classes were a study in engagement of your students. And when any of us could not come up with an answer on the spur of the moment to a question asked, you Sir. did not put us down. Who could forget the smile in your voice and the twinkle in your eyes as you gently nudged, "Not today guvnor?" before moving on to another classmate and urging, "Go to town!" No answer was worthless, you Sir, made learning interesting and we always looked forward to your classes. You believed in us, even before we believed in ourselves.
Today, we the Class of '82, grateful to God for sparing our lives and yours and thus, giving us this opportunity, celebrate you and express our heartfelt gratitude to you for teaching, moulding and encouraging our young minds. Today, we honour you and pray that good health in body, soul and spirit continue to be yours.
Please accept this token of our appreciation.
With very warm regards,
The University of Ife, Faculty of Law Graduating Class of 1982
The Faculty of Law Class of '82 of the University of Ife in July 2020 spent precious moments with Emeritus Professor David Ijalaiye, SAN at his Ile-Ife home and presented him with tokens of their appreciation, including this letter. They had no inkling it would be the last time they would see him alive. Professor Ijalaiye passed away last Thursday aged 92…
Funke Aboyade, SAN, FCIArb
I first met Professor David Ijalaiye in 1975 as an impressionable 12 year old, and had been intrigued by this eminent but humble man who had a permanent twinkle in his eyes and was courteous to all, long before becoming his student. My father was the Vice-Chancellor at the University of Ife, and Professor Ijalaiye, his friend, was a not infrequent visitor at the VC's lodge, especially when Ijalaiye became Deputy Vice-Chancellor.
If I had been intrigued by him before, as his student I was completely bowled over. He was endlessly patient, unfailingly courteous, gently prodding, firmly guiding, pushing the envelope as he engaged our young minds, fired our youthful imaginations and boosted our self-esteem in no small measure.
A few years later, as an LL.M student at the University of Cambridge (Jesus College), it dawned on me that Professor Ijalaiye could – and did – stand shoulder to shoulder with any of my lecturers at that most prestigious citadel of learning.
I am comforted and forever grateful to God for the opportunity to let Emeritus Professor David Ijalaiye, SAN know just how much he had positively impacted our young lives, and how grateful the Class of '82 was when we visited him at his Ile-Ife home last July. We spent that morning with him reminiscing about our time at Ife and he was his old jovial and sharp self, if a bit frail. We marvelled as he once again, with that twinkle – and perhaps a hint of tears – in his eyes, engaged our minds even quoting Shakespeare to boot. He prayed for and blessed the entire year set, and we had brunch with him, his son Niyi (also our classmate) and other members of his family before departing.
Father, mentor, teacher, Icon, friend, Requiescat In Pace.
Yusuf Ali SAN, FCIArb
Professor David A. Ijalaiye, SAN was not only iconic, but a legend in the legal firmament of Nigeria. He was quintessential as a lecturer, and deeply knowledgeable in virtually all branches of law. He was what a University lecturer should be. He was a mentor, role model, trail blazer and legal prodigy.
Baba was already a very senior Professor by the time we gained admission into Ife, over four decades ago. He was an administrator par excellence, a humanist, fantastic lecturer, good family man, dependable community leader and patriot who believed in Nigeria and what Nigerians can achieve.
I pray that Baba's gentle soul should rest in perfect peace.
I commiserate with our Friend, Colleague and Classmate, Niyi Ijalaiye Esq and his siblings, on the passing of your patriarch, who was a father figure to scores of us that passed through him.
Adieu Baba Ijalaiye.
Anthony Idigbe, SAN
Prof Ijalaiye was a great man. He supervised our Moot trial facilitator, Dr Christopolos, when we were students at Ife. He stood on his principle. I recall his battle for us to attend the Philip Jessup International Moot Trial in Washington DC, despite reactionary forces that wanted to use innocent us (students) for Faculty politics. Although, we ended up not making the trip beyond the Nigerian final at University of Lagos – which we won, I remember watching him with awe at the VC's office vociferously arguing our case. I pray for the gentle repose of his soul.
Layi Babatunde, SAN
Learned Silk, thanks Sir for being such an inspiration. You made our learning the law, a lot easier than it would ordinarily have been. You were a father to us all indeed. Your sweet memory lives on by the grace of God.
May Baba's beautiful soul Rest in Peace, and may the family be comforted. Good night, Nigeria's first Emeritus Professor of Law.
Mrs. Victoria Mbu (Nee Njoku)
So sorry to hear my very favourite lecturer, Prof Ijalaye, has passed on. He was larger than life, and treated us all like his children. He always had a smile for everybody. He made a difficult subject, seem so easy. I thank God that, our Class of '82 was able to honour him in his lifetime. We all mourn him, and pray that the Almighty God will grant the family the fortitude to bear his loss. Amen.
Prince Akuzamus MG Anakwe
Prof. Ijalaiye was to us not just a teacher, but a father. He did not only teach us Law, but mentored his noble genetic immortality into us. May his noble ideals live from generation to generation.
May Perpetual Light shine on his soul, as he marches with the Saints Triumphant in Heaven.
Obidi I. Ume Esq
Prof was a legal titan, an intellectual colossus, and an excellent teacher who demystified serious legal concepts and made them very easy to understand. I recall how he taught us the "Hearsay Rule", such that decades after, I can repeat it effortlessly.
May the soul of this father of generations of Lawyers and leaders rest in peace, Amen.
Niyi Okunlola
A great teacher and Lawyer's Lawyer; rest in peace Sir.
Akin Oladeji Esq.
He was a father figure to many of us, and made the study of law so simple to understand. There was never a dull moment in his class. He was a teacher of teachers. I still recall he was at his humorous best when our 1982 year set presented him with an award only in July, 2020.
May his brilliant and humorous soul rest in peace.
Ibukunolu Alao
Babajide (IBK)
Senior Legal Adviser UNMISS – United Nations Mission in South Sudan
Professor David Ijalaiye, the nation builder – about 1978, Olusegun Obasanjo and Ahmadu Ali his Education Commissioner, came up with the hare-brained idea of sending VCs of different ethnicities to the then Federal Universities. The Physicist Onwumechili, an Igbo, was sent to Ife. A Fulani was sent to Nsukka. Another Igbo was sent to ABU, and Ayandele, the English Professor was sent to Calabar. Needless to say, the Senates of these Universities were at loggerheads with the imposed VCs. So, for them all it was a case of a fowl that lands on a clothing wire. No peace for the wire. No peace for the fowl.
After a while, the conflicts in all these citadels of learning like smoke being concealed by a basket, became public knowledge.
The ever active Ife Students' Union got wind of it, and we began planning our own Onwumechili Must Go!
At the time, the Law Faculty was not built, so Law students had lectures in the evenings after the Humanities auditoriums had been used by the rightful owners.
One evening after one of his unforgettable lectures, this great man invited a few of us to his car at the car park. After a few academic questions were disposed of, he asked if we were aware of the VC crisis countrywide. Naive and brimming with youthful exuberance, I informed him that we the students would rid Ife of our own VC in a jiffy.
The wise man smiled in the way that only Professor David Ijalaiye smiles. Full face smile. He then said, "I am the DVC – Deputy Vice Chancellor. I promise you I will run this University to your delight. Onwumechili is a sound academic and a gentleman. He is not a threat to anyone. He loves attending academic conferences and the funds for that will be made available to bolster the global academic image of our University. This is the cradle of Yoruba land, culture and learning. No Yoruba attacks a guest. We are welcoming, and we show hospitality as a good host should. So, please, let others do what reflects their nature, but here, let us show how civilised we are"l
That night at the usually endless SRC – Students Representative Council meeting at Fajuyi Hall Cafeteria, the Onwumechili Must Go became Onwumechili Must Stay. I am happy to say he signed the many SRC awards I got, and he signed the certificates of those whose convocation was in 1982. He had a peaceful and happy stay at Ife.
This story explains the essence of Professor David Ijalaiye. Kind, father figure, mentor, very erudite Lawyer. He once said to us, "We are training you to be all-rounders. You may be the first graduate and Lawyer from your village. When the tractor breaks down or a child is ill and they rush to you my dear class, you must know what to do". He later revealed that he was a trained Catechist – some Church functionary below priests, but higher than the Laity.
A great man has gone to be with his ancestors. May God comfort Olaniyi his son, siblings, family and us, his ever grateful students. We will miss him.
Aidevo Odu-Thomas (Nee Ahonkhai)
Although decades have passed since we were in the lecture theatre with Prof. Ijalaiye lecturing, I still have vivid memories of his jokes and the many practical examples he gave, to make difficult topics easy to understand.
Prof. Ijalaiye strived relentlessly, to guide us to understand the courses he taught. He was fatherly and understanding. He was the most inspiring lecturer I had in Ife. I celebrate you Sir, for your accomplishments and for the ways you touched our lives.
Rest in peace Baba Ijalaiye!