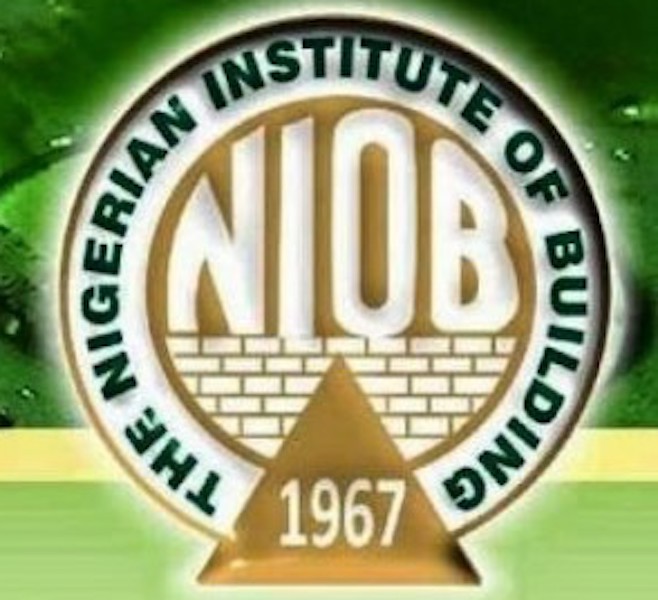 By Fadekemi Ajakaiye
Lagos State members of the Nigerian Institute of Building (NIOB) have said that it is against the law of Lagos State Building Regulation of 2019 to build without a registered Builder.
They stated this at a press briefing to commemorate the 2021 Builders' Day at the NIOB Lagos State Secretariat, Builders' House in Lagos, recently.
The Lagos State Chapter Chairman, Bldr. Sunday Wusu (FNIOB) stated "though these cases of building collapse are always associated with quacks and not professional Builders, we Builders feel the need and duty, to take the bull by the horns by creating the needed awareness. We also need to take our time to enlighten Nigerians about the micro and macro-economic advantages of engaging professional builders in their building projects", he said.
Wusu stated that the theme for this year's Builders' Day is "Professional Builders' engagement in building production management."" The objective of the Builders' Day is to create awareness on the need for stakeholders on building projects to adhere strictly to standards, codes of practice and building regulations", he said.
"The Building regulation in Lagos State and National Building Code opined that Builders' document is part of the documents necessary for Building Production Management and they are namely: Project Health and Safety Plan, Project quality management Plan, Construction Methodology and Construction Programmes, all these documents are crucial and vital to the successful delivery of a building project. The absence of a builder on site to manage a building production with these documents will be tantamount to working against the law and punishable under Lagos state Building regulation 2019," he said.
"A successful building project is the result of a skilful integration of many activities, resources and technologies to realise a single functional unit that performs optimally, to the benefit of the client. The Integrator of this functional unit must then be a "jack of all relevant trades" and interestingly, a master of all. That is who a Builder is," he said.
Wusu stated that "for year 2021 occasion of Builders' Day, and with deep sober reflection over the victims of building collapse, and indeed the majority of citizens that are currently experiencing one effect of building failures or the other – from wall cracks to dampness, to sanitary fixtures that won't flush or drain efficiently, to leaking roofs, doors and windows that won't just lock or open without a fight, to floors and staircases that have caused injuries instead of comfort, etc., we hope, that Nigerians become more aware and enlightened about what building safety, durability and economy entails, and see the need to, as a matter of prudence, patriotism and responsibility, engage professional Builders as well as other relevant professionals in the conception, design and production of their building projects," he said.
The Association of Professional Women Builders of Nigeria, (APWBN), a subsidiary of NIOB, also seeks to support women builders and maintain a high standard of technical competence and conduct within the profession.
The Chairperson, APWBN, Bldr. Sikirat Said represented by Bldr. (Dr) Kudirat Zakariyyah, stated that "the aim of Builders' Day 2021 is to echo the need to engage professional builders in building production process in Nigeria and the need to protect, and promote the females in the building construction industry," she said.