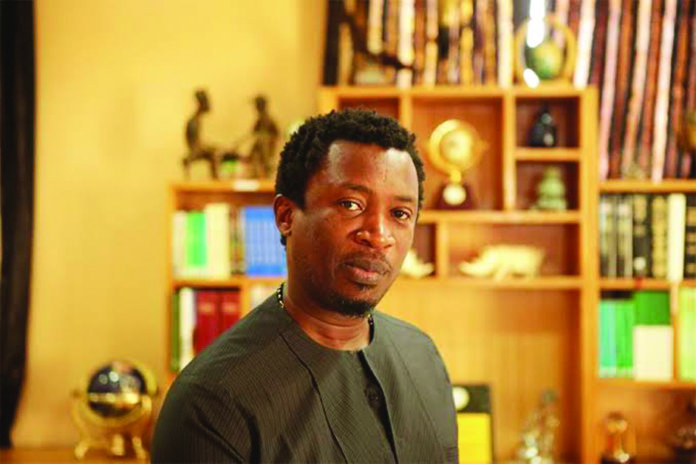 THEATRE
Yinka Olatunbosun
The theatre renaissance in Nigeria recorded between 2014 and 2019 that brought several world-class performances such as Kakadu the Musical, Saro the Musical, Wakaa, Isale Eko, Fela and the Kalakuta Queens as well as festivals such as Lagos Theatre Festival and the Lagos Fringe can be said to be short-lived due to the ravaging Covid-19 pandemic. Last year, the closure of theatres dealt a big blow to the burgeoning industry that caters to actors, directors, producers, make-up artists, costume designers, publicity handlers, and other professionals. But with government's effort to reopen the economy, some dogged theatre producers have waded through the storm, exploring new ways of producing plays without breaching the Covid-19 protocols.
One theatre producer who remained very active throughout the pandemic is the Founder and Creative Director, Kininso Koncepts Production, Joshua Alabi. The globe-trotting theatre producer has toured the UK, South Africa, Germany, and several African countries with his theatre for development projects. Motivated by the need to keep theatre alive, while engaging the community and the artists, Alabi revealed to THISDAY that many actors were depressed during the lockdown of theatre spaces.
"People who have always done the same things all their lives and then a moment comes when they are unable to do so. That was a moment when theatre could have done more. Last year, when theatres were shut, we did something called 'Telephone Whispers' where we brought out our audience database and we began to call them one after the other to tell them a few minutes-stories just to make them happy; to make them feel like they are watching live theatre or radio drama. After that, we did home theatre with 25 of our theatre stories on social platforms. So, we didn't want to give up but to be the hope for the people because many businesses crashed."
He is currently working on Cream-Body, which is part of the 2021 edition of the Lagos Theatre festival later this month.
"We started it as 'Skintone.' Last year April, we were supposed to attend a festival in Berlin but since we couldn't travel, we did research laboratory exchange among all the countries involved in November. Skin tone was about colours, skin bleaching and identity especially in Africa, India and Asia,'' he revealed.
With "Cream-Body," he challenges the discrimination against dark-skinned individuals who are sometimes treated as though they are less qualified to be humans, or to get certain jobs and recognition. In another production titled "Sniper,'' he puts a spotlight on mental health and suicide.
"Sniper will be showing in April at Alliance Francaise. It will also be streamed live. It is supported by Goethe Institut, Suicide Research and Prevention Initiative (SRPI), LUTH, Federal Neuro-psychiatric Hospital, Yaba and Arts4Life, a non-governmental organization with the Lagos State Ministry of Health and Kininso Koncepts Production. We have been managing to rehearse amidst the Covid-19 protocols. As artists, we sometimes forget the social distancing, wearing masks, use of sanitisers. But we are trying to use our space where some of our artists are also lodged here and we are trying to stay safe.''
For the consummate investment banker and theatre producer, Joseph Edgar, being relentless is his strategy to cope with the pandemic.
"It is at times like these that you would know whether you are born to do this because the challenges that are involved are humongous- the fear, the risk of getting infected or delivering a platform that will serve as a major spreader of the virus. But, we have got to have that sense of urgency to tell your story and you continue to be restless.
In December, at the peak of the second wave of the pandemic, his theatre company, Duke of Somolu Productions staged "Our Duke has Gone Mad Again." He described this show as one of the most herculean productions ever, though haunted by the uncertainty of government clampdown.
"Luckily for us, we already anticipated this and we worked on a production that could be done outdoors. We worked very closely with the Lagos State Safety Commission and made sure that we met all the requirements. We didn't sell tickets so that we wouldn't have that deluge. It was extremely difficult. At the end of the day, we had a wonderful production. And in the end, we had that sense of fulfillment that we were able to tell our story.''
Edgar considered funding as a major obstacle to theatre at this period as a big sponsor once pulled out of the production at the last minute, despite having the brand listed in banners, fliers and other advert forms. Still, he had the good fortune of actors who were not driven by financial gain. But it was important to keep them safe.
"We rehearsed for three weeks in December and people kept coming. I was worried that if one person gets infected, that is it. We hope that things would get better now. The first set of vaccines have arrived in Nigeria and the infection rates have dropped significantly. It was not so difficult for us to get government approval for our production since we met all the requirements. At the height of the pandemic, government came up with more stringent regulations, saying we can't have more than 50 persons in a gathering except in religious gatherings and I began to wonder that does the virus know the different between religious gathering and any other gathering,'' he said in his usual witty manner.
On April 30 and May 1, the Duke of Somolu also known by the moniker Lord Ini will stir up Uyo with the production of "IBIOM: When Doves Fly" starring the sultry actress, Ini Edo with other cast members drawn from Akwa Ibom.