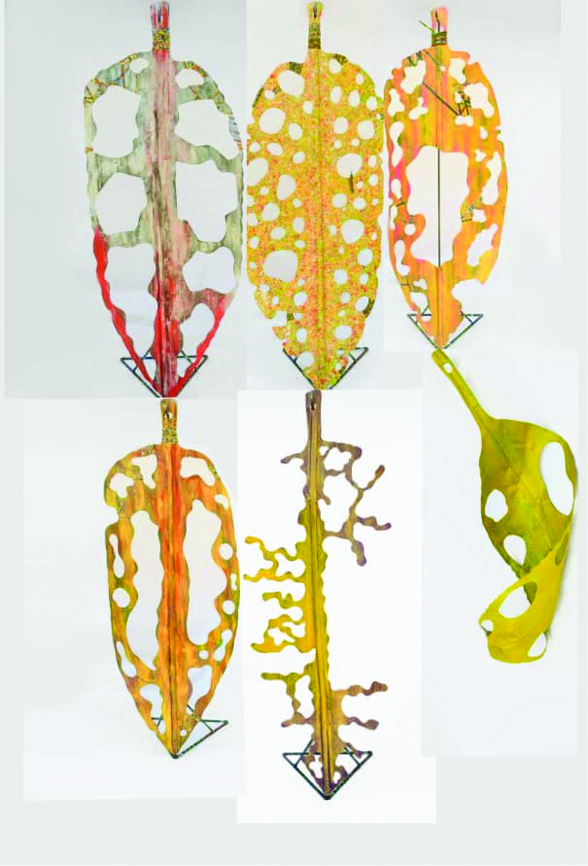 Agwu Enekwachi
Many professionals and young graduates from sundry disciplines are being pulled in by the centripetal forces of imagination, beauty and freedom inherent in art. Agwu Enekwachi writes about the art practice of Ezekwesili Nnam-an Abuja based self-taught artist, whose journey of self-discovery is taking on new rhythms.
Seven years ago, after a degree in Business Administration and a stint in writing, book publication and media productions, Nnam decided on full-time art practice, drifting back to the profession he had always loved from the depth of his heart. Even when it seemed the artist wandered from creativity, his other activities were nonetheless inclined to innovativeness, except for his tertiary education training, which he acknowledged helps him in dealing with the business aspects of his art. Nnam has a deep passion for creativity. "I have always been an artist as far as I can remember. At age seven, I had started expressing my artistic talent through fashioning of toys for the enjoyment of my friends and me," the Enugu state born artist says with a measure of satisfaction.
Although peer pressure and the general attitude of society towards career choices may have influenced Nnam's career, it did not diminish his passion for creativity. His feverish creative efforts result in high productivity, which has in recent years become thematic. He would pick up a leitmotif and explore it deeply, exposing its various formal, psychological, and social strands. One of such explorations is his recent art exhibition titled "Abundance," which I attended about a year ago. The show which opened on April 12, 2019, at Ozidu House-one of Abuja's exclusive art spaces, comprised of 35 large-canvas paintings. Rendered in impressionism, Nnam says the style enables him to passionately express himself while enabling his audience to enjoy the conversations without subjectivity.
According to the artist, the Abundance show was an interrogation of performance and success. A rich variety of dots created shimmering canvases which according to the artist, symbolized the different shades of success. "I found out that "abundance" is not how people make it seem. "Abundance and Success is a story of many struggles, pains and perseverance." Like life or the beginning of an idea, Nnam starts his paintings with a dot and would increase it to as much as 20,000 dots. These dots symbolize the stories about our existential realities; tiny deposits of experiences which define who we are. "Some of my paintings are not made of dots and blobs of colours but are nonetheless connected to the theme of "Abundance," as they tell stories of what we go through to achieve Success and Abundance," says Nnam. In one of the exhibition pieces titled "Rhapsody of Green," the artist uses his skilful manipulation of the values of colour to explain what he terms "the negotiation that a successful person makes with life and death, light and darkness." These, says the artist, "are the painful moments of critical decisions which one must confront at a given point in his life."
Nnam's recent studio engagement is focused on the theme of consumption and the environment. Using the caterpillar and leaf metaphors, Nnam creates works of art that speak to the global environmental problems, whereby the world's flora and fauna are being exceedingly and recklessly consumed. He has been using discarded objects to create wall sculptures and installations in the recent past, but for the Consumption series, he has appropriated the materiality of aluminium-an infinitely recyclable material-as a metaphor for sustainability and the responsible use of and treatment of the world's environmental resources. Equally symbolical is Nnam's sourcing of aluminium materials from collapsed or demolished buildings in Abuja to create his works of art. This is creating beauty out of destruction and the transformation of forms into language and action. "My art is a call on everyone to embrace sustainable practices that would help us reflect on the fragility of our world while struggling to restore its health," reflects the artist. This is because global consumption has become like caterpillars eating up the world and its environment. This, Nnam says, "must be checked and our connection to nature nourished."
Many "self-taught" artists, like Nnam, bring fresh ideas and perspectives to art practice. Against this background, some formally trained artists question the lack of regulation of art practice in Nigeria. But the question is: how does one regulate creativity? Although the regulation of artistic production exists in few societies, for many others, the contributions of artists like Nnam will continue to enrich art practice the world over.
Agwu Enekwachi is an art critic and culture writer living in Abuja.