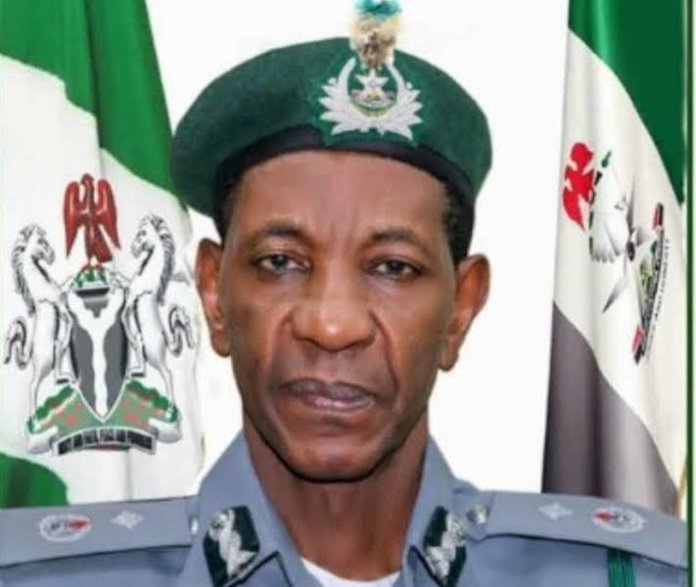 Stories by Eromosele Abiodun
One month after the federal government re-opened the land borders for economic activities, the Federal Operations Unit (FOU), Zone 'A' of the Nigeria Customs Service (NCS) has announced that it intercepted foreign parboiled rice, used vehicles, textiles materials as well as Indian hemp worth over N30billion smuggled into the country from Benin Republic.
Speaking to journalists in Lagos, the acting Customs Area Controller, FOU, Zone A, Compt. Usman Yahaya, said the contrabands were intercepted between January 1 2021 and Tuesday.
However, insider sources revealed that the seized items came in through the porous border points manned by Seme, Idiroko and Oyo/Osun command of the NCS.
Also intercepted, he added, were fake and unregistered pharmaceuticals that worth N51 million along Ijebu-Ode, Ogun State as well as Indian hemp smuggled from Ghana to Iseyin in Oyo state.
"After the opening of Seme border by the fedeal government, the smugglers thought they could cash on it to perpetrate their evil act, but the unit left them with heavy loses as evidenced in the seizures," he said.
Giving account of the seizures, he said a total of 142,677 seizures of different items were intercepted even as he vowed never to relent in making the environment unconducive for smugglers.
He added: "A quick glance at the period under review, the Unit intercepted and seized a total of 142,677 seizures of different items. 41,652 bags of 50kg smuggled parboiled rice from Idiroko, Ipokia, imeko, iseyin, igbo-ora and Seme; 1,356 bags of 25kg smuggled parboiled rice; 4,529kg of Indian hemp smuggled from Ghana to Islington in Oyo State worth N710million.
"Others are, 66 packs of Tramadol and other unregistered phamaciticals products; 5,849 cartons of fake drugs; 266 units of means of conveyance and 218 used vehicles.
"We also intercepted 1,660 bales of textiles materials; 2,152 kegs of 25kg vegetable oil falsely declared at the other at the seaport of Apapa and Tin-Can Island port and 6,985 cartons of frozen poultry products, and 985 kegs of Premium Motor Spirit (PMS) were seized."
The CAC who said he arrested 44 suspected smugglers advised economic saboteurs to await harder times adding that, "We arrest 44 suspects in connection with the seizures but as a Unit, we will continue to re-strategise to ensure that smugglers don't have a hiding place. Instead of incurring losses, I will advise smugglers to embrace legitimate business and become responsible citizens."
Bala-Usman Assures Nigerians of Smooth Implementation of Trucks' e-Call Up
As stakeholders in the maritime industry await the take-off of the truck electronic call-up system to be deployed by the Nigerian Ports Authority (NPA), the Managing Director of the NPA, Hadiza Bala Usman, has assured port users that the irresponsible parking of trucks on the port access roads would soon be a thing of the past.
The NPA MD gave the assurance after leading a stakeholders' facility assessment audit of the Truck Transit Park (TTP) at Lilypond, Ijora – Lagos.
The tour of the park facility was to ascertain the degree of preparedness towards the formal take-off of the e-call up system later in the month.
The NPA boss reiterated that the truck electronic call-up system, which is being powered by a web application called "Eto", would put an end to the perennial logjam caused by articulated trucks within the port corridor.
According to her, "it is critical we put an end to the intractable Apapa traffic to restore sanity to cargo operations at our ports in Lagos."
Bala-Usman stated that the web application (Eto) will enthrone transparency, orderliness to truck movement as scheduling is done automatically – on first come, first serve, basis.
She commended TTP Limited for the renovations carried out at the Lilypond Truck Transit Park facility.
On their part, TTP Limited Management led by the Chief Operating Officer, Mr. Temidayo Adeboye, assured truck owners and drivers of quality service delivery at the facility. He later demonstrated the functionality of the Eto app -to the delight of the visiting delegation.
NPA management had earlier solicited the co-operation of stakeholders on the roll out of Eto, designed to complement the drive for a business friendly and secured environment for port business in Nigeria.
Ports & Cargo Terminal Targets 300,000 TEUs in 2021
Ports & Cargo Handling Services Limited, a subsidiary of SIFAX Group and concessionaire of Terminal C, Tin Can Island Port, Apapa, has set a target of 300,000 twenty-foot equivalent unit (TEU) in 2021.
According to the Managing Director, Ports & Cargo Handling Services Limited, Mr John Jenkins, the target, though ambitious, is achievable in view of its impressive 2020 performance, despite the myriads of challenges that the maritime sector confronted in 2020.
"In 2020, the terminal recorded an increase of 12,153 TEUs to cap at 242,195 TEUs as against 2019's figure of 230,042 TEUs. The full import figure rose from 109,367 TEUs in 2019 to 122,243 TEUs while the export of empty containers also witnessed an increase from 94,041 TEUs in 2019 to 96, 605 TEUs in 2020. It, however, recorded a decline in its full export as it saw a drop from the 2019 figure of 26,634 TEUs to 23,347 – a difference of 3,287.
"Despite the harsh business terrain occasioned by the COVID-19 pandemic, terrible state of the port access roads and some other hurdles, the terminal still recorded this impressive performance.
This is due to proactive business strategy, committed staff, supportive leadership and loyal clients," Jenkins said
Jenkins further explained that in order to boost the terminal's efficiency, barge operation was given utmost priority with the creation of two dedicated points at the quayside where the barges load and offload with dedicated cranes. He noted that the barge operation has helped in the decongestion of the terminal.
He added: "We now achieve a minimum of 8,000 TEUs for our barge operations on a monthly basis. This has greatly improved the terminal's business offerings and bring great relief to our customers who have had to endure the biting consequence of port congestion primarily caused by poor access roads and the ongoing road construction."
Jenkins stated that with all the strategies and modern equipment put in place at the terminal, the company would meet the target of 300,000 TEUs set for itself in 2021.
Speaking on the terminal's performance, Group Executive Director, SIFAX Group, Mr. Bode Ojeniyi, expressed his confidence at the company's surpassing the 2021 target.
Ojeniyi said with the impending launch of its e-payment and e-billing platforms as well as the huge investment in the acquisition of more technological infrastructure, the terminal is well positioned to deliver an efficient service that will meet the expectations of its customers.
COVID-19: Akinola Urges FG to Prioritise Vaccination of Seafarers, Dockworkers
The federal government has been called upon to prioritise access to COVID-19 vaccination for Nigerian seafarers and dockworkers.
Spokesman of the Seaport Terminal Operators Association of Nigeria (STOAN), Dr. Bolaji Akinola, who made the call in a statement in Lagos, said seafarers and port workers have been designated as essential workers by the Nigerian Maritime Administration and Safety Agency (NIMASA).
He said priority vaccination for these category of maritime workers will ensure sustenance of the logistics chain.
"Seafarers and dockworkers are under-recognised, under-publicised and unsung economic heroes despite their significant contribution to keeping our nation afloat during the economic dislocation caused by the COVID-19 pandemic.
"It is therefore imperative to ensure continuity of the maritime workforce through the continuous provision of protective health supplies, rapid testing supplies and priority access to vaccination.
"Ensuring priority access to COVID-19 vaccines to these critical maritime workers is vital to keeping the supply chain active. If our seafarers and port workers are unprotected, the supply chain will become vulnerable, "Akinola said.
The STOAN spokesman also said contrary to insinuations in certain quarters, Nigeria has abundant logistics capacity to transport and store the COVID-19 vaccines at the required temperature.
"We have abundant refrigerated containers, also called reefer containers, for the transportation and temporary storage of temperature-sensitive cargo including vaccines. These refrigerated containers are capable of controlling temperature ranging from -65 °C up to 40 °C. Reefer containers allow the transportation of cargo in a way that preserves its freshness and efficacy all year round," he added.
Recently, the World Health Organisation (WHO) said a total of 16 million AstraZeneca doses of COVID-19 vaccines out of the 88 million allocated to Africa will soon arrive Nigeria.
WHO said it is supporting all countries to access vaccines as quickly as possible.
'Belgian Investors Watching Nigeria's Maritime Transport Policy Closely'
The National Maritime Transport Policy being developed by Nigeria is of interest in Belgium for windows of investment opportunity, the Executive Officers of the Port of Antwerp International have said.
They stated this in Lagos during a meeting with Director-General of the Nigerian Maritime Administration and Safety Agency (NIMASA), Dr. Bashir Jamoh.
The visiting team of executives from the Port of Antwerp International had sought audience with the NIMASA DG to follow up investment interests in Nigeria.
The Managing Director of APEC-Antwerp/Flanders Port Training Centre and Port of Antwerp International, Mr. Kristof Waterschoot, and Director at Port of Antwerp International, Mr. Mario Lievens, said they were also in Nigeria to promote new partnership opportunities, especially in the area of training.
Waterschoot and Lievens, who hosted Jamoh at the Nigerian Belgian Chamber of Commerce, Onikan, Lagos, said their mission was to discuss projects of interest, including inland ports, and to strengthen the relationship between the Port of Antwerp and NIMASA, particularly in the areas of training, technical support, and cooperation.
They noted Nigeria's proposed National Maritime Transport Policy, saying it was being watched to see how Belgium could come in with investments, when it becomes effective.
"We believe in Nigeria," said Waterschoot, who observed that the business climate in Nigeria could be difficult, but there was hardly any country without its peculiar difficulties.
A National Maritime Transport Policy is in the works in Nigeria as part of the government's effort to develop maritime infrastructure and diversify the oil-dependent economy. Minister of State for Transportation, Senator Gbemisola Saraki, told a recent stakeholders' validation forum on the draft policy that the policy, when approved, would lead to improved Foreign Direct Investment (FDI) inflow and enhance the ability of the Nigerian maritime sector to compete at the international level.
In his speech, Jamoh said there were huge opportunities for investment in wreck removal and recycling, stressing that the federal government is planning a coordinated wreck removal policy to drive investment in the area.
Jamoh praised the long-standing diplomatic and economic relationship between Nigeria and Belgium. He highlighted the federal government's abiding interest in diversifying the economy, saying the development of maritime infrastructure is part of the government's economic diversification drive.
Jamoh stated: "The National Maritime Transport Policy, which is being developed, is part of a wider agenda purposed to build alternatives to oil. The maritime sector is consciously being opened for investment by local and foreign investors to build a sustainable blue economy.
"One area I would like the Belgian private sector to come in is wreck removal and wreck recycling. There is a huge investment opportunity there, and there is also a big room for collaboration. This is more so as the Federal Government is planning a coordinated policy on wreck removal."
Jamoh also sought Belgian partnership in the sea-time training of Nigerian seafarers and in the area of port safety and port security.
The Port of Antwerp International is a subsidiary of Port of Antwerp, Europe's second largest port – after Port of Rotterdam in the Netherlands. It was established to expand the activities of the Port of Antwerp beyond Europe through consultancy, management solutions, investment projects and training.