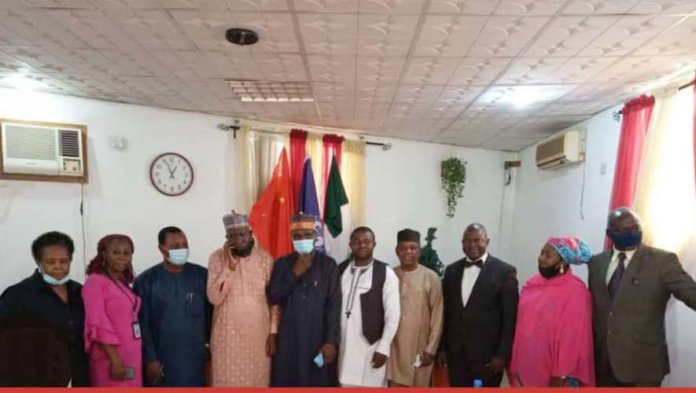 An educationist and Consultant to the Shaanxi Polytechnic Institute, China, Pastor Julius Adeniyi Ayodele has said Nigeria's education sector needs the assistance of diverse stakeholders to lift it to an enviable height.
Speaking at the formal presentation of sponsored curriculum of Shaanxi Polytechnic Institute by Association of Proprietors of Innovation and Vocational Institutions (APIVI) to National Board for Technical Education, NBTE , in Abuja, he premised attainment of such feat on more high quality education, development of talents for international opportunities and resources to operate optimally globally.
"My own view on Nigeria curricula for Technical and Vocational Education(TVE), is that some of them are out of date and there's a need for review of some of the existing ones, and new curriculum should be introduced considering the changing economic and societal needs. We the stakeholders in the education sector, should be preparing our young citizens for current and future job opportunities.
"Shaanxi Polytechnic Institute is a government-owned college.They are well positioned to support Nigeria tertiary education, particularly technical and vocational education and will consider any innovative ideas that could move education forward to high quality standard and providing right skills that could help to solve unemployment problems and creation of jobs for Nigeria youths."
The Proprietor of Firstmark Innovation School of Technology, Ekiti State; Professor Olatunji Kadeba, said as more institutions are expressing interest, it has become expedient to involve the Association of Proprietors of Innovation Enterprise Institutions whose mandate is to extend the frontiers of technical and vocational skill acquisition, Federal Ministry of Education, and NBTE, a regulatory body for technical/vocational education.
According to him, Shaanxi Polytechnic Institute is one of the leading institutions in China. Firstmark Innovation School of Technology, Ado-Ekiti, sought cooperation with this institute in areas of vocational and technical education, research, staff exchange and student internship.
He added that the initial stage of the partnership involves review and development of new curricula that addresses issues of technical-know-how, entrepreneurship, industry needs and professional ethics with the active support of Shaanxi Polytechnic Institute.
The Association of Proprietors of Innovation and Vocational Institutions used the occasion to clarify their roles and responsibilities in coordinating the activities of their members for curriculum development and development of government policies on education as well as influencing and impacting the policies of government agencies.
The body also suggested the coordinating of activities of all Shaanxi partners in Nigeria who are members of the association for the national critique and that their role will be to host the experts, mobilise and conduct the national critique.
In his remark, the National President, APIVI in Nigeria, Dr. Andrews Olugbenga Jegede, commended Shaanxi Polytechnic Institute for the international partnership and outlook.
He promised to assist domesticate as many Chinese curriculum as possible, saying, it's a partnership that the two countries would benefit.
Also, the Rector, Katsina State Institute of Technology and Management, Dr Babangida Alibaba Abubakar who appreciated the networking and system security curriculum, explained that the nation is working round the clock to introduce 5G and that the Chinese technology is the back bone in the initiative.
"Working with Shaanxi Polytechnic Institute is a welcome development not only will it afford our youths to taste the technical side of China, but the exchange of cultural appropriation is a good idea."'
The Chairman, Association of Proprietors of Innovation and Vocational Institution, Abuja, Miss Dosekun Jogun expressed delight about the giant stride made by the institute. She assured the gathering of bringing on board the entire management of Federal Capital Education Board in their next meeting, saying that the board's input would add value to the initiative.
An official of NBTE , Mr. Abdul Koformata, said it would accept curriculum review request and new curriculum development provided there's sponsor, adding that most of the curricula are due for review as they had been developed since 2005. " " " "By national standard, it should have been reviewed after five years, but became impossible due to paucity of fund.
He said the board would encourage introduction of new curricula as part of its roles.