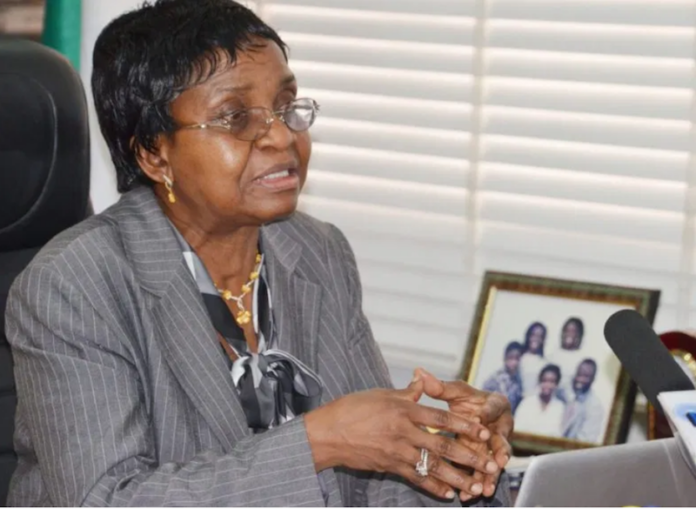 •Lagos reopens 2 isolation centres
•Global deaths surpass 2 million
Onyebuchi Ezigbo in Abuja
The National Agency for Food and Drug Administration and Control (NAFDAC) yesterday said it has reports of the importation of fake COVID-19 vaccines into Nigeria.
Addressing a virtual press conference, the Director General of the agency, Prof Mojisola Christianah Adeyeye pleaded with Nigerians to avoid the fake vaccines, saying, "they can cause Covid-like illnesses or other serious diseases that could kill."
She said the agency had not received any application from Covid vaccine manufacturers yet and therefore no vaccines had been approved by NAFDAC.
"Covid-19 vaccines are new, and the side effects or adverse effects must be well monitored, therefore, if NAFDAC does not approve, the public should not use," the NAFDAC boss said.
Adeyeye said no government establishment or agencies should order Covid-19 vaccines without confirming from NAFDAC if the vaccine had been approved.
However, she said NAFDAC "is discussing with manufacturers of Covid-19 vaccines" concerning potential Emergency Use Authorisation (EUA), registration or licensing of their product.
She assured applicants that if Phase 3 clinical data are very convincing and robust with regards to safety and efficacy, and the vaccine submitted for WHO for Emergency Use Listing, "NAFDAC will welcome the application for Emergency Use Authorisation in Nigeria."
She added that companies that manufacture the vaccines can submit their application to NAFDAC if they are genuine.
On the issue of Emergency Use Authorisation and licensing (EUA), NAFDAC said it will use "Reliance" or "Recognition" to expedite action on approvals for vaccines already approved by more matured regulatory authorities.
However, it said that the full dossier submitted by the manufacturer or Market Authorisation Holder (MAH) will be thoroughly reviewed by the Vaccine Committee that is made up of multiple Directorates in the Agency – Drug Registration and Regulatory Affairs, Drug Evaluation and Research, Pharmacovigilance and Post Marketing Surveillance, Drug, Biologics and Vaccines Laboratory Services.
Despite the use of Reliance for the EUA, NAFDAC said it would note clinical peculiarities in form of serious or Adverse Effects Following Immunisation (AEFIs) in the dossier or application as a guide and caution on what to look out for in each subject after immunisation.
She said that the Agency had been training her staff for this very important aspect of the immunisation.
"The Agency established COVID-19 Vaccine Committee that has been busy developing the guidelines and guidance. NAFDAC is the first National Regulatory Agency in Africa to have Guidance on Regulatory Preparedness for EUA, Licensing or Access to COVID-19 Vaccines.
"NAFDAC initiated multi-stakeholder collaboration with National Primary Health Care Development Agency (NPHCDA), Nigeria Centre for Disease Control (NCDC), UNICEF, WHO and Ministry of Health. The focus is to use a holistic approach for the effective immunisation or delivery of the vaccines and monitor any Adverse Effects Following Immunisation (AEFI).
"The Agency will also use its recently launched Med Safety App for Active Pharmacovigilance of the vaccines in collaboration with the sister agencies. The App is free, and millions of healthcare workers can download it free for ADR reporting. In-country training on the use of the App has begun for the healthcare givers," she said.
The NAFDAC boss said once approval is given by the agency, it would thoroughly monitor the distribution and use of COVID-19 vaccines in the country to safeguard Nigerians from any possible adverse effects.
Adeyeye said NAFDAC plans to use the traceability with GS1 technology to monitor the vaccine distribution in Nigeria using Global Trade Item Number (GTIN).
She said the goal is to prevent fake vaccines from infiltrating the supply chain and to ensure there is no diversion, adding that the effort will create a reliable and predictable supply chain.
According to her, a multi-stakeholder technical working group has been meeting to address different issues, from access to distribution to traceability (track and trace) of the vaccines, to monitoring of adverse effects following immunisation.
Adeyeye said as part of the outcome of the Regulators Steering Committee of African Union-3S, a national training of trainers is scheduled for January 12, 19 and 21, 2021 by MHRA to improve capacity of key staff of NAFDAC and NPHCDA on the data collection overview and information.
She said that NPHCDA provided 80 names to ensure that a wide number of their agency staff and partners understand the data collection overview and information required for the COVID-19 safety surveillance while NAFDAC provided 40 names, including the Ministry of Health.
Lagos Reopens 2 Isolation Centres
Meanwhile, Lagos State government yesterday announced that it would be reopening two COVID-19 isolation centres which were initially decommissioned, following the increased cases of Coronavirus in the state.
According to the State Commissioner for Health Professor Akin Abayomi, the reopening will boost confidence in tackling cases as they arise.
Abayomi said: "Just to be on the safe side, we are reopening two of our decommissioned facilities, that is at Ajah and Ikeja. We are also reopening Gbagada Isolation facility.
"Just to give us the confidence that, should in case we suddenly continue to see higher numbers of severe cases, we will have somewhere to manage them."
The commissioner also revealed that the state government is working on building oxygen plants for more health facilities.
Abayomi added: "In addition, we are making our own oxygen so we just erected the first of two plants at IDH. The second one will be at Gbagada and that plant produces oxygen on the grounds of our hospital and it can produce up to 60 cylinders a day. A very sick patients can use up to four or six cylinders in 24 hours."
Global Deaths Surpass 2 Million
Over two million people have lost their lives to COVID-19 since it was first detected just over a year ago, according to Johns Hopkins University data released yesterday.
In all, the US-based school tracked 2,000,905 fatalities linked to the virus and over 93 million infections. Over 51 million people have recovered after contracting the virus.
The real death toll, as well as the number of infections, are likely significantly higher as access to testing has been scarce in a large number of countries.
UN Secretary-General Antonio Guterres marked what he called a "heart-wrenching milestone" as the official tally eclipsed 2 million, emphasizing that behind the figure "are names and faces: the smile now only a memory, the seat forever empty at the dinner table, the room that echoes with the silence of a loved one."
"Sadly, the deadly impact of the pandemic has been made worse by the absence of a global coordinated effort. In the memory of those two million souls, the world must act with far greater solidarity," he said in a video message.
There is hope on the horizon as several drug makers across multiple countries have developed vaccines that successive governments have authorized for emergency use.
In the US, where the outbreak has been the worst recorded in the world, health officials are distributing two vaccines from drug makers Moderna and Pfizer-BioNTech.
Over 30 million doses of the vaccines have been distributed with more than 11 million people receiving at least one dose. Both drugs require two rounds of vaccination separated weeks apart.