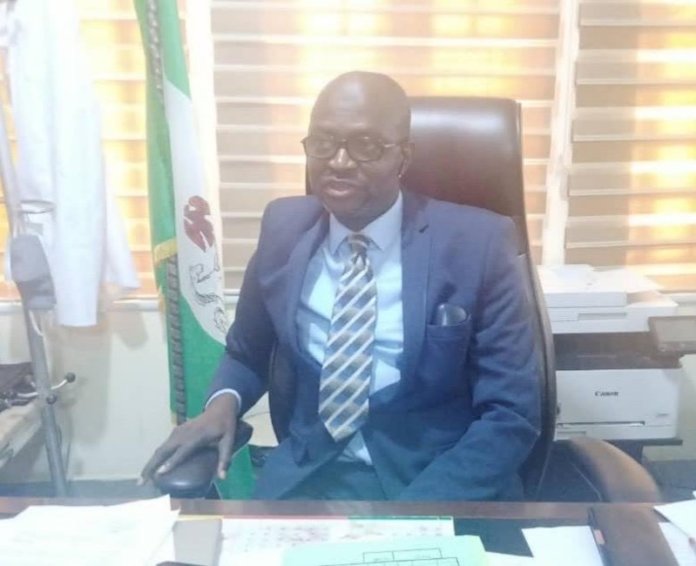 Dr Yahaya Baba Adamu is the Chief Medical Director of Federal Medical Centre, Keffi. In this interview with Igbawase Ukumba, he speaks on efforts to improve on the services rendered by the hospital
There are allegations that the mortuary of the Federal Medical Centre, Keffi is in terrible condition. Could you give the exact situation of that facility?
Well as far as I am concerned, I am not aware of any problem with my mortuary facility. Infact very recently, I think I have some people who came in here and were very impressed telling us how good they saw the improvement of the facility. Infact recently my brother's wife died and was kept in that mortuary. I am aware that the mortuary is in a perfect order.
But there are allegations that corpses were being kept outside the mortuary. How about that?
Infact, the opposite is that my sister called back to me because they were around, I was not even around in the country, I am talking about two weeks ago, she said when she used to come here before you go to the mortuary, corpses would be scattered over the floor and all that. But when she entered the mortuary, she couldn't believe her eyes that everything was neatly arranged and so on. You can follow the PRO to go and see the mortuary yourself. It is not an exclusive zone, if you are ready to go and see. We don't hide anything in this hospital.
Could you highlight the method of preservation of corpses in your mortuary?
I am not a pathologist. I am a heart surgeon. If I begin to tell you method of preservation now and begin to make errors. I don't like speaking about what I don't know. If you want me to tell you the method of how to go through the chest and open the heart, I will tell you.
But if you want me to tell you the method of how preservation of corpses is done, I don't want to deceive myself. I am the CMD, yes, but I am not the master of every aspect. I cannot use my elementary medical school knowledge and start discussing what is not right.
Recently your hospital successfully separated a co-joined twin, after that, did you have another case?
Well, we are very grateful. The truth is that co-joined twin is not very common. It occurs once in a blue moon. So it is not something we wish to see all the time. You know sometimes these things come as if they are coming in groups. Those two came at the same time, one was taken to National Hospital, Abuja and operated. We kept one here and operated. Since that time I am not sure neither National Hospital nor us have seen another one. So that is the story about that.
But we thank God, the story is about there for everybody to see. The children are there as evidence and they are alive and doing well with their parents. So as far as we are concerned, we have done our own. The rest is for God and their family to take care of them.
Is there any new initiative that you have introduced in the hospital under your leadership?
Well immediately after that, we succeeded in planting what we call a pacemaker in the heart of one lady for the very first time in the history of this hospital. We did that successfully and the patient is doing fine. And of course we hope to build on that. Maybe in not too long a time, hopefully we can advance on that when we get the necessary personnel here. We may even go into heart surgery but not immediately. But as we continue working, we hope that we can get there.
The thing is that we need a heart team before we have a heart surgery. But we are already improving our facilities. We have already interviewed and employed one person. When he has resumed, we can build the team around him. If we have a team on ground, our target is that in the next one and half years, we would be able to do it.
On COVID-19, could you give the number of people you treated and discharged so far?
You all notice from the media that the COVID-19 is on the downward trend either we are not doing enough test or we are doing and it is not available. What I mean is as a country. I am not talking to us as an institution. But however because of the low number that we have currently, we do no longer have plenty patients as it used to be. Infact sometimes we don't even have any patient.
But recently, I am aware that we have one or two patients on admission and I have not been told that they have been discharged. Besides that is the current norm that any patient that is not symptomatic, even if they are found positive, we keep them in their home under seclusion and treat them from their home. We don't keep them in the hospital. But when they are symptomatic, like the one or two that we admitted recently, we kept them in the hospital and we treat them.
In this hospital as of my last count, we have treated over 170 cases and discharged. Among that I think three directly died in the hospital after about two or three days on admission. Most of the others actually we discovered to have COVID-19 after they died; which is about either four or five. But the real deaths that were on admission and being taken care of are these 170 that I have just said.
Do you have any case where any of your medical personnel was infected with the virus when carrying out treatment of patients with the dreaded disease?
No, no, no. In the course of treating them, zero. But if you have any doctor that is positive, yes they are part of the community. Somebody is there, he is interacting with the community, he catches it, we will not say he is not COVID-19 positive. We receive him and treat him like every other patient. At that point he is no longer staff, he is a patient. We had staff patients that were COVID-19 positive. But we never had any staff who was among treating patients that contacted COVID-19 throughout the period.
What are your challenges as CMD of FMC Keffi?
Well we really thank God, I think the job is about challenges. I don't think it's something to worry about. I think what we are doing everyday is actually the challenges. The primary mandate is to ensure that services are being rendered and people are satisfied with the services we are rendering to them. So in one of the major challenges which we are facing is what I will call "Out of Stock Syndrome in Drugs".
Ma be nonavailability of laboratory service, and maybe procedure for consumables to be done were not on ground which I consider as the major responsibility of the hospital. So we need to tackle that and by God's grace it won't take us time to tackle that. The rest I consider it as part and parcel of the day to day running of the hospital. Everyday we face one challenge or the other, we cross them and then we move on.
But most importantly, we need the emergency service to be upgraded. And that is what we have been working on. And by God's grace, we are getting better and better on that. And we will never stop until we reach to what we consider as a standard that is acceptable world-wide.
There are allegations also that administrative staff outnumber the clinical staff in your hospital. How do you confirm that?
Well, when you take any position you inherit assets and liabilities. I met it too the way you asked. But I cannot sit down and be asking and asking. The only thing I needed is to stop that trend from continuing. And I can assure that when I came in, our focus is that any staff that resigns, dies or retires; whether you are admin or non-admin, our replacement is clinical. And that has been the principle.
Even in the clinical, we look at the areas that are actually neglected and ensure that those are places that we only seek for replacement. So we can replace admin staff in a nurse, we can replace an account staff in a doctor; it doesn't have to be account for account or admin for admin because we want to resee the way we can balance all these.
It may take a while. We can't do it at once because those who are already in are in, you cannot bring them out. But there are natural means of people leaving. So when you leave, you can't expect your colleague to take over. It has to be somebody who is going to be attending to the patients.
What are your footprints in FMC Keffi since your assumption of duty as the CMD of the hospital?
The truth is if you go round the hospital, you will see infrastructures clearly with your own eyes. I don't want us to go into more detail now; from our new lab, new dialysis building to ward extension to the Multi Specialist Clinic that has gone so far. We have modified the way theatre sections are being run, we have modified the way clinic sections are run.
In fact, we have achieved several accreditations and reaccreditations in the hospital. Infact, these are some of the things we have done. And we want to focus on these things. I don't want to go into nitty gritty of departments; what we have changed and what we have not changed.